Mind If We Grab Your Ass? Your Florida Roundup
News
March 08, 2015 10:22 AM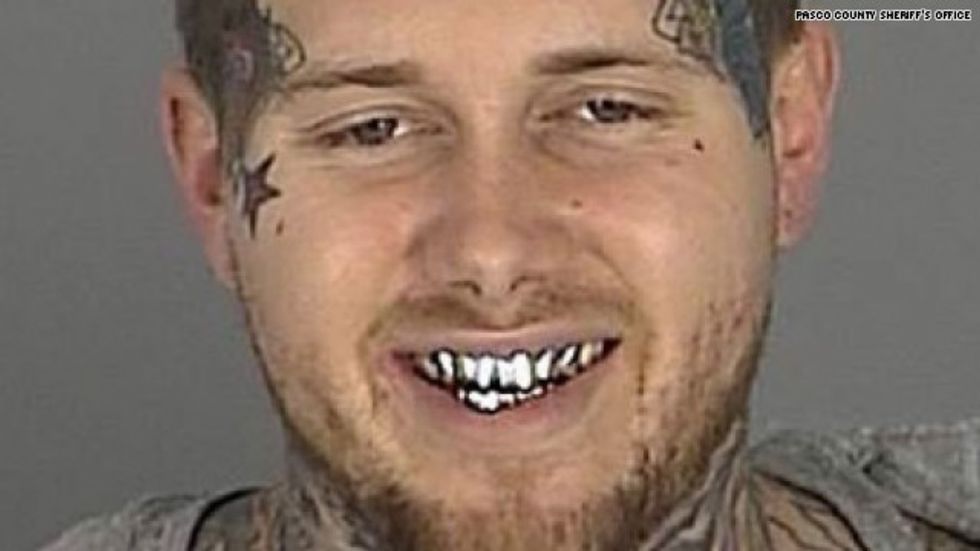 Florida. It's a marvelous place, no? A place so resplendent that millionaire Major League Baseball players choose not only to call the state home, but to live in a camper behind a Florida Walmart, because Florida is just that fucking wonderful, even in a camper behind a Walmart.
---
Yes, the left-hander with a $2 million signing bonus lives in a camper behind a Wal-Mart in Florida. "I've gotten used to people staring," [Blue Jays pitchers Daniel] Norris told ESPN's Eli Saslow.
It is such a magnificent state that politicians in New Zealand want to emulate it:
New Zealand First leader Winston Peters has confirmed he will compete in the Northland by-election. […] The electorate had been neglected by the Government, he said, and it should be "the Florida of New Zealand".
And what a lucky region the Northland will be if that is so.
These Fellows Were Not So Lucky
We do hope that when Northland becomes Florida East, they have better luck with their police than Florida Man Daniel Cruice did.
Witnesses say that police were conducting a "no-knock" raid where they knocked down the door with a battering ram and entered the home with their weapons drawn. Friends who were inside the home told reporters that police fired their weapons without hesitation, and that it was blatantly obvious that Cruice was unarmed, as he was wearing basketball shorts and no shirt. The friends were also quick to point out that there were no weapons on the property at all.
This being Florida, the cops investigated themselves for like 27 whole minutes and decided they'd done nothing wrong, because they never do.
"Volusia County Sheriff's Office narcotics investigators and the Street Crimes Unit were attempting to serve a search warrant at a residence. They were met with resistance and a shooting occurred," Volusia County Sheriff Ben Johnson said in a statement.

"That is completely a lie. I was there; I watched the whole thing. There was no advancement. There was no reaching for anything. The guy was wearing basketball shorts like I am. It's kind of hard to conceal anything or hide anything when this is all you have on," roommate Steven Cochran told reporters.
The cops found a bit of weed in the dude's house, so we can assume he probably had it coming.
Speaking of Florida cops being Florida cops:
That video, in case you can't tell, is of a cop slapping a homeless dude.
Police say they're looking into possible criminal charges against an officer who was videotaped pushing and slapping a homeless man at a bus terminal. The incident happened Monday, and the video soon surfaced on YouTube. Officer Victor Ramirez, a nine-year veteran of the Fort Lauderdale Police Department, has been suspended with pay.
That's Not OK
We hope, too, that the good folks in Northland are more tolerant than this unnamed Florida French teacher.
A teacher in Weston, Fla. allegedly referred to a teenage Muslim student as a "rag-head Taliban," television station WBFS reported on Monday.

Deyab-Houssein Wardani, 14, told the station he was verbally accosted by his French teacher when he walked into class wearing a hoodie.

"She said, 'Oh no, the rag-head Taliban is here,'" Wardani told WBFS. "She started saying it more frequently as if it was my name, and for around next two or three days she was just calling me 'Taliban' or 'rag-head Taliban' on and off."
In Broward County, bigoted epithets hurled at 14-year-olds will not get you fired.
According to WBFS, a spokeswoman for the Broward County Public Schools said the district was not considering terminating the teacher. However, a five-day suspension had been recommended by the district's superintendent.
That's Not OK, Cont.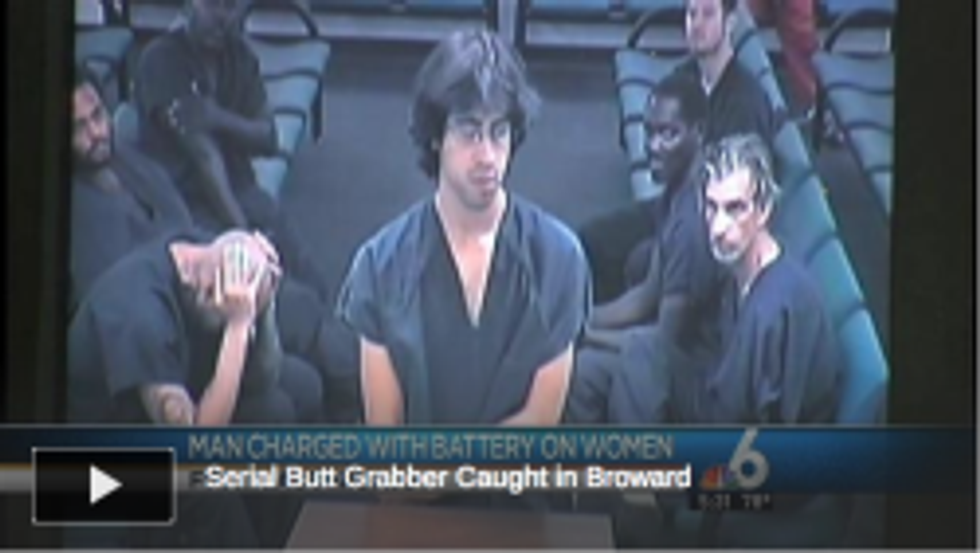 And we also hope that, as the Northland morphs in the Sunshine State, it can somehow avoid propagating dudes this like:
A man accused of grabbing several womens' behinds in Broward neighborhoods was behind bars Wednesday. Kenneth Lopez, 20, is facing five counts of battery after authorities say he targeted women in at least two Cooper City neighborhoods. […] According to the arrest report read by Hurley, Lopez targeted women in the Stonebridge and Rock Creek neighborhoods. He almost picked one woman off the ground while grabbing her behind, Hurley said.
That, friends, is one powerful ass-grab.
The Week in Headlines!
Brazen Bagpipe Burglar Being Sought By Cops
What kind of a monster steals a man's bagpipes? In a brazen daytime aerophone heist, a Florida burglar swiped the musical instrument from an unlocked car while the vehicle's owner was eating lunch, according to a police report.
Florida man brings neighbor's body to lawyer's office
A southwest Florida man put his dead neighbor in the bed of his pickup truck and drove to his lawyer's office claiming he'd killed the man in self-defense. Attorney Robert Harris told the News-Press of Fort Myers that 52-year-old John Marshall showed up around 4 p.m. Wednesday, saying he didn't know who else to trust.
Cops: Man rams pregnant girlfriend with car
A Florida man was charged with attempted murder after police say he repeatedly rammed into his pregnant girlfriend with his car. […] [Matthew] Wildeman, 26, allegedly punched and kicked his girlfriend and threatened to kill her, according to the news release. When the victim got into her car and attempted to escape the alleged assault, Wildeman allegedly used his car to ram into the vehicle occupied by his girlfriend, police said.
In case you were wondering, Wildeman looks like this: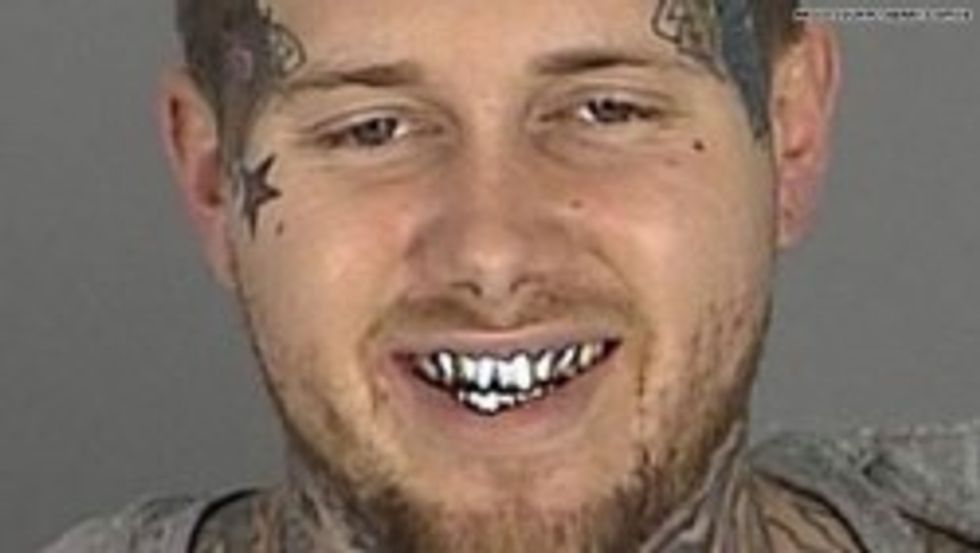 And Now a Story Where Florida Man Is Not the Dumb One
OK, so maybe Ryan Pate is a little dumb. If you are going to work in a place, it is probably for the best to know that place's laws and not break them. But the bad guy here is quite clearly the United Arab Emirates:
Ryan Pate, a helicopter mechanic from Belleair Bluffs, Florida, took to Facebook after a dispute over sick leave with the company he was working for in the United Arab Emirates. He was home in Florida at the time, but when he returned to Abu Dhabi last month, he was told to report to the police station, where he was arrested for breaking an Emirates law on slandering his employer.

He spent about 10 days in jail, he said, and is now free on bail awaiting a March 17 trial. His supporters say he faces up to five years in prison and a steep fine if convicted.
This Week in Florida Politicians
And finally, we conclude with some Florida-politician-related fun times. Remember Tray Radel, Yr Wonkette's favorite cocaine addict who also happened to be in Congress? Well. Tray Radel may not longer be a cokehead congressman (but always in our hearts), but he's still willing to put his crisis management experience to work for you:
Trey Radel has launched the Trey Radel Media Group, which promises prospective clients "intimate, exclusively tailored crisis management" and "highly personalized training to message & manage media." Trey Radel, you see, managed the media sooooo well during his particular crisis that he wants to impart to you his wisdom, for money. Which he can use to buy cocaine. Everyone wins!

"In a life filled with ups and downs," Trey Radel's website says of Trey Radel, "Radel has been able to apply his skill set and real life experience and to a wide range of crisis situations, both personally and professionally as the founder of the Trey Radel Media Group."

He got coked up and lost his job so you don't have to.
[contextly_sidebar id="d0qedU2KaCeQCa5rTtOFoLGO8ZCv2uXy"]
Trey Radel's booger-sugar problems make for endless jokes — addiction, HILARIOUS! — but we have a confession: We still like the man better than this fellow Florida Republican politician, Frank Artiles. Artiles, you may recall, is the nice gentleman who wants to lock up trans folk who have the audacity to want to pee.
And he is also the very nice gentleman who (allegedly) cold-cocked a college student in a Tallahassee bar this week:
Last month, Artiles, who simply does not want some ex-female invading his tinkle space, introduced a bill to "prohibit transgender people from using facilities that correspond to their gender identities," because men are going to dress up as women so they can rape them in the bathroom and how is that for a fun logic pretzel? This would apply even to post-op trans folks, who now wouldn't be allowed to use the right bathroom because it doesn't align with their birth genders, and basically should not answer the Call of Nature at all. […] You will no doubt be shocked to learn that this kindhearted lion among men may have a teensy-weensy penis problem controlling his temper. Early Wednesday morning, Artiles allegedly cold-cocked a college student at a Tallahassee bar for the high crime of getting in between him and the bar staff*.
[contextly_sidebar id="CFPLfMCZ2ZVUFXh3zdRaQ2gf6EPltR0V"]
Well, that's all for this week, Florida. Stay wonderful as ever!