Minnesota AG Keith Ellison Charges Derek Chauvin With Second Degree Murder Because He's A Murderer
Cops
June 03, 2020 04:29 PM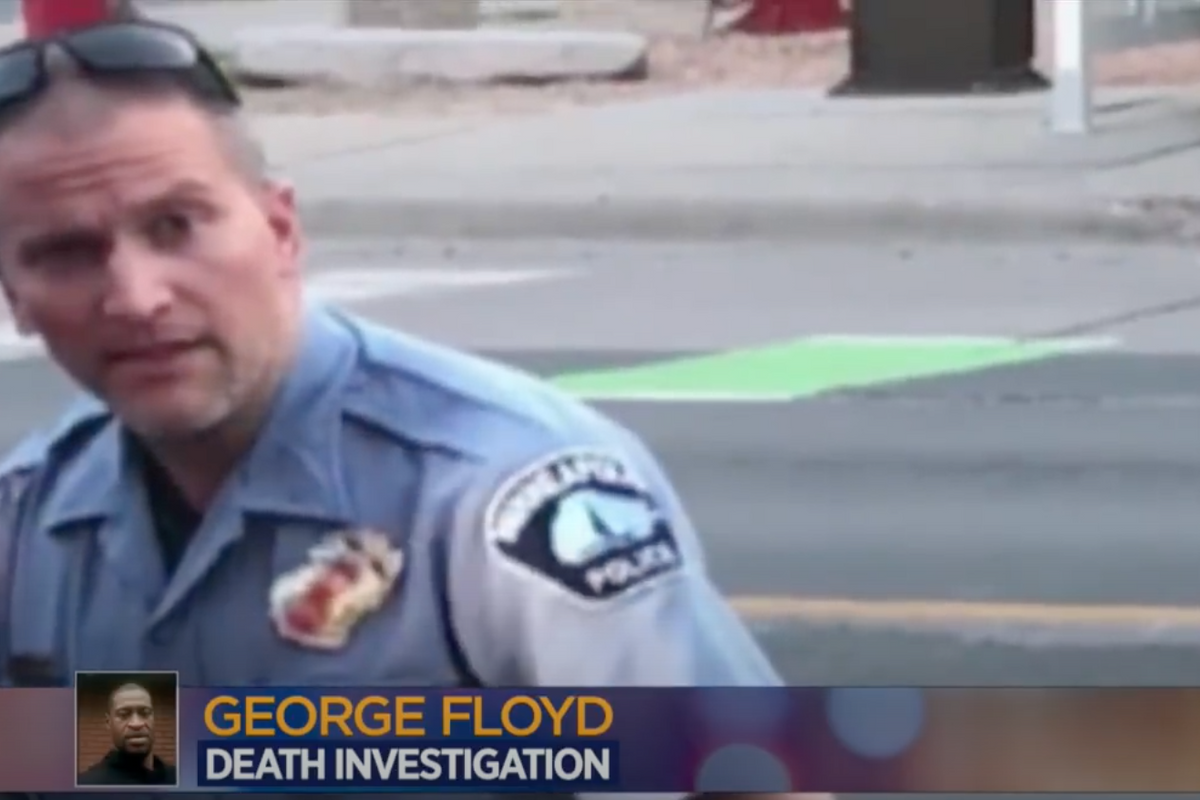 When now-former Minneapolis, Minnesota, police officer Derek Chauvin brutally killed George Floyd on a city street, three other cops stood and watched, which is just bad policing because they're supposed to stop crimes, of which murder is one. It was also bad human-ing. Random citizens screamed for Chauvin to stop, to remove his knee from Floyd's neck as he cried out in delirious agony, and they weren't even in the so-called "protect and serve" business. The cops were, and they did nothing. This wasn't a complicated Trolley Problem. Their inaction was criminal.
Fortunately, Minnesota Attorney General Keith Ellison is treating these criminals in blue like criminals who should wear stripes. According to law enforcement sources, Ellison plans to charge the three other officers at the scene — Tou Thao, J. Alexander Kueng, and Thomas Lane — with aiding and abetting murder, and it's no longer the remedial murder Chauvin was charged with last Friday. He's elevating that shit from third-degree murder and manslaughter to second-degree murder. The big difference between third and second degree murder — aside from potentially 15 more years in prison — is that second degree murder is intentional. That is the correct choice because even Stevie Wonder can see that Chauvin intended to kill Floyd, who was completely at his mercy. They weren't in a slap fight like on Dynasty and Floyd hit his head on a coffee table.
---
Dynasty: Alexis and Dominique's Catfightwww.youtube.com
Ellison also doesn't need to prove premeditation to convict Chauvin of second-degree murder. I can't stress enough that this is how George Floyd would've been treated if he'd committed a similar offense. People have rationalized the lesser charge because they believed it was the best shot at conviction, but that only perpetuates a discriminatory system. Besides, if Chauvin had tripped on a brick and died while chasing Floyd, the police unions would've still called for the maximum sentence possible. Police officers are empowered to act with force on the state's behalf, and when they abuse that power, the state should hold them accountable, not send them home with a lollipop.
Gov. Tim Walz asked Ellison to take over the prosecution from the Hennepin County Attorney's Office, which was moving slow like Uncle Joe at the Junction. I can appreciate deliberation in forming an airtight case but this obscenity was on video. (Alas, so was Rodney King's beatdown.) It offended the conscience that the other officers remained free while Floyd remained dead. Although Thao just watched like some sick bastard who watches torture murders, Kueng helped pin Floyd down. That's usually enough for life in prison if you're a gangster, and too many cops consider their badges a license to gangster.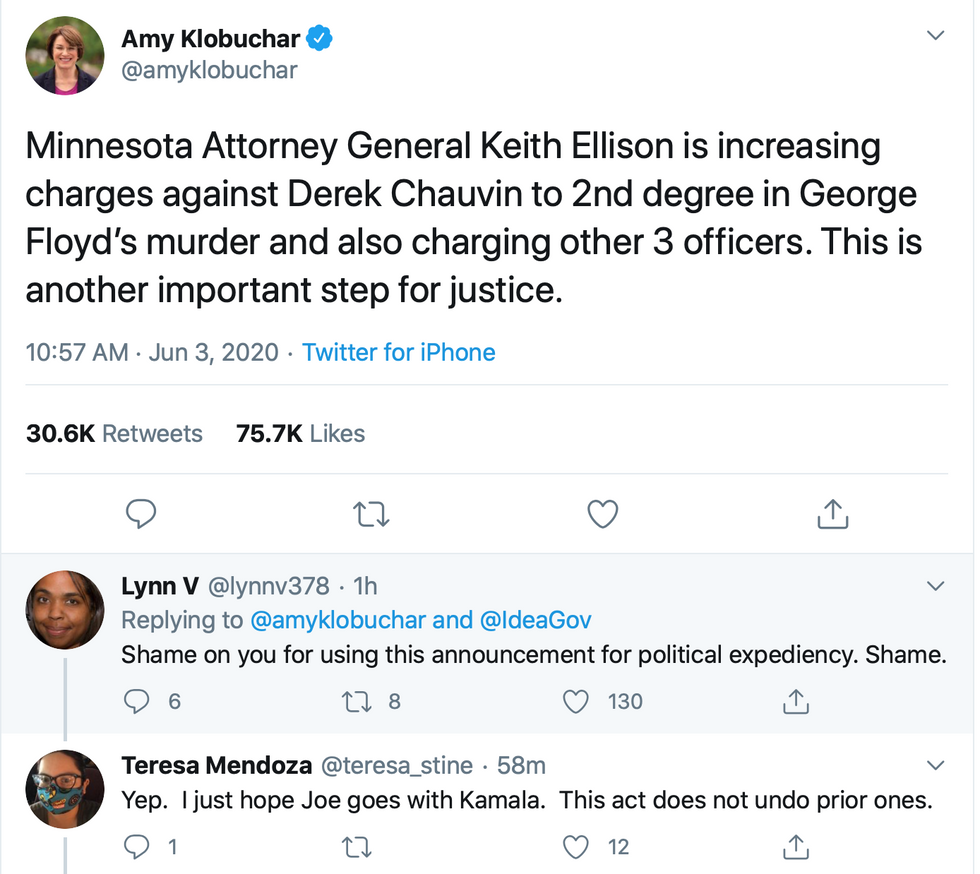 Twitter
When tweeting the news to her followers, Minnesota Sen. Amy Klobuchar called Ellison's decisive action "another important step for justice." In 2002, Minneapolis police on a domestic violence call choked the life out Christopher Burns, who was unarmed, with his fiancee and three young children present. This was the third police killing of a black man that year. Local activists held peaceful rallies, but the "up-and-coming" young Hennepin County attorney declined to press charges against any of the officers involved. That prosecutor was Amy Klobuchar. Her tweets now just seem like empty words from a desperate politician watching her vice presidential ambitions fade away.
Ellison did the right thing. He's seeking full justice for George Floyd, and he doesn't care if it pisses off the local police union, which we know it will. It's well past time that prosecutors and politicians stand up to them. We should expect nothing less.
[Star Tribune / Washington Post]

Follow SER on Twitter.
Wonkette is ad-free and 100 percent reader funded. You're reading us, so please help fund us if you're able.
Stephen Robinson
Stephen Robinson is a writer and social kibbitzer based in Portland, Oregon. He writes make believe for Cafe Nordo, an immersive theatre space in Seattle. Once, he wrote a novel called "Mahogany Slade," which you should read or at least buy. He's also on the board of the Portland Playhouse theatre. His son describes him as a "play typer guy."