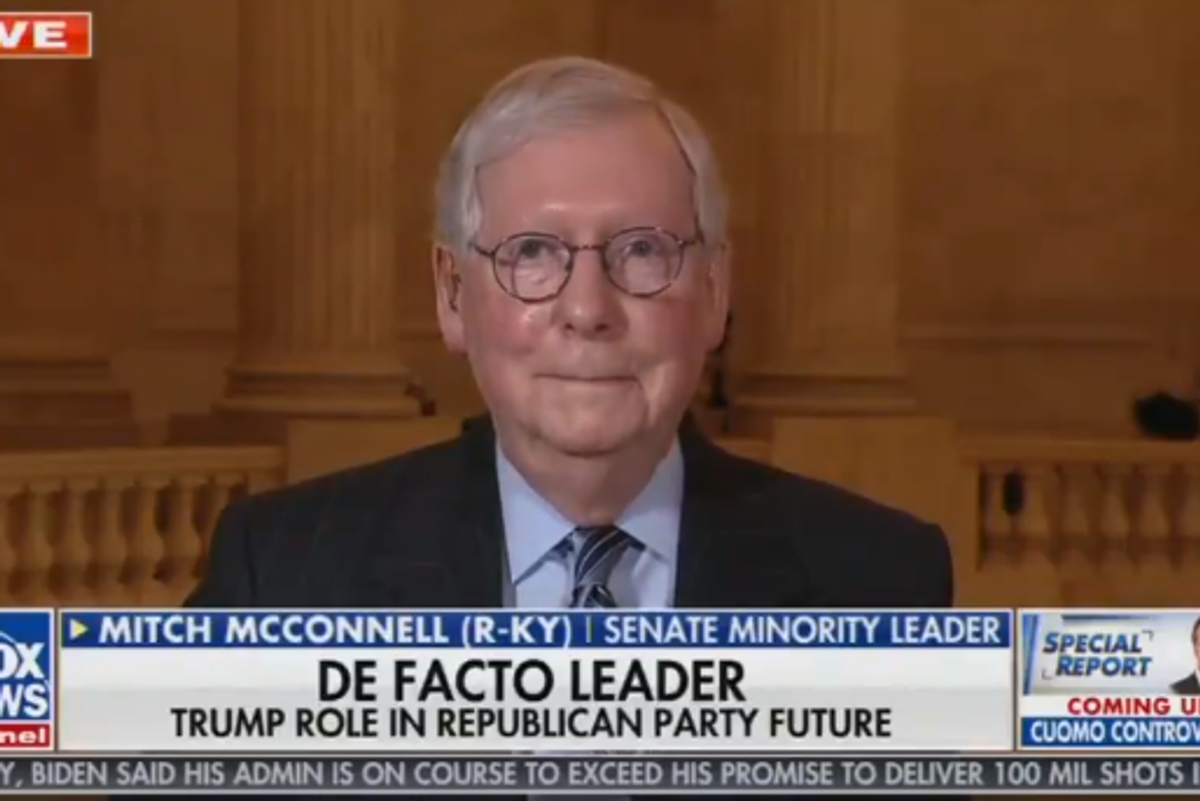 Let's play a game. It is a good game. It is the EASIEST game. It is called "How much of a cynical, hypocritical, power-hungry fucking troll is Mitch McConnell, on a scale of one to infinity?"

The way you play is you read this quote from Mitch McConnell not even two full weeks ago. It was just after he voted Donald Trump not guilty of inciting a domestic terrorist attack against the United States, on a technicality, explaining however that yeah, definitely, that guy incited a domestic terrorist attack against the United States, against the Capitol, against Congress, and he deserves to pay:
"January 6th was a disgrace.

"American citizens attacked their own government. They used terrorism to try to stop a specific piece of democratic business they did not like.

"Fellow Americans beat and bloodied our own police. They stormed the Senate floor. They tried to hunt down the Speaker of the House. They built a gallows and chanted about murdering the vice president.

"They did this because they had been fed wild falsehoods by the most powerful man on Earth – because he was angry he'd lost an election.

"Former President Trump's actions preceding the riot were a disgraceful dereliction of duty."
Everybody still playing the game? OK, keep reading! Reminder, these are the words of Mitch McConnell.
There is no question that President Trump is practically and morally responsible for provoking the events of that day.

"The people who stormed this building believed they were acting on the wishes and instructions of their president.

"And their having that belief was a foreseeable consequence of the growing crescendo of false statements, conspiracy theories, and reckless hyperbole which the defeated president kept shouting into the largest megaphone on planet Earth.

"The issue is not only the president's intemperate language on January 6th.

"It is not just his endorsement of remarks in which an associate urged 'trial by combat'.

"It was also the entire manufactured atmosphere of looming catastrophe; the increasingly wild myths about a reverse landslide election that was being stolen in some secret coup by our now-president."
OK, you get it, that's enough. He said a lot more, but if you need to read all of it, click here.
Again, those words were said by Mitch McConnell, not even two full weeks ago.
The second part of the game is you read this quote and watch this video from Mitch McConnell yesterday.
---
After Mitch McConnell said a number of senators are likely to run in 2024, @BretBaier asked what he would do if Tru… https://t.co/eWQySHyVas

— Curtis Houck (@Curtis Houck) 1614295930.0
"If [Donald Trump] was the party's nominee, would you support him?" [Bret] Baier asked.

"The nominee of the party? Absolutely," McConnell said.
It's fine, says Mitch McConnell, if Trump ends up being the nominee in 2024! He'll support him! Maybe if Trump got Russia to help him steal another one, Moscow Mitch's wife could be transportation secretary again! It's all good!
As we said, the game we just played is called "How much of a cynical, hypocritical, power-hungry fucking troll is Mitch McConnell, on a scale of one to infinity?"
If you answered anything besides "infinity" or "maaaaaaaan, fuck that guy," you lose.
The end.
Follow Evan Hurst on Twitter RIGHT HERE, DO IT RIGHT HERE!

Wonkette is ad-free and funded ENTIRELY by YOU. Be the change you want to see in the world! Thank you we love you!
Evan Hurst
Evan Hurst is the managing editor of Wonkette, which means he is the boss of you, unless you are Rebecca, who is boss of him. His dog Lula is judging you right now.
Follow him on Twitter RIGHT HERE.