Mitt Romney: George Santos Should Sit Down, Shut Up, Leave Congress
Congress
February 08, 2023 01:45 PM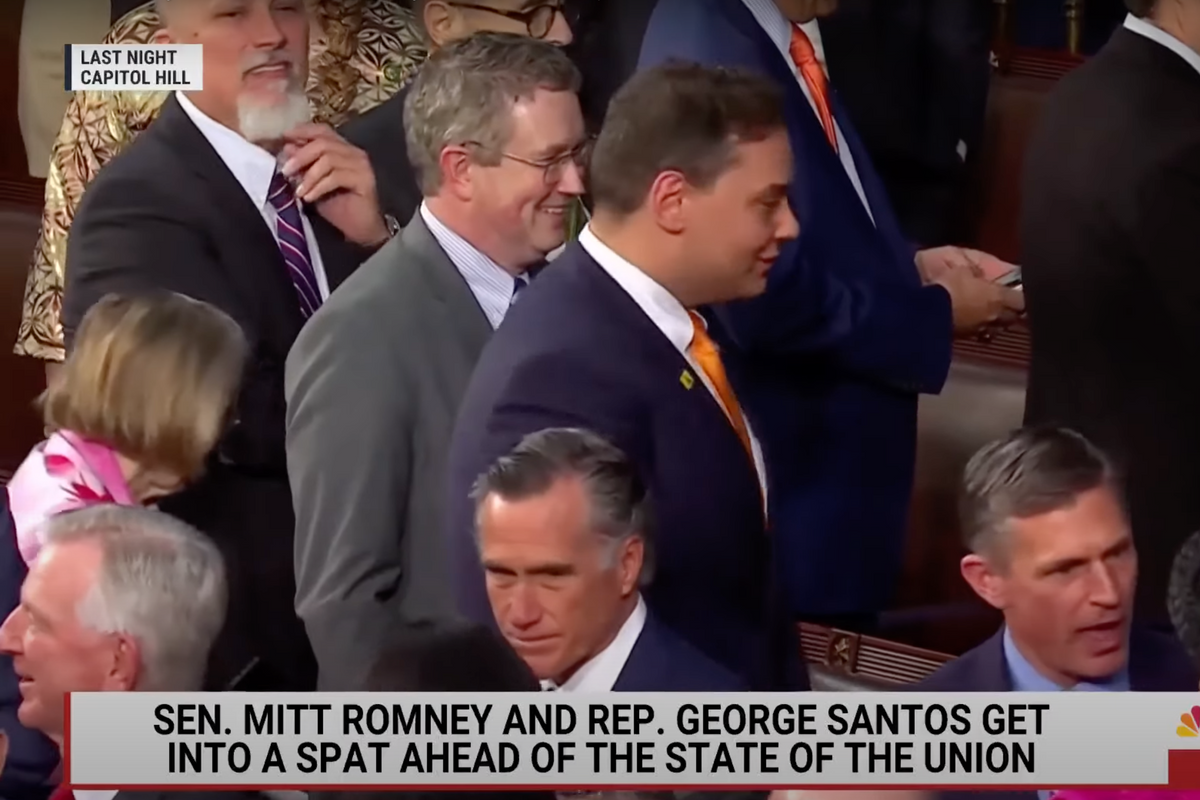 Rep. George Santos is a useful vote for giving Kevin McCarthy the House speaker's gavel and bouncing Rep. Ilhan Omar off her committee, but the freshman fraud from New York is hardly an esteemed member of the House. Last night, just before President Joe Biden's State of the Union address, Santos tried to mix and mingle with his fellow Congress members, but his attempted schmoozing failed miserably when he met Sen. Mitt Romney.
The Washington Post reports that Santos and Romney had a "brief but tense conversation" on the House floor. They apparently weren't able to bond over their mutual allegedmistreatment of dogs. Romney was observed glaring at Santos, who smiled and nodded before single-handedly defending the Capitol from ninja assassins (at least that's what I read on his website).
PREVIOUSLY:
Thank You, George Santos, For Reminding Me I Willingly Saw 'Spider-Man: Turn Off The Dark'

You'll Have To Drag George Santos Out Of Congress Bracelets First

George Santos Lied About Being Jew-ish Because He Loves The Jews So Much
George Santos, If That Is His Real Name, Won't Let New York Times Defame Him By Exposing All His Lies

GOP Rep-Elect George Santos Might've Made Up His Resume, Whole Life
---
When reporters later asked Romney what he discussed with Santos, he didn't hold back. He said he told the former Broadway producer and volleyball champion that he doesn't belong in Congress. Considering Romney spent the State of the Union willingly seated next to a talking banana peel, that's quite the blow.
"I didn't expect that he'd be standing there trying to shake hands with every senator and the president of the United States," Romney said. "Given the fact that [Santos is] under ethics investigation, he should be sitting in the back row and staying quiet instead of parading in front of the president and people coming into the room."
\u201cSen. Mitt Romney (R-Utah) said after the State of the Union address on Tuesday that Rep George Santos (R-N.Y.) \u201cshouldn\u2019t be in Congress.\u201d https://t.co/zfDvNI7oJi\u201d

— The Washington Post (@The Washington Post) 1675862361
Romney continued dragging Santos: "He says that he ... 'embellished' his record." Yes, he did! That was classic George. "Embellishing is saying you got an A when you got an A minus." Yeah, and the woman from your philosophy class still won't go out with you ... so I hear. "Lying is saying you graduated from a college you didn't even attend. [Santos] shouldn't be in Congress, and they're going to go through the process and hopefully get him out."
Unfortunately, Romney is embellishing House Republicans' collective integrity if he thinks they'll actually expel Santos, even if he makes the talented Mr. Ripley look like Mr. Rogers.
"He shouldn't be there," Romney said, "and if he had any shame at all, he wouldn't be there."
One of the reporters asked Romney why he "went out of [his] way" to confront Santos, and a bemused Romney responded, "He was standing right there in the aisle, shaking hands with everybody!"
Romney even called Santos a "sick puppy," which is "fact check: true," unlike Santos's claims that his mother was a 9/11 victim or that his grandmother died in the Holocaust, which are both "fact check: head explode."
\u201cHey @MittRomney just a reminder that you will NEVER be PRESIDENT!\u201d

— George Santos (@George Santos) 1675827838
Santos clapped back at Romney from the safety of his Twitter this morning. Responding to his own tweet declaring, "Donald J. Trump will be the 47th POTUS," he wrote, "Hey @MittRomney just a reminder that you will NEVER be PRESIDENT!" Actually, Congressman, Romney has served two terms as president. He must have. It's on his resume.
This morning, during a CNN interview, Santos's fellow New York Republican Rep. Nick LaLota called him a "sociopath."
"He's all about the rhetoric," LaLota said. "He's all about the drama. And he's fallen far below the standard that we all should hold ourselves to."
This was the same interview where LaLota defended his drunken comedy club heckling of Biden's State of the Union address, so, once again, that's quite the blow.
\u201cFreshman NY Republican Rep. Nick LaLota says Sen. Romney is right: \u201cGeorge Santos is a sociopath.\u00a0He looks for that attention.\u00a0Even the negative attention\u00a0drives him.\u00a0It's a distraction to the\u00a0Republicans in the House.\u00a0We want to focus on our\u00a0commitment to America.\u201d\u201d

— Kaitlan Collins (@Kaitlan Collins) 1675860008
"Even the negative attention drives [Santos]. It's a distraction to the Republicans in the House." This includes polar bear coat wearer Marjorie Taylor Greene. "We want to focus on our commitment to America."
Oh, wait a minute, if George Santos is successfully distracting Republicans from destroying the country, maybe he is the hero we need right now. He deserves those five Purple Hearts for his service in Vietnam.
Follow Stephen Robinson on Twitter if it still exists.
Did you know SER has his own YouTube Channel? Well, now you do, so go subscribe right now!
Subscribe to the Wonkette YouTube Channel for nifty video content!
Click the widget to keep your Wonkette ad-free and feisty.
Stephen Robinson
Stephen Robinson is a writer and social kibbitzer based in Portland, Oregon. He writes make believe for Cafe Nordo, an immersive theatre space in Seattle. Once, he wrote a novel called "Mahogany Slade," which you should read or at least buy. He's also on the board of the Portland Playhouse theatre. His son describes him as a "play typer guy."