Mo Money, Mo Problems For Rudy 'N' The Chucklef*cks
Ukraine
October 23, 2019 11:46 AM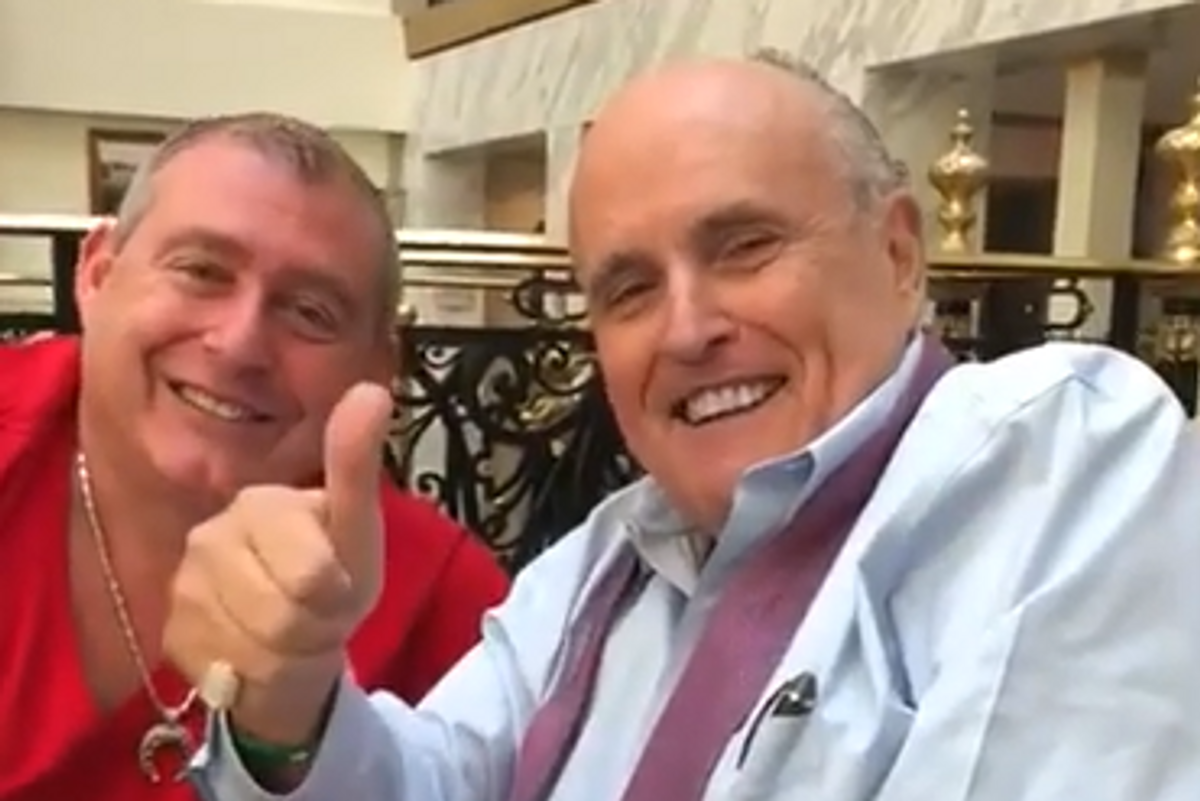 Noted Chucklefucks about town Lev Parnas and Igor Fruman are in court this morning for arraignment on alllll the campaign finance charges. Big Mazel, fellas! May it be the first of many. Because a new article from the document demons at BuzzFeed says that a grand jury is all the way up the P&F Alleged Funny Money Laundrette's business, issuing subpoenas for "records detailing bank statements for several corporations controlled by Parnas, his wife, and Fruman, dating back at least three years." And what they're finding is a HOT MESS.
As these two wild and crazy guys partied their way through Ukraine, spending money like drunken sailors as they tried to scare up dirt on Joe Biden, they started to move large amounts of money in a "series of suspicious transactions in Parnas's accounts, which had hallmark signs of money laundering and fraud, according to two senior law enforcement officers."
---
If you're trying to get the IRS's attention, try moving a boatload of cash in round-dollar amounts back and forth between accounts. Aim for as many six-figure wires from overseas sources as possible, preferably from former Soviet states. And for added emphasis, throw your spouse and your minor child into the mix, put their names on a couple LLCs, stuff like that.
For instance, a company controlled by Parnas and his wife, Svetlana, moved $490,000 into a business owned by Fruman on May 16. The next day, Parnas's wife moved $12,650 to Fruman's company.

The following day, the company controlled by Parnas and his wife sent $205,000 to another account they control. Minutes later, Svetlana Parnas wired $5,000 to Katie Correia, the wife of David Correia, a longtime partner of Parnas's who was also indicted by the grand jury. That transaction is one of several wires in neat, thousand-dollar multiples sent to Correia's wife last year. He was arrested at JFK airport last Wednesday. A lawyer for David Correia did not return a request for comment.
Well, alrighty then! So functionally, these idiots erected a neon sign that said HEY, IRS MAN, WE'RE CRIMING SO HARD RIGHT NOW! LOOK HERE FOR CRIMES! And it worked. The bank flagged the transactions for possible money laundering, and now these guys are in deep shit.
Far be it from your Wonkette to imply that these upstanding gentleman were up to anything illegal. But if they were laundering money, opening a chain of all-cash marijuana dispensaries in Nevada using $1,000,000 wired in from "Foreign National-1" for campaign donations to grease politicians would not be a bad way to do it. (Which, check and check.) And we can't help but notice that Mr. Parnas has one or two tiny issues in his past that might make it difficult to get traditional financing for his entirely legitimate business ventures.
To wit, he has multiple unpaid, six-figure judgments against him and his businesses for debts including $122,000 in Florida for a Ferrari, $336,879 in Michigan for stock fraud, and $100,000 for a bounced check in Indiana to Baltimore Ravens' linebacker Ray Lewis. (Wait, what?)
Suffice it to say, Parnas's credit rating is probably a lil bit shaky. And yet, the Trump-supporting America First Action PAC was only too delighted to take his money. They even did him the favor of obscuring the real source of the funds, as the Campaign Legal Center detailed in its FEC complaint:
Specifically, wire transfer records show that on May 17, 2018, an entity managed by Mr. Parnas and his wife called Aaron Investments I, LLC, at the address 21842 Cypress Palm Ct. in Boca Raton, Florida, transferred $325,000 to America First Action.

America First Action did not disclose receiving $325,000 from Aaron Investments I, LLC on its July quarterly report, nor has it ever reported a contribution from this entity. 2 Instead, America First Action reported that the source of the $325,000 contribution dated May 17, 2018 was GEP, from the address, "7670 La Cornich[e] Circle," in Boca Raton, Florida.

Notably, although the Aaron Investments I, LLC wire transfer included the notation "Global Energy Producers LLC," the transfer record did not include the address that ultimately appeared in the contribution entry on America First Action's July quarterly report, which suggests that America First Action had additional correspondence with Mr. Parnas or others about how to falsely attribute this contribution to GEP.
That was nice of them, huh? Too bad their generosity got them mixed up in the campaign finance case against Parnas and Fruman for falsely claiming the $325,000 contribution was funded by GEP's non-existent business income. No good deed goes unpunished!
And just as America First was willing to give Parnas's money a second chance, the president's personal lawyer Rudy Giuliani was also willing to overlook Parnas's unsavory associations. Who cares if a guy is alleged to have stuck a gun in his landlord's face and threatened, "If you call the cops, they are not going to find you ever"? The important thing is he was able to arrange a Skype call for Guliani with disgraced former Ukrainian prosecutor Viktor Shokin. And he was able to, ahem, "translate" for Victoria Toensing in her representation of Dmitry Firtash.
So now, Parnas is being represented by Donald Trump's old lawyer John Dowd. And his buddy Igor Fruman has Paul Manafort's current lawyer Todd Blanche on his case. And we are just wondering how a couple guys who seem to have longstanding solvency issues can afford this kind of representation.
LOL, remember that funny time when Paul Manafort's lawyers at WilmerHale got paid by the media company for the Trump-supporting Rebuild America PAC and it wound up revealing a whole kickback scheme that blew up his plea deal? And speaking of weird echoes from last season, Vanity Fair says that Parnas approached Michael Cohen shortly after the inauguration "and asked if he would be willing to set up a meeting with Trump, the purpose being that he wanted to propose a method to save the federal government money on fraud, waste, and abuse."
UH HUH. Well, this all seems on the up and up. Nothing to see here!
[BuzzFeed / FEC Complaint / VF]
Follow Liz (AKA your FDF) on Twitter!
Please click here so your Wonkette can keep on keepin' on.
Liz Dye
Liz Dye lives in Baltimore with her wonderful husband and a houseful of teenagers. When she isn't being mad about a thing on the internet, she's hiding in plain sight in the carpool line. She's the one wearing yoga pants glaring at her phone.