Nation Braces For Dick-Filled Sex Festival Known As 'Ex-Gay Awareness Month'
News
September 29, 2015 01:00 PM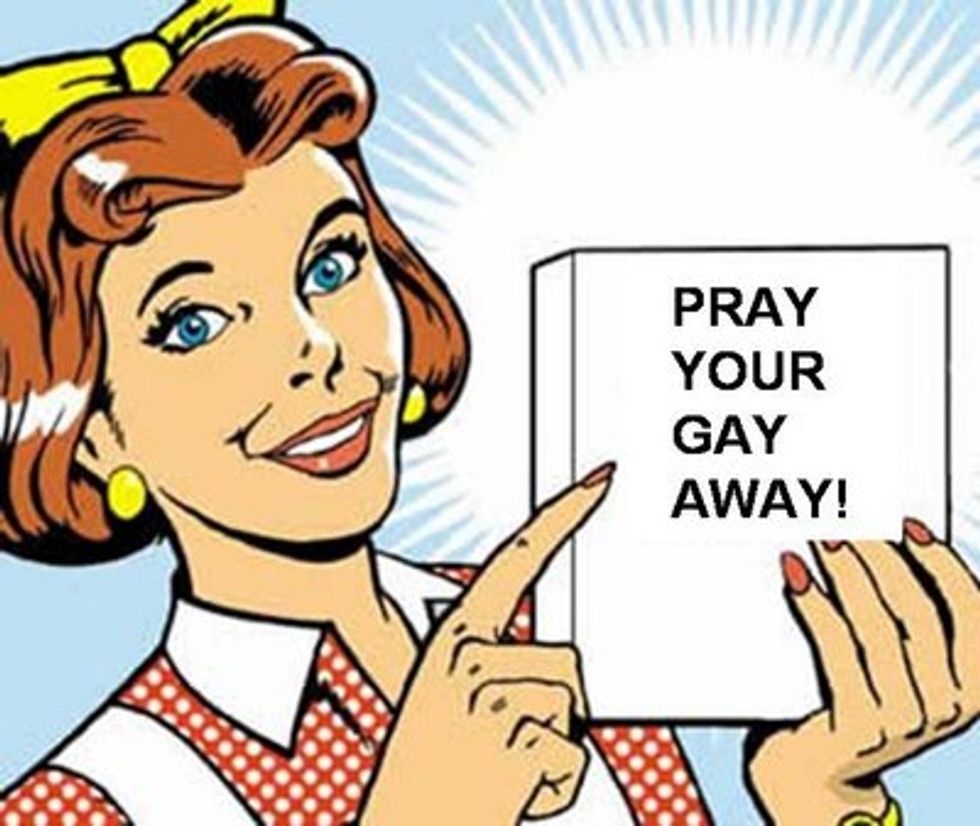 Nope, sorry, doesn't work, all these dudes still like dick.
---
Amazing grace, how sweet the sound
That saved a wretch like me.
I once was gay, but now I'm into snatch
OMG LOL it's my favorite just kidding EW NASTY.
(Ancient "ex-gay" hymn)
Hey boys, time to dismount from the strange dick you found last night and search for your clothes on the floor, because "Ex-Gay Awareness Month" is coming! Aren't you excited? Because see, as the religious right and the failing "ex-gay" industry have been telling us for years, there are LITERALLY MILLIONS of people out there who used to sucka the D (or scissor the V, if they are ladies), but they allegedly don't do that anymore, due to how they prayed the gay away.
Is this actually a HUGE EVENT, you are asking? Haha, of course not, it's a glorious failure every single year! In fact, in 2013, the event's first year, it drew literally 10 people, despite wingnut Sandy Rios's prediction that "thousands of ex-gays [were] descending" upon Washington for the soiree. IN FACT, it was originally supposed to be "Ex-Gay Pride," but that had to be canceled, since all these people are filled with seething self-hatred, so "pride" isn't really the right word. Oh, and also nobody wanted to come. "Ex-gay" organizer Christopher Doyle of Voice Of The Voiceless -- who has admitted that when he was a youth, he pulled a Josh Duggar and "tried to have sex with the little girls that my mother watched in her daycare" -- said at the time that they were canceling because "security threats," but that's pathetic bullshit and he knows it. Also, he is a gross creeper, obviously.
Wonkette did not breathlessly cover the 2014 event, because we were washing our ferret, but it doesn't sound much better.
[contextly_sidebar id="oE7XZyxFnVXaH5t9bPOWWXk8u4mKUqvg"]
But the way the Family Research Council hate group (Duggar's former employer) tells it, maybe this year will be different (no it won't):
Defenders of the truth that change is possible for those with same-sex attractions will mark the Third Annual Ex-Gay Awareness Month by gathering in the Washington, DC area for a "Safe Exit Summit" on Friday and Saturday, October 2 and 3. [...] Attorney Charles Limandri of the Freedom of Conscience Defense Fund, who defended a Jewish ex-gay ministry in a New Jersey lawsuit filed by the Southern Poverty Law Center, is scheduled to receive an award. The Summit will also feature testimonies by individuals who have left homosexuality and entertainment by ex-gay Christian songwriter and singer Dennis Jernigan. The principal organizers of the Safe Exit Summit are Parents and Friends of Ex-Gays and Gays (PFOX); Voice of the Voiceless; and Equality and Justice for All. Family Research Council is a supporting sponsor of the event.
Ooh, an overnight event! All 10 attendees better make sure they bring enough lube for the Friday night slumber party!
So, what kind of fun will this be? Well, Charles Limandri, the lawyer who's receiving an award, is most notable for getting his dumb ass handed to him in a fraud cause brought by the SPLC and victims of an "ex-gay" group called JONAH (Jews Offering New Alternatives To Homosexuality). Turns out it's NOT legal to get people to pay you thousands of dollars for de-gaying treatment that doesn't work, but looks a lot like organized sexual molestation!
[contextly_sidebar id="S1q7a1gDrAGErdExXWrxxbz1Js4Wzv4A"]
But here's a new sexy thing for 2015! One of the "ex-gay" superstars this year is a guy who's fucked/been fucked by 10,000 GUYS! Guess they're giving him the Lifetime Achievement Award. Let Christopher Doyle 'splain you:
I'm thinking of a client that, unfortunately, has had over 10,000 sexual partners in his lifetime. 10,000. I did the calculation a couple weeks ago, that's on the average of 250 partners per year for this man. And I asked him, "How can you do that to yourself?" And he said, "I was looking for love in any place that I could because I never experienced it from my father, and I never got it from the men in my life."
Oh Jesus Christ. So, like, what about all the happy gay people (WHO VERIFIABLY EXIST, as opposed to Doyle's possibly made-up whore friend) who haven't had sex with 10,000 people because they were trying to find Daddy's love, but instead just sexed some folks, fell in love with one, and got married? Guess they don't count, because they're not failures like Doyle and his friends.
Anyway, if that promiscuous boy exists, he probably shouldn't tell that story to the "attendees" at the "festival" this year, as the shame-gasms will make them slide off their chairs.
The good news is that, mockable though this is, it's such an anomaly these days. The reason only 10 people show up is that there is hardly any market left for this kind of consumer fraud and psychosexual abuse. Before we were stolen by the Editrix to write funnies for you, yr Wonkette worked with an organization called Truth Wins Out that's devoted to dismantling the "ex-gay" industry piece by piece. Two years ago, the flagship model for the industry, Exodus International, which used to prey on untold numbers of impressionable gay kids and adults, closed its doors. And this came a full year after the organization admitted that, whoopsie, no, you CANNOT pray away the gay.
[contextly_sidebar id="xIXc1mCM9gZEPBQcv1WAxuaXBKKqG8Sz"]
And now, so many people who used to be in that industry, whom we used to fight against with our heroic activist former bossman Wayne Besen, now admit that yeah, seriously, you can't pray away the gay and also, this shit is fucking harmful to people. And many of them are now, strangely, our Facebook friends.
Funny how things change. Anyway, enjoy "ex-gay" awareness or pride or whatever the fuck it is. And just remember: it might seem like a Herculean task to get all 10 of the attendees in one bed for Friday Night Sex Sinning, but it's possible, if you pray hard enough. Also, there's more space on the floor.
[JoeMyGod]
Evan Hurst
Evan Hurst is the managing editor of Wonkette, which means he is the boss of you, unless you are Rebecca, who is boss of him. His dog Lula is judging you right now.
Follow him on Twitter RIGHT HERE.