Neo-Nazi Greek Politician Beats On Lady Politician On Live TV (VIDEO)
News
June 07, 2012 03:25 PM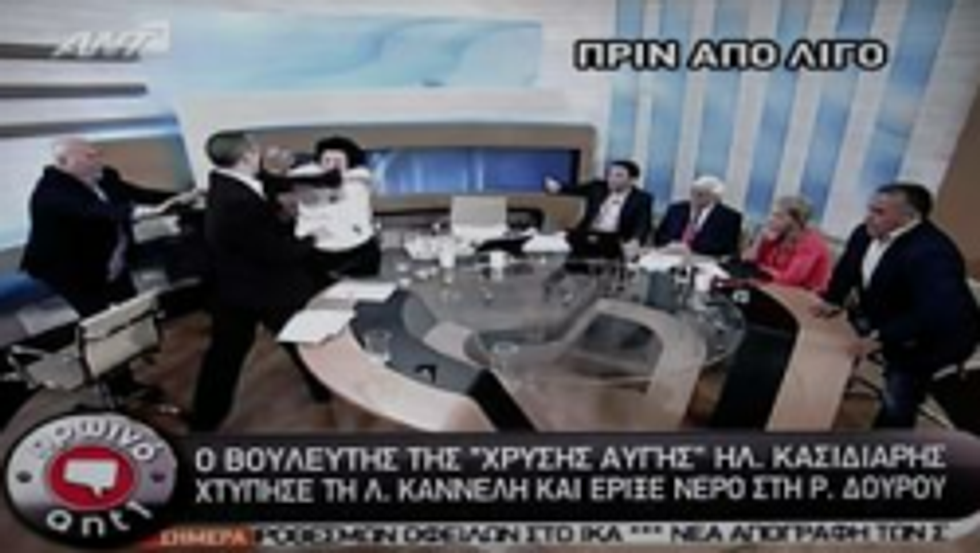 Well, this is great. During a live television debate on Thursday between a bunch of Greek politicians (its broke citizens go to the broken polls on June 17), Ilias Kasidiaris, a spokesperson for and member of the terrifyingly named neo-Nazi party Golden Dawn, tossed a glass of water at a lady rival, Rena Dourou of the left-leaning Syriza party, THEN slapped another lady politician, Liana Kanelli of KKE, the communist party, twice. This after an exchange of insults including "you old commie!" (he to she) and "fascist!" (she to he). The bestest part of this is that it is ONLINE! The second best part is that the reason Kasidiaris attacked the women is because they were asking him about a 2007 mugging that he has been implicated in. The trial about that mugging is ongoing, but it's safe to say, um, innocent until proven to be a violent freak on national television.
---
So, it appears that Kasidiaris slapped Kanelli twice and then threw a punch while she attempted to protect herself with her arms. But you be the judge. Here is the video!
After the incident, Kasidiaris apparently fled the TV studio, and is currently being sought by police. Golden Dawn is being given the time of day after winning some parliamentary seats in a May 6 vote. They only got about 6.9 percent of the vote, however, and rivaling parties are now using this debacle, understandably, to get the Greeks to change their minds by the June 17 election.
A British newspaper referred to this incident as "reminiscent of Jerry Springer trash TV" (don't talk about our Jerry that way), and a spokesperson from the Syriza party says that we are finally seeing the true colors of Golden Dawn, which it believes is not actually a political party but a "criminal organization." Apparently there is a distinction there. [Hurriyet Daily News/The Independent]