Nevada Shuts Down Trump's Planned Maskless Moron Rallies. Sad!
Trump
September 10, 2020 10:10 AM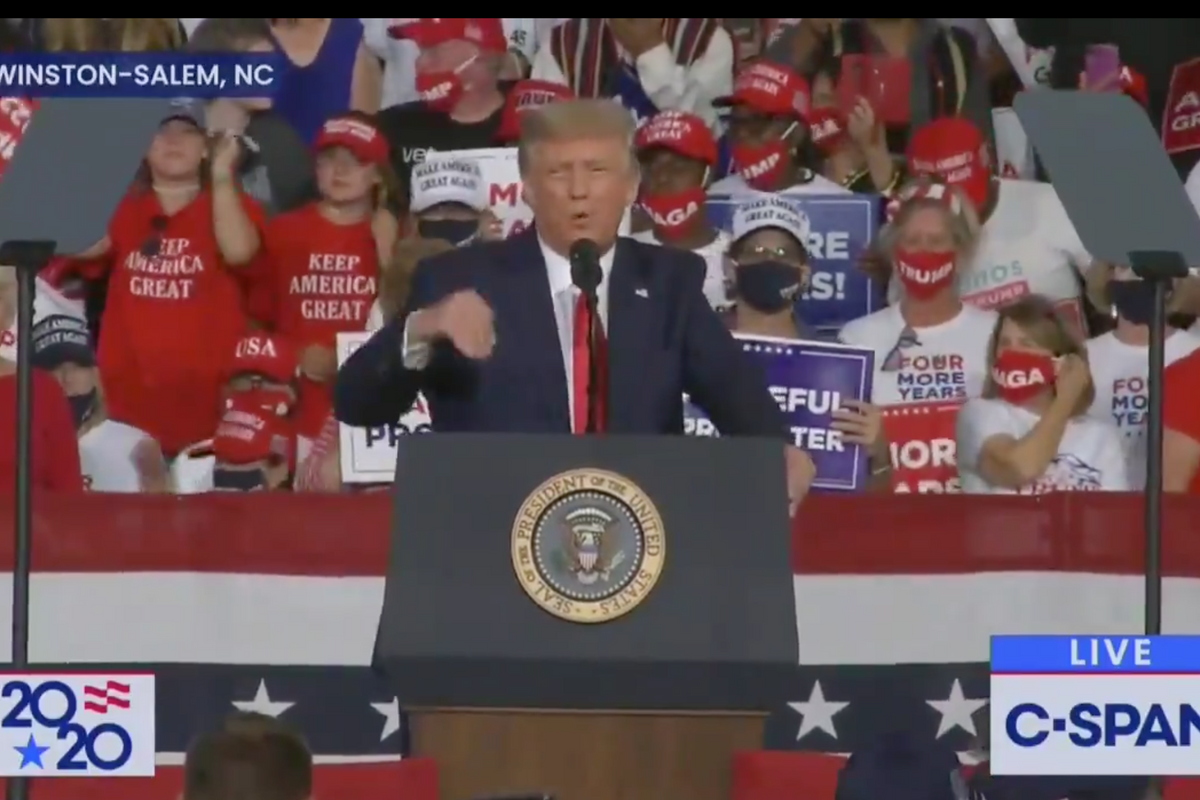 Donald Trump desperately wants to keep having his campaign Klan-bakes. They remind him of a simpler time when his negligence and lies hadn't resulted in the deaths of almost 200,000 Americans. He scheduled a couple hate rallies in Nevada this weekend, both at airports, where he presumably believes COVID-19 can't get past security.
However, the 5,000 idiots expected to attend Trump's Saturday rally at the Reno-Tahoe International Airport would violate Gov. Steve Sisolak's emergency directive limiting public gatherings to no more than 50 people who enjoy living. Tina Iftiger, senior vice president and chief commercial officer at the Reno-Tahoe Airport Authority, sent a letter to the company that leased the airport hangar to Trump's campaign. She politely explained to Hangar 9, LLC all the reasons why Trump can't have his superspreader event at the airport.
---
Claude Cognian, a manager at Hangar 9, issued a whiny response Wednesday, conceding defeat by science.
"Based on our conversation yesterday that, if we were to proceed we will be in violation of our lease with the RTTA and create a default and, we would found ourselves with no hangar for the aircrafts in the future," Cognian wrote. "Then, this leave us with no other option than to communicate to President Trump and his campaign that we cannot help him/them and we are withdrawing the offer to use the hangar."
Awww ... so sad! Hangar 9 had offered the Trump campaign a sweetheart deal where the company would let Trump use the hangar for his rally and his campaign would pay for moving the aircrafts and prepping the space (this was probably another bill that would go unpaid).
The president also planned to hold a rally Sunday evening outside Las Vegas at private jet operator Cirrus Aviation. This was news to the folks at McCarran International Airport, which Cirrus never contacted for permission as required by the company's lease. That coronapalooza isn't happening either.
Adam Paul Laxalt, Nevada's former attorney general, tweeted Wednesday morning that both Nevada rallies were cancelled in an "unprecedented" act of "partisan political retribution." Yes, Nevada has a Democratic governor, but COVID-19's political leanings are unknown. Given its callous disregard for human life, we assume it's college-aged libertarian.
Outrageous! @realDonaldTrump rally venues in NV canceled. Welcome to Sisolak's Nevada – home of partisan political… https://t.co/DEkB7z2Zn1

— Adam Paul Laxalt (@Adam Paul Laxalt) 1599667260.0
Laxalt somehow thinks Nevada is a swing state. The most recent poll showed Biden comfortably ahead. He should know how Nevada rolls considering Sisolak kicked his ass in the 2018 governor's race.
Trump's campaign spokesman, Tim Murtaugh, reassured his supporters that Trump would find some way to spit COVID-19 on them. He also claimed without evidence that the cancelled rallies were part of some leftwing conspiracy. Democrats didn't make Trump such a malignant narcissist he'd insist on holding large gatherings in defiance of public health guidelines. He was born that way.
MURTAUGH: Democrats are trying to keep President Trump from speaking to voters because they know the enthusiasm behind his reelection campaign cannot be matched by Joe Biden — a historically weak candidate controlled by the radical left who could hold a campaign event in a broom closet.
The kitchen sink attack continues: Biden is as boring as a Pat Boone concert while simultaneously in the thrall of the "radical left." If Republicans want to blame Biden for the antifa riots, they should at least give him credit for the turnout. He's headlining a multi-city, commie Coachella fest.
You can tell Trump is jealous. Tuesday, during his maskless moron event in North Carolina, Trump described his rally as a "peaceful protest."
"You can't go to church," Trump said. "But if you are willing to riot … you are allowed to do that because you're considered a peaceful protester. So we decided to call all of our rallies peaceful protests."
This doofus thinks people are allowed to riot. The police immediately declare an "unlawful assembly" at the sight of a water bottle held aggressively. Rioters and looters are arrested. Actual peaceful protesters are still roughed up, pepper-sprayed, and tear-gassed. It's not a big party. Trump should know. He sent the feds in to crash it.
Our thanks to everyone who ensured Nevada remains safe and Trump-free.
Do your Amazon shopping through this link, because reasons.
Wonkette is funded entirely by you, the people! Show us some love, please.
Stephen Robinson
Stephen Robinson is a writer and social kibbitzer based in Portland, Oregon. He writes make believe for Cafe Nordo, an immersive theatre space in Seattle. Once, he wrote a novel called "Mahogany Slade," which you should read or at least buy. He's also on the board of the Portland Playhouse theatre. His son describes him as a "play typer guy."