New Pope Wants Kids Wilding In The Streets
News
July 29, 2013 12:52 PM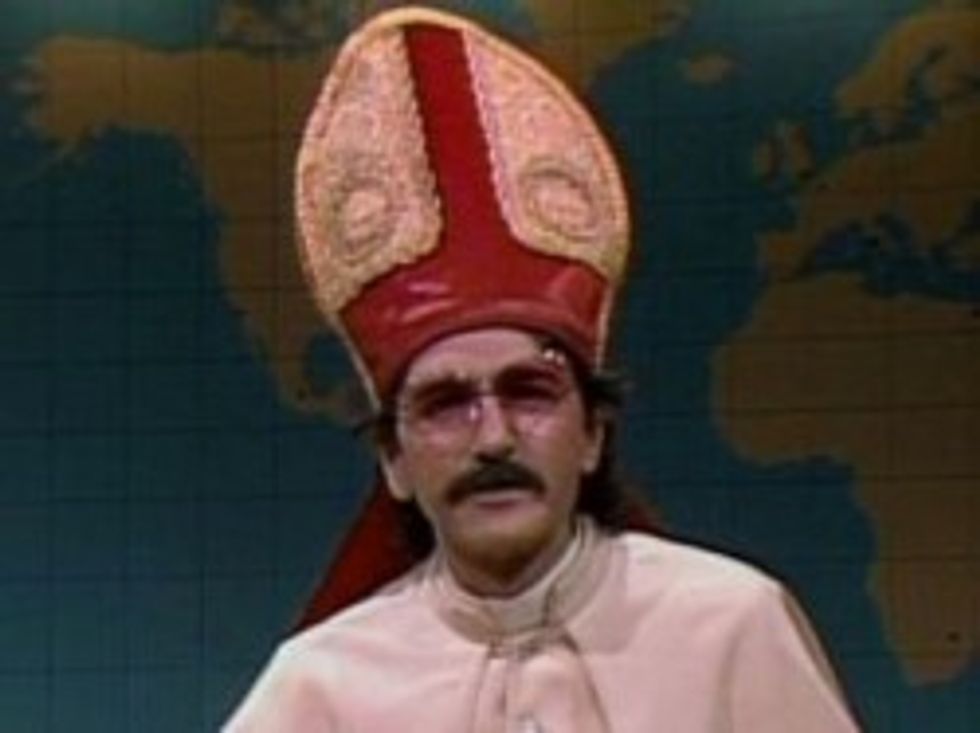 Here is a gay fever dream I wrote for you. New Pope is wildin' out! Way down in nutty Brazil-land, New Pope continues to New Pope it up in histrademark New Pope style: visitin' prisoners, ridin' around in an open-air car thing, yellin' at rich people to do more for po' folk. (And please peep this photo of these hot young chicks Beliebering out over the pontiff.) And the other day, he said a thing that is decidedly punk rawk (you know, for a pope):
---
Earlier, in an interview with the O Globo broadcasting network in Rio, he again voiced support for young demonstrators who have been protesting excessive government spending and the lack of education and health services. "A young person who does not protest, I do not like," the pope said.
Ha-ha, fooled you, godless liberal pond scum! You thought your authoress was going to talk about the chill thing New Pope said about gays, but whoa no, she took a sharp left turn because she is a maverick like Smilin' Joe Biden and will not conform to your tired expectations! Nor will this New Pope, for that matter.
Anyway, New Pope has clearly been listening to spoken word performances by Jello Biafra, because he wants The Youngz to smash the motherfucking state! Why is New Pope such a fan of Henry Rollins? Did Zack de la Rocha introduce them? While Nazi Pope was busy jacking it to the soundtrack to "Triumph of the Will," fantasizing about Leni Riefenstahl in lederhosen (haha J/K all popes are geigh), New Pope was biding his time during his cardinalhood, absorbing the wisdom of Atari Teenage Riot.
If New Pope were a character in "Clueless," he would be Travis, the weed-happy skate punk with the heart of gold.
If New Pope were a character on the simultaneously loathsome and toothsome HBO programme "The Newsroom," he would totally be into Slumdog Millionaire's crusade to get executive producer Avian Bones to care about Occupy Wall Street, that time when white dreadlocks and human body stench reigned in your authoress's beloved former neighborhood, the Financial Distrikkkt of Manhattan City.
If New Pope were a character in the Bible, he would be Jesus Christmas, who wanted people to rise up against the guidos who would eventually kill him (OH OKAY LIKE AN OCCUPYING COLONIAL FORCE WOULD'VE GIVEN A SHIT WHAT THE ENTRENCHED POWER HIERARCHY OF THE OPPRESSED LOCAL POPULACE WANTED, IDIOTS, YOU KNOW IT WAS THE PROTO-ITALIANS' FAULT AND NOT THE JEWS, PONTIUS "JOSEPH" PILATES DID WHATEVER THE FUCK HE WANTED WITH HIS STRONG ABDOMINAL CORE.)
Anyway, this is just another example of why New Pope is soooo much better than Nazi Pope, even though he still does not like geighz enough to let them get married and also he thinks wimmin should not be priests because, I don't know, what if they get their period during the weekly homily and a blood-lustful bear breaks into the parish? (Look up "homily" in your Catholic Dictionaries, assholes, I don't have time to teach you CCD. Now look up "CCD" while you're at it.)
New Pope is leaving Brazil so that he can spend more time with his BFF, Patti Smith, and they can listen to "Horses" while holding hands and making transgressive art. Your authoress suggests you spend the rest of the day thinking about why you are such a shit demon of a person and not as cool or nice to angry anarchist kids as New Pope.
[LAT]