New York Primary Over, Final Results To Come By End Of Year
State/Local Politics
June 23, 2021 10:19 AM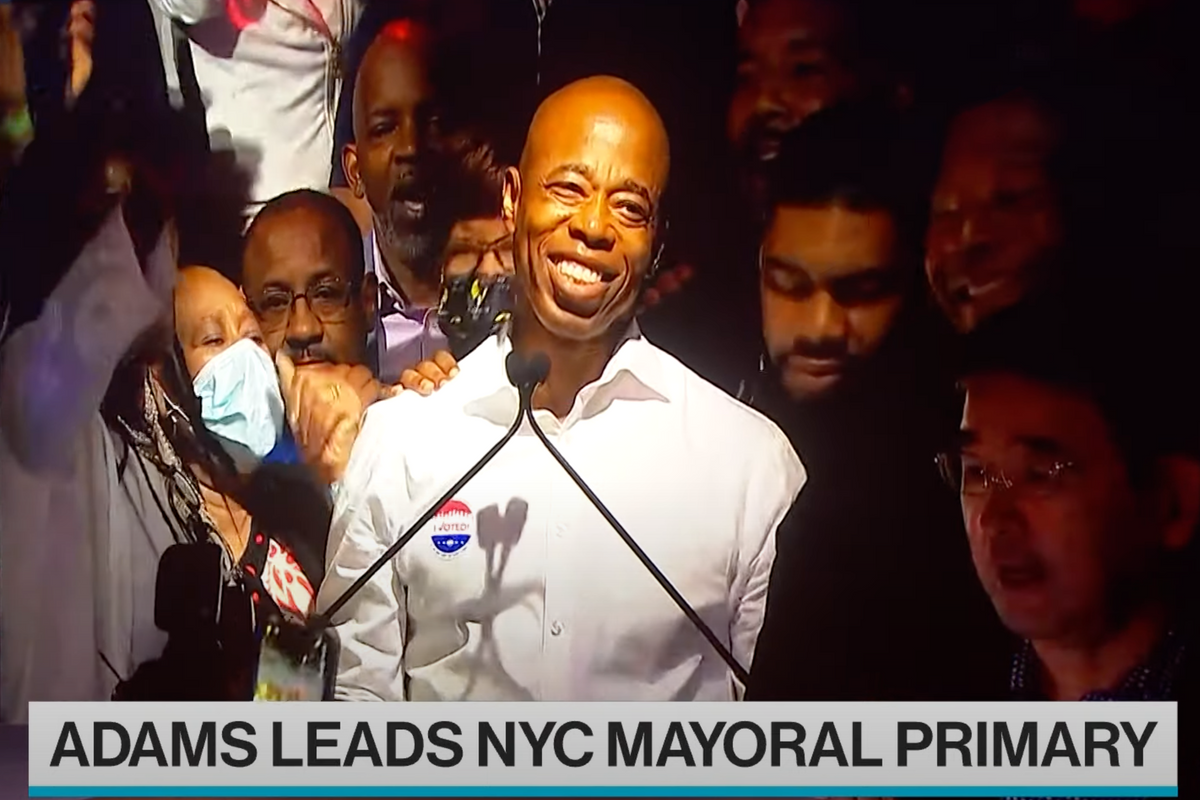 The New York primary elections were Tuesday, but the races aren't likely to have definitive winners for weeks. There are absentee ballots to count, and ranked-choice voting results to consider. However, we do have a definitive loser in the Democratic primary race for mayor. Andrew Yang finished a disappointing (to him at least) fourth place with as of this morning, with just 11.7 percent of the vote.
Yang conceded the race last night, ending a campaign where he focused on the true threat to New York, the homeless and mentally ill. During a debate last week, he stood up for the little guys, the hedge fund managers and investment bankers, against the powerful Big Homeless lobby:
"Yes, mentally ill people have rights, but you know who else have rights? We do! The people and families of the city," Yang said during the debate. "We have the right to walk the street and not fear for our safety because a mentally ill person is going to lash out at us."
Yang believed New York's economy wouldn't fully recover as long as mentally ill people littered the streets where tourists might see them and tell all their friends, "Don't go to New York City." He suggested moving the homeless to a "better environment," but was unclear on specifics. Previous mayors had considered just shipping the homeless COD to places that aren't New York.
---
The COVID-19 pandemic battered New York City, and the marginalized took the brunt of it. This also explains the tough on crime rhetoric from candidates during the campaign. It was as if people were running for Taxi Driver. Not surprisingly, former police captain Eric Adams leads in the initial vote tally with 31.7 percent of the vote. Adams spoke for 40 minutes last night about how the city needed to "unite to fight crime." He's presented himself as the blue collar candidate who doesn't put up with "academic or philosophical debates about policing." We don't need to think about this intellectually or morally. We just need to bust more heads. That will bring the rich people back to Manhattan!
Violent crime has increased dramatically over the past year, not just in New York but across the country. Whenever this happens, cops usually complain that their hands have been tied by liberal reforms or even the slightest whisper of holding them accountable. NYPD Commissioner Dermot Shea has blamed the state's bail reform laws, although the facts disagree with him.
Democratic "strongholds" like New York are not "progressive." Because registered Democrats, like everybody else, ar… https://t.co/hWWBL0RsCA

— Elie Mystal (@Elie Mystal) 1624430807.0
Maya Wiley, civil rights activist and former counsel to current Mayor Bill de Blasio, was in second place with 22.3 percent. It'd be great if she could pull this off but it's a stretch at this point. Former sanitation commissioner Kathryn Garcia came in third with 19.5 percent.

Adams is at least better than the winner of the Republican primary, Curtis Sliwa, who leads the Guardian Angels, a volunteer organization of unarmed crime prevention volunteers. Or, you know, "vigilantes" (allegedly!). During their debates, they'll probably try to outdo each other with passionate defenses of police brutality.
In other results, Alvin Bragg, a former federal prosecutor and civil rights lawyer, leads the Democratic contest for Manhattan district attorney. This race didn't use ranked-choice voting so the almost 59,000 remaining absentee ballots will determine if Bragg's 7,000 vote lead over Tali Farhadian Weinstein holds up. Whoever wins the Democratic primary is considered a lock to replace current Manhattan DA Cyrus Vance Jr. Bragg would be the first Black person to head the office, which is currently in the middle of a wee investigation into Donald Trump's business dealings.
Bragg has stated that as DA, he won't seek life without parole or prosecute sex work. He also wants to eliminate the special narcotics prosecutor and the NYPD's vice squad. This should generate more drama between him and the future NYC mayor than several seasons of "Law & Order."
Finally, in Buffalo, New York, where there was a 90 percent increase in shootings between 2019 and 2020, progressive challenger India Walton might just unseat four-term Democratic incumbent Mayor Byron Brown. Walton, 38, would be the first woman mayor in Buffalo's history, and she's an unapologetic socialist. She led protests last year after the police murder of George Floyd. As mayor, Walton said she would adopt so-called sanctuary city rules and find different options besides the police for most mental health emergency calls.
New York state never fails to surprise, but this is a pleasant one.
Follow Stephen Robinson on Twitter.

Keep Wonkette going forever, please, if you are able!
Stephen Robinson
Stephen Robinson is a writer and social kibbitzer based in Portland, Oregon. He writes make believe for Cafe Nordo, an immersive theatre space in Seattle. Once, he wrote a novel called "Mahogany Slade," which you should read or at least buy. He's also on the board of the Portland Playhouse theatre. His son describes him as a "play typer guy."