Newsbusters Knows Who Is The Real Pussy-Grabber, And It Is Sci-Fi Time-Travel Ghost Of JFK
News
October 19, 2016 09:37 AM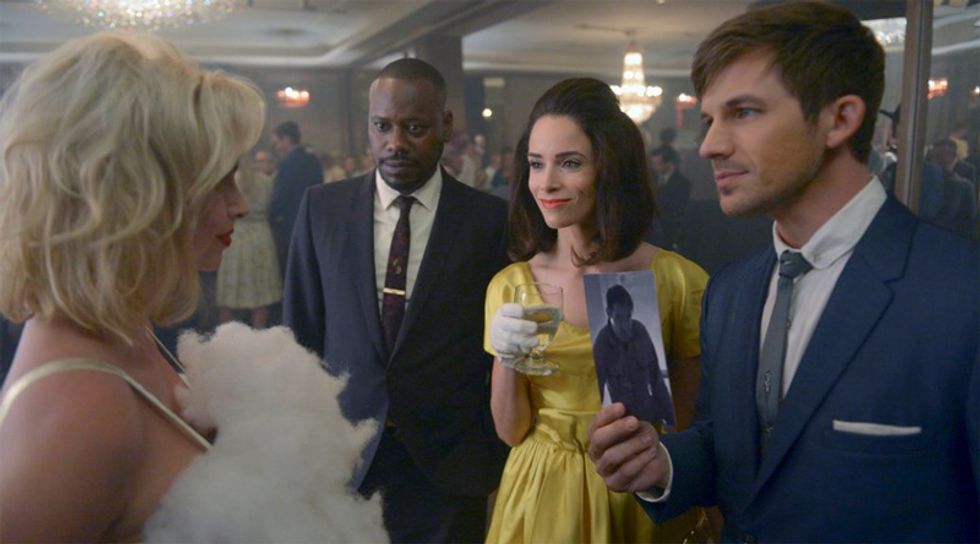 Needed more Fallout: New Vegas references. Like, any.
---
The rightwing "Media Watchdogs" at Newsbusters devote most of their attention to supposed liberal bias in news coverage, but from time to time they also treat us to some good old Moral Panic and tut-tutting over entertainment programming, too. You don't even really need to read the articles to get the gist: "'American Housewife' Calls Husband a Feminist, Son a 'Capitalist Pig'" and "Westworld" Celebrates the Basest of Human Behavior as Entertainment (good to know -- we thought you'd find that at a Trump rally). There's even the occasional hooray for the Right Side: "Last Man Standing" Shows How Shooting Sports Can Unite Families. Presumably not an episode in which a toddler finds a gun and the whole family comes together for the funeral.
Tuesday, Newsbusters treated us to some good old Moral Scolding with a brief rant about the outrageous feminist bias in the third episode of NBC's new so-so time-travel drama, Timeless. Critic Justin Ashford is simply aghast at the episode's amorality, finding the episode guilty of "excusing the acts of one of John F. Kennedy's mistresses because she demonstrated girl power during a tough time for women."
Each week, the trio of time travelers tries to catch up with bad guy Garcia Flynn (who may not really be evil!! -- this is the show's idea of dramatic tension), who's stolen a time machine so he can screw up history for unknown Larger Purposes (which may not really be evil!, see above). In the most recent episode, "Atomic City," our heroes go back to 1962 to try to stop Flynn from stealing a nuclear McGuffin in Las Vegas. The good guys rescue Judith Campbell (later better-known as Judith Exner) from the Big Bad, so historian Lucy, the show's Chief Exposition Lass, explains to the team that Judith was the mistress of both JFK and mafioso Sam Giancana, between whom she supposedly passed messages so Kennedy could plot the overthrow of Castro. Not that any of the conspiracy-theory stuff comes up in the show or in Ashford's review; mostly, he's simply disgusted the show would portray Campbell's sleeping around as some kind of "empowerment":
Later, the two women have a conversation in which Judith expects an abrasive comment about her adulterous ways, but rather receives praise for her lifestyle "in this day and age:"
Happily, Mr. Ashford did at least transcribe the dialogue, a handy thing for Wonkers who Never Watch The Videos:
Judith: So how'd you know? This Flynn guy tell you?

Lucy: Doesn't matter. Your secrets are safe with us. As soon as we find Flynn, you can go back to --

Judith: To Jack? All right. Go ahead, say it. You think I'm a tramp.

Lucy: No. I think you're fascinating.

Judith: Don't think another woman's ever called me that before.

Lucy: I mean it. A woman... Especially in this day and age. Living the life that you're living. The people that you know. The things that you've seen.

Judith: Honestly, I... felt like a nobody. And then one night, I met Jack. And the next morning, it was all different. Like a roller coaster. You ever wake up one day and not recognize your own life?

Lucy: Yes, actually. A lot lately.

Judith: And now I never know what's going to happen next. I really don't.

Lucy: Isn't that terrifying?

Judith: Some of the time.

Lucy: Do you ever wish that you could go back to your old life?

Judith: Never. It'd be easier, I guess, but I think if I did, I'd always wonder.

Lucy: Wonder what?

Judith: If I was missing out on something better.
Now, where a lot of viewers would simply see really pedestrian scripting (with some ironic notes about the fact that every time they go back in time to try and stop Flynn, our heroes change the timeline enough so that some aspect of reality in the "Present" ends up different), Ashford finds disturbing evidence of moral decay in our Sick Sad World:
Did Lucy really say she finds her illicit affairs fascinating? It seems as though Judith Campbell gets a free pass for being JFK's mistress because she's a woman in a 1960s man's world. Wow. It's just a general acceptance for the circumstances with no criticism at all.
Worse: there's Liberal Hypocrisy afoot!
One can't help but connect this to Hillary Clinton running for the presidency, and her need to dodge all those inquiries about her husband's indiscretions in the White House. Maybe Monica Lewinsky will get a pass in the media and be seen as a feminist hero? Doubtful. But we all know "Billary" does.
Huh. We could have gone all week without seeing that completely obvious connection, but then again, we don't generally find evidence of liberal perfidy in every episode of a fun but disposable sci-fi show that we're watching for the time-travel gewgaws and paradox-making, not for the moral instruction. But we bet the Clintons are really what Mad Men was really all about, too. Ashford closes with a final sniff,
This episode was disappointing in its tacit approval of JFK's playboy lifestyle, but the media and Hollywood elites have always romanticized JFK and given him a pass on his many affairs.
Not true at all. We've also made endless tasteless jokes about them, so there.
Next week's episode has the time travelers chasing Flynn to Nazi Germany. (Of course. You can't do a time travel show without a Nazi Germany episode. Needless to say, they Can't Kill Hitler, because that's in the Bylaws.) We can hardly wait to see how that reminds Newsbusters of Hillary's insatiable lust for power.
[Newsbusters / TV Tropes (you've been warned) / Wikihistory]