Nice Speech, Idiot. Let's Talk More About How President Pee Tape And Devin Nunes Are Destroying America!
Russia
January 31, 2018 11:28 AM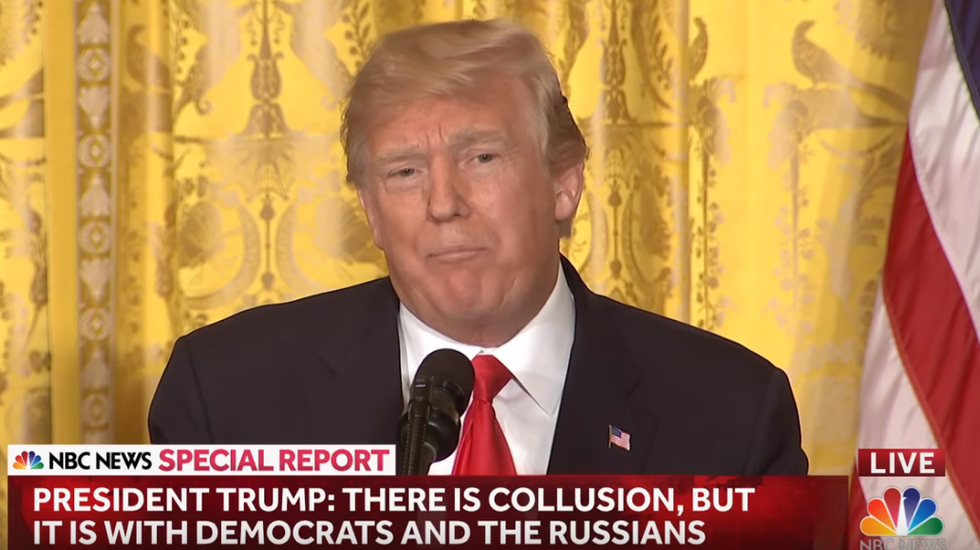 "president"
---
Did President Pee Pee have a nice speech last night? Glad to hear it. Did he make it through the speech without stroking out, mistaking the dais for a toilet or poop-tweeting himself to death? How presidential!
Anyway, back to reality!
We have updates on the goat rodeo that began Monday, when the House Intelligence Committee voted to release a memo Devin Nunes's cat wrote in poo, about how the dirty nasty FBI and Department of Justice are intent on destroying He Among Us Without Sin AKA Donald Trump. It is a very full-of-shit memo. (Also on Monday, the FBI purged its number two guy, Andrew McCabe, because he is a Democrat, and also maybe because he is in THE MEMO. More updates on that in a later post!)
THE MEMO!
Remember how last year, when Devin Nunes got "top secret information" about how the Obama administration was improperly and illegally "unmasking" Trump people? He rushed off to the White House to show Daddy Trump the turd in his hand, but turned out he got that "intelligence" from the White House. Would you be shocked to know that this week Nunes wouldn't say whether or not he's conspiring with the White House on the memo? Knock us over with a feather!
The Republican chairman of the House intelligence committee refused to answer when a colleague asked him if he had coordinated his incendiary surveillance memo with the White House, The Daily Beast has learned.

During Monday's contentious closed-door committee meeting, Rep. Mike Quigley, a Democrat, asked Nunes point-blank if his staffers had been talking with the White House as they compiled a four-page memo alleging FBI and Justice Department abuses over surveillance of President Trump's allies in the Russia probe.

According to sources familiar with the exchange, Nunes made a few comments that didn't answer the question before finally responding, "I'm not answering."
DEVIN, you predictable motherfucker. You do know the truth is going to come out, right? All the truth, DEVIN, including whatever kompromat Trump and/or the the Kremlin has on you, DEVIN.
A Trump appointee at the Justice Department, Stephen Boyd, wrote in a scathing letter last week that Devin Nunes needs to sit the fuck down with his little babyshits memo, considering how releasing it could endanger national security. Of course, Nunes does not care about basic things like national security, so he thumbed his dumb honker at Justice and held the vote in the intel committee to release it anyway. Now, the White House has four more days to decide whether or not it should be released.
The Washington Post reports that on Monday, just as Nunes's committee was taking that vote, Deputy Attorney General Rod Rosenstein and FBI Director Chris Wray were at the White House, trying to talk some damn sense into John Kelly, to get him to distract Trump with a Big Mac and a pee hooker, and protect the national security of the US and A by keeping the memo under wraps.
But don't worry, Devin Nunes! John Kelly and Donald Trump ain't give a fuck what Rod Rosenstein and Chris Wray say! Here is a video from the State of the Union, where a wingnut congressman asked Trump to release the memo, and Trump replied "100%!"
President Trump appears to respond to a request to "release the memo" after #SOTU

"Don't worry, 100%"pic.twitter.com/cWfcFTTu72

— Michael Del Moro (@MikeDelMoro) January 31, 2018
YAY! Trump is going to release the memo! Of course, as Adam Schiff pointed out on Twitter, the White House says Trump hasn't read the damn thing, which confirms WaPo's reporting. That's how concerned he is about the national security implications. Then again, Trump is a guy who vomits code word level intelligence from our allies at Russian operatives in the Oval Office, so ...
As we explained Tuesday, despite Paul Ryan's protests to the contrary, the entire point of the memo is to impugn FBI and Justice Department officials' integrity, especially that of Deputy Attorney General Rod Rosenstein, to give Trump an excuse to get him out of the way so he can piss all over the Robert Mueller investigation, which is quietly chugging along.
SPEAKING OF THE MUELLER INVESTIGATION!
The Department of Justice has just given Mueller's team a tranche of documents on the "proposed resignation" of Jeff Sessions, as well as "emails with the White House about fired National Security Advisor Michael Flynn," which suggests the obstruction of justice probe against Trump is getting bigger and more tremendous. Meanwhile, Trump's lawyers are still playing chicken with Mueller over whether the president will sit down for a Liar McLieFace session with the special counsel, where the president will attempt to break the land speed record for how many lies he can tell the FBI in one sitting. (That's a contest he can actually win without the Electoral College grading him on a curve. LOL!)
And of course, Mueller's team is surely watching Devin Nunes run around chasing squirrels for Trump in an effort to damage the credibility of the FBI, the entire intent of which is, again, to obstruct justice and fuck with Mueller's very own investigation.
Gonna guess Mueller's ready to fuck some motherfuckers the fuck up right about now.
Follow Evan Hurst on Twitter RIGHT HERE.
Wonkette salaries and servers are fully paid for by YOU! Please pay our salaries.
Evan Hurst
Evan Hurst is the managing editor of Wonkette, which means he is the boss of you, unless you are Rebecca, who is boss of him. His dog Lula is judging you right now.
Follow him on Twitter RIGHT HERE.