Nice Time: Department Of Education Will Fix Program That Screwed Millions Of Student Loan Borrowers!
economics
April 21, 2022 09:20 AM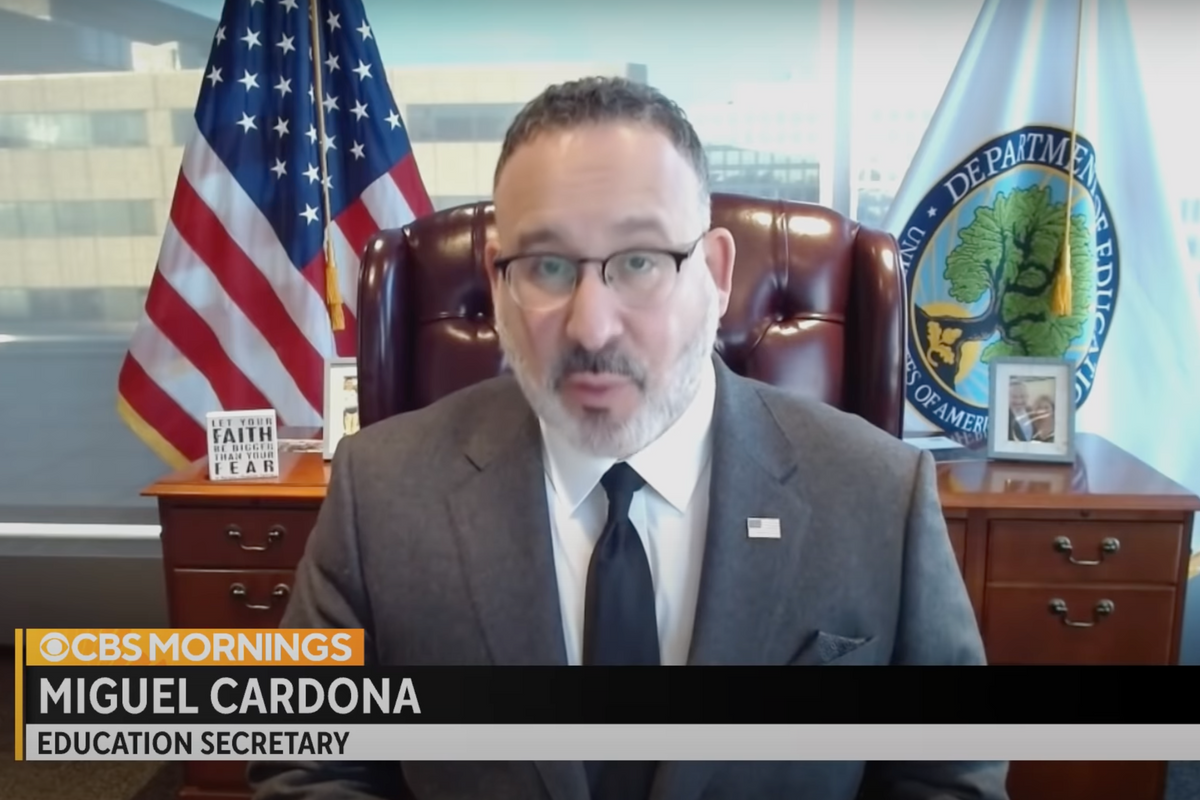 It's become popular among some corners of assholedom to dismiss everyone who owes significant student loan debt as avocado-toast-eating, IPA-drinking white guys with interpretive dance majors. In reality, women and people of color hold the majority of student debt. A recent breakdown reveals that 11 percent of white men, 17 percent of white women, 15 percent of Black men, 31 percent of Black women, 10 percent of Hispanic men and 19 percent of Hispanic women have student debt.
This is a racial justice and gender equity issue, as well, so we're pleased to hear this latest news: The Department of Education announced Tuesday that it'll retroactively help millions of federal student loan borrowers who've been screwed over by what's known as income-driven repayment plans.
Tuesday's announcement comes after years of complaints and lawsuits and, most recently, an NPR investigation that revealed that these IDR plans, which promise affordable monthly payments as low as $0 and loan forgiveness after 20-25 years, have been badly mismanaged by the department and the loan servicing companies it employs.
Something immediately seems suspicious about "monthly payments as low as $0." It's like you got too excited and failed to read the fine print in a demonic contract.
IDR plans base your monthly payment on your monthly income and promise cancellation of any remaining debt after 20 or 25 years. Forty-five million Americans carry some level of student loan debt, but just eight million are currently enrolled in the program. It doesn't have a great track record. The IDR plans have existed for 25 years now, but according to a 2021 analysis, the total number of borrowers who have ever received cancellation is 32. That's not a typo, hoax, or imaginary story — just 32 people.
---
Put into more depressing context, approximately 4.4 million federal student loan borrowers have been paying off loans for more than 20 years but are still under water with no relief in sight. This mess is apparently the result of flawed program design, failed implementation, and mismanagement at the Department of Education.
Miquel Cardona, the current Education secretary, released a statement this week reinforcing his intent to fix the issue.
Today, the Department of Education will begin to remedy years of administrative failures that effectively denied the promise of loan forgiveness to certain borrowers enrolled in IDR plans.
The department will conduct a "one-time account adjustment" that credits borrowers for time spent in absurdly long forbearances — more than 12 consecutive months or more than 36 cumulative months. Forbearance is when financially strapped borrowers can pause their payments but they continue to accrue interest. Soon, the interest is accruing interest.
After the 2008 financial crisis, IDR plans became widely available for perhaps obvious reasons. Long-term forbearance was supposed to serve as a last resort, but studies show that its use was "remarkably widespread."
According to the department, between July 2009 and March 2020, more than 13% of all Direct Loan borrowers were in forbearance for at least 36 months, suggesting "loan servicers placed borrowers into forbearance in violation of Department rules, even when their monthly payment under an IDR plan could have been as low as zero dollars." The department generally limits forbearance to 12 consecutive months or three years total, after which payments should resume.
It's estimated that 3.6 million borrowers will receive at least three years of new credit toward cancellation.
NPR reported earlier this month that the IDR program had particularly screwed low-income borrowers. There were pervasive inaccuracies in how qualifying IDR payments were counted. The department will correct this with a one-time revision of past payments.
"Any months in which borrowers made payments will count toward IDR, regardless of repayment plan," the department's release says. "Payments made prior to consolidation on consolidated loans will also count. This fix is necessary to correct for data problems and past implementation inaccuracies."
NPR discovered that "loan servicers weren't uniformly tracking borrowers' progress toward loan cancellation, and some weren't tracking their progress at all." The Federal Student Aid office will make sure these records are consistently accurate. Even better, the department will start tracking IDR payments on its own system in 2023. Borrowers can check their progress at StudentAid.gov.
Thanks to NPR's reporting, Democrats had demanded a probe into the IDR scam situation. Monday, Rep. Bobby Scott from Virginia and my former Senator Patty Murray from Washington sent Cardona a letter urging the Department of Education to "provide immediate relief and undo past harms."
We commend your efforts to revise the IDR regulations through the negotiated rulemaking process and your proposal to create a new plan that caps monthly payments at no more than 10 percent of discretionary income and forgives remaining balances after 20 years of qualifying payments. While this proposal represents a laudable first step, we urge you to go further in improving and simplifying the federal student loan system to ensure IDR lives up to its promise of ensuring student loan borrowers have a monthly payment they can manage and can work towards having their loans discharged.
The necessary adjustments will occur automatically but the ancient National Student Loan Data System will require an upgrade first. Loan cancellations should begin in the fall.
Follow Stephen Robinson on Twitter.
Do your Amazon shopping through this link, because reasons.
Yr Wonkette is 100 percent ad-free and entirely supported by reader donations. That's you! Please click the clickie, if you are able.
Stephen Robinson
Stephen Robinson is a writer and social kibbitzer based in Portland, Oregon. He writes make believe for Cafe Nordo, an immersive theatre space in Seattle. Once, he wrote a novel called "Mahogany Slade," which you should read or at least buy. He's also on the board of the Portland Playhouse theatre. His son describes him as a "play typer guy."