Nikki Haley All 'UGH Being UN Ambassador Sucks, I Wanna Watch Fireworks And Drink Lime-A-Ritas!'
News
July 05, 2017 12:10 PM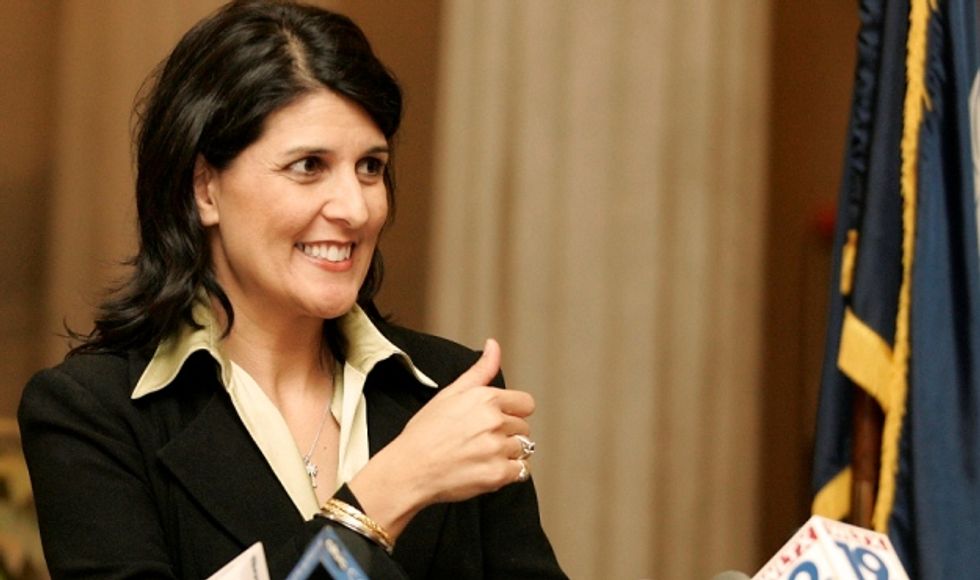 We don't actually know if she drinks Lime-A-Ritas.
---
We would like to say from the the outset that we do not hate Nikki Haley. She is easily the most decent and intelligent hire Donald Trump made for his administration, and to this day we don't understand why she allowed her marginally decent name to be shat on by taking a job in the Trump regime. Yes, she is an asshole sometimes, but she also actually speaks up at the United Nations for such quaint things as human rights, unlike literally every other person in the administration, so she's not ALL bad.
Haley is catching hell right now for tweeting this on the 4th, though: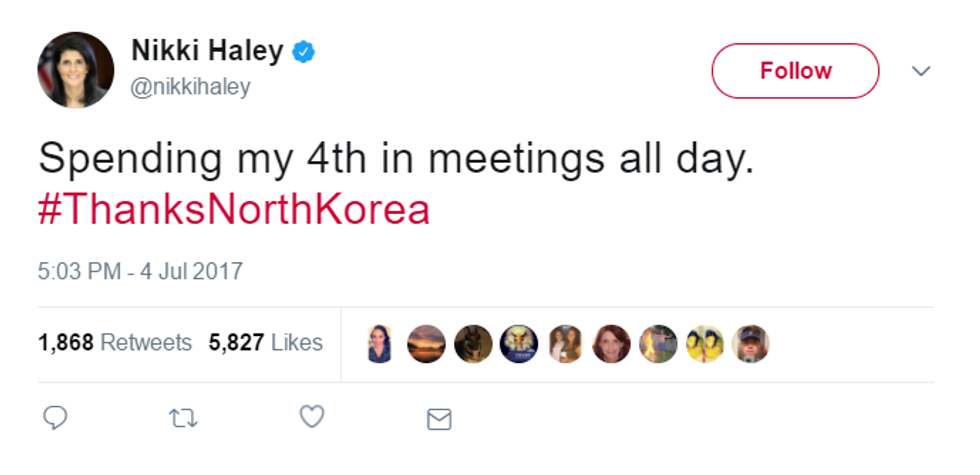 OK on one hand, we get it. Haley is an American human who, like many American humans, probably just wanted to spend the 4th of July getting drunk and eating an entire Boston butt with her face. So she was like, "UGH North Korea, you fucking loser nation from hell, you just HAD to make your little missile go boom on OUR HOLIDAY, which means I will not even finish this 12 pack of Coors Light before breakfast. FML!"
But perception, as they say, is everything. Because quite frankly, a lot of people end up having to work on the 4th of July, and also on lots of other notable American holidays! Twitter's response can be summed up as follows:
WHAT THE FUCK, HALEY, YOU ASSHOLE? SHIT HAPPENS. IF YOU DON'T WANT TO SERVE AMERICA YOU PROBABLY SHOULDN'T HAVE TAKEN THIS JOB. ALSO TOO WHAT ABOUT ALL THE AMERICAN TROOPS SERVING OVERSEAS, YOU THINK THEY'RE JUST TAKING THE DAY OFF TO PLAY WITH THEIR DICKS AND EAT PIE? MAYBE SOME OF THEM GOT TO DO THAT BUT FOR A LOT OF THEM IT WAS JUST ANOTHER WORK DAY AND OH YEAH, WHAT ABOUT ALL THE DOCTORS AND NURSES AND AMBULANCE DRIVERS WHO ARE WORKING TODAY, JUST TO REPLACE THE SEVERED FINGERS AND TESTICLES OF ALL THE TRUMP SUPPORTERS WHO AIMED THEIR FIREWORKS DIRECTLY AT THEIR BODIES INSTEAD OF READING THE INSTRUCTIONS? YOU THINK THEY'RE BITCHING ABOUT "WAAAAAAAAH I HAVE TO WORK TODAY?" NO THEY ARE NOT.

SO STFU.
Oh, Nikki Haley, you done stepped in it!
We doubt she really put that much thought into her tweet, and we doubt she meant it maliciously. But, come on. Foreign policy, especially with volatile, pathetic nations like North Korea, doesn't take days off. Does it suck sometimes, and does it mean that occasionally big important people with big important jobs like UN Ambassador from the United States might get called into work on holidays? Yes it does. And is it super fuckin' shitty that Nikki Haley's boss, Donald J. Trump, spent the day golfing and lying around in his underpants while she had to do the grown-up work? Yes it does, but everybody knows he's fundamentally incapable of carrying out the office of the presidency anyway, so we can't expect anything more from him.
So buck up, Ambassador Haley. You have a goddang job to do, and your fucking Lime-A-Ritas will just have to wait.
Wonkette is fully funded by readers like you! If you love us, click below to fund us!
Evan Hurst
Evan Hurst is the managing editor of Wonkette, which means he is the boss of you, unless you are Rebecca, who is boss of him. His dog Lula is judging you right now.
Follow him on Twitter RIGHT HERE.