Nikki Haley Wishes Y'all Wouldn't Discuss Classified Intel Trump's Blabbing About On Twitter
Everywhere Else News
August 08, 2017 01:56 PM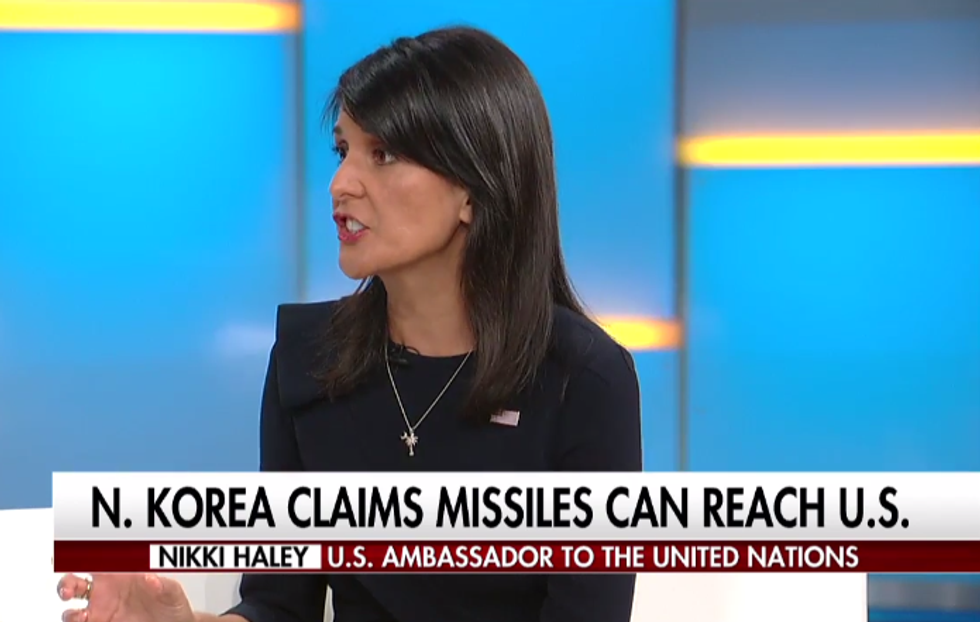 Loose lips sink ships, y'all! LIT'RALLY!
---
Move over, Presidential Daily Brief! Leaking highly classified intelligence we got from the Israelis to your Russian pals is SO Donald Trump circa a few months ago. The new hottest thing is Trump, who bitches constantly about leakers leaking information in a leaky way, retweeting "Fox & Friends" reports that cite ... leakers leaking classified information in a leaky way.
Trump was lounging around Bedminster doing the very hard work of being on an extended vacay when he retweeted this thing: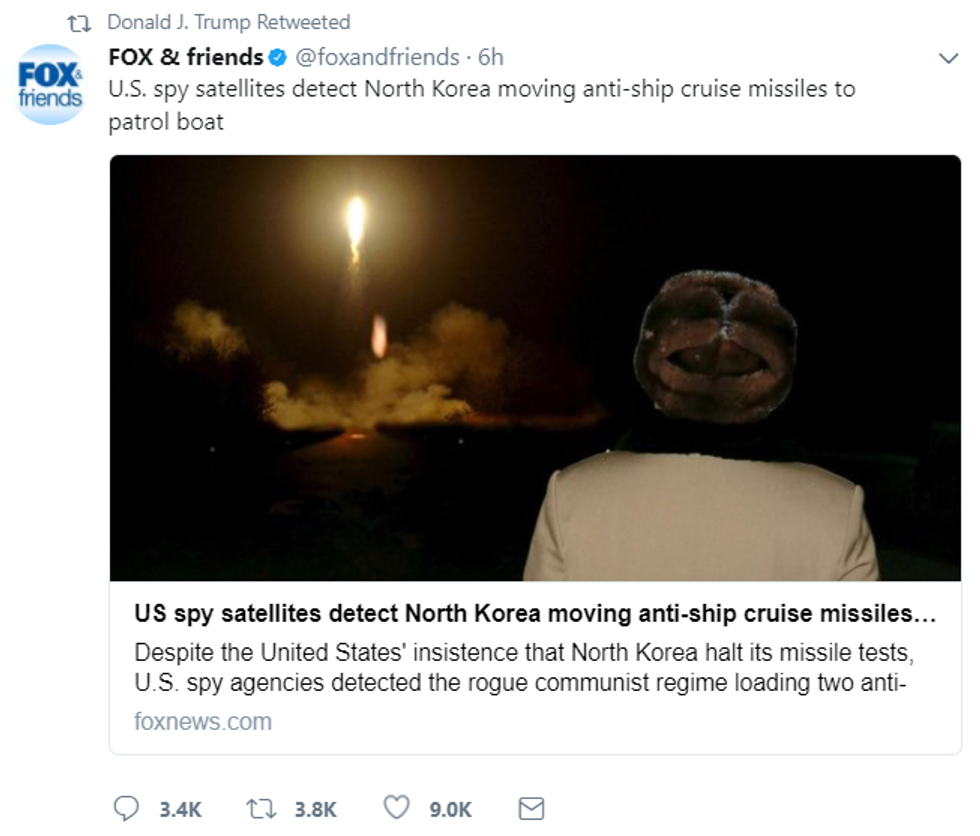 That's no bueno! From the article:
Despite the United States' insistence that North Korea halt its missile tests, U.S. spy agencies detected the rogue communist regime loading two anti-ship cruise missiles on a patrol boat on the country's east coast just days ago.

It's the first time these missiles have been deployed on this type of platform since 2014, U.S. officials with knowledge of the latest intelligence in the region told Fox News on Monday. [...]

"North Korea is not showing any evidence it plans to halt its missile tests," said one official who requested anonymity to discuss sensitive information. "It's a trend that does not bode well for hopes of de-escalating tensions on the [Korean] peninsula."
LEAKER! TALKING TO FOX NEWS! FOX NEWS! TALKING TO LEAKER! Guess Jeff Sessions is going to have to put Fox News IN JAIL, for the crime of doing journalism.
UN Ambassador Nikki Haley went on "Fox & Friends" Tuesday and got all pissed off about how these leaky leaks were in that Fox News story Trump tweeted:
"I can't talk about anything that's classified, and if that's in the newspaper then that's a shame," Haley said.
WHATTASHAME.
She did not comment on whether the information in the story itself came from a leak, saying that leaks "have got to stop."
GOTTASTOP.
"I don't know what's going on, but I will tell you it's incredibly dangerous when things get out to the press like that," she said. "You're not only just getting a scoop on something, but you're playing with people's lives.

"Wherever the leaks are coming from, if someone thinks they're getting power and fame from it, all you're doing is putting Americans in danger."
DANGERDANGER!
Golly, maybe Donald Trump The Normal Adult President shouldn't have tweeted that article out, if he was at all consistent in his GRRRRR MAD about leakers. In case you're keeping score, it is WRONGBAD when former FBI director James Comey leaks an unclassified memo he wrote after a creepy stranger danger encounter with the president, but it is A-OK to tweet highly classified intelligence information about North Korea (which officially is now capable of putting miniaturizing nukes to put them on missiles, according to BREAKING NEWS!), especially when it's reported by Trump's chosen "news" source. (And again, yammering about code-word level intelligence we got from the Israelis with your Russian buds is OK too.)
As The Hill notes, we don't know whether Haley knew about Trump's retweet, but that's the life of any person who works for Trump on any given day. They signed up for it, therefore no pity.
We're going to go out on a VERY FAR OUT limb here and suggest that Donald "John Barron" Trump doesn't actually give a shit about leaking, whether it's highly classified or just palace intrigue gossip, unless it makes him look bad. We already suspect he leaked that Russian stuff about Attorney General Jeff Sessions, coming as it did at the height of his Two Minutes Hate against Sessions, for following the law and recusing himself in the Trump-Russia investigation. And we already suspect he leaks FUCKING CONSTANTLY from the Oval Office, because A) this is a guy who invented a fake publicist (JOHN BARRON) to leak things about how much he was getting laid and B) it might help him create a reason to go after leakers in an attempt to cow the intelligence community and the press. Think about it. Slow-burning Reichstag Fire say what?
The point, as usual, is that your president did a dipshit thing, because it is a day, and he made a member of his cabinet look bad, because it is a day.
Wonkette salaries are fully funded by readers like you! If you love us, click below to pay our salaries!
Evan Hurst
Evan Hurst is the managing editor of Wonkette, which means he is the boss of you, unless you are Rebecca, who is boss of him. His dog Lula is judging you right now.
Follow him on Twitter RIGHT HERE.