Nikole Hannah-Jones Cancels University of North Carolina, Takes Better Job At Howard University
Culture Wars
July 06, 2021 01:30 PM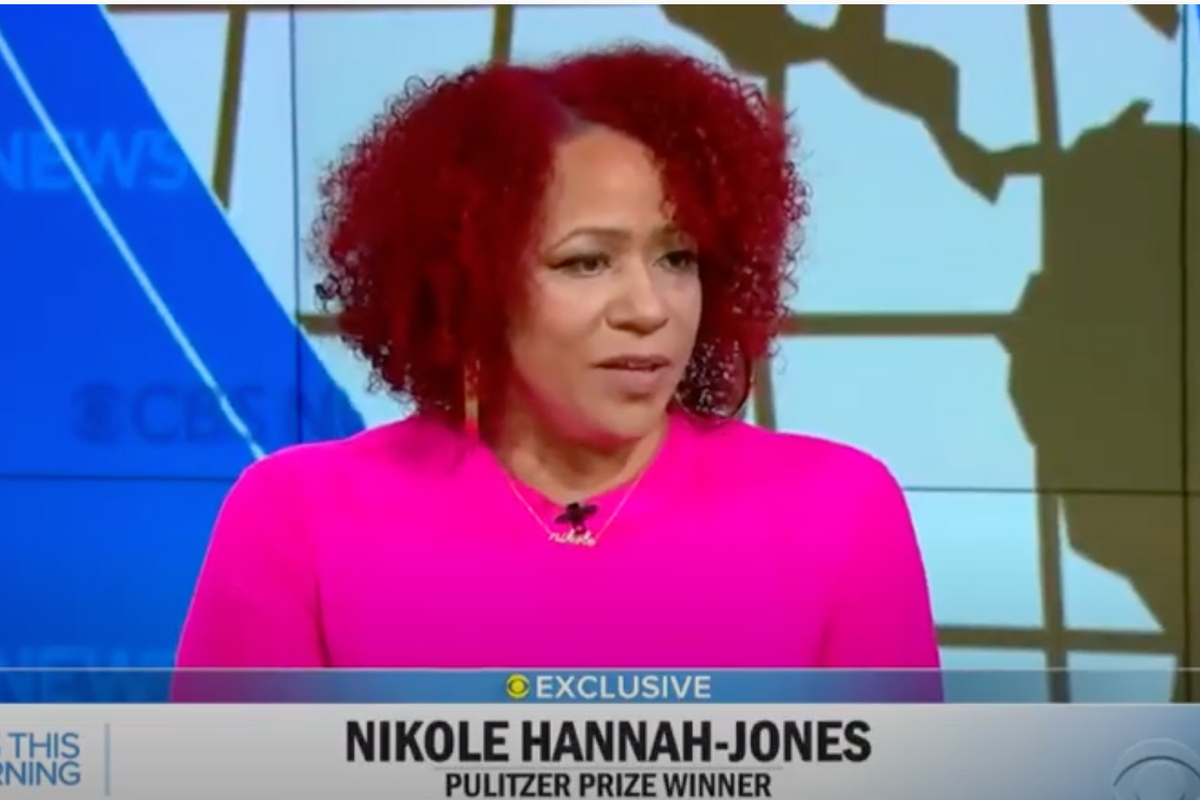 Pulitzer Prize-winning journalist Nikole Hannah-Jones announced Tuesday that she's turned down the University of North Carolina's grudging, late-ass offer of a tenured faculty position. Jones told Gayle King during an interview on "CBS This Morning" that she's accepted a much better role at Howard University. All hail the free market!
Hannah-Jones will become a tenured member of Howard's school of communications, assuming a newly created position as Knight Chair in Race and Journalism. Dame Hannah-Jones will also found the Center for Journalism and Democracy, which will train students in investigative journalism and collaborate with other journalism programs at historically Black colleges and universities nationwide. Yes, Hannah-Jones will raise a woke army at Kamala Harris's alma mater.
She said in a statement:
We are at a critical juncture in our democracy, and yet our press does not reflect the nation it serves and too often struggles to grasp the danger for our country as we see growing attacks on free speech and the fundamental right to vote. In the storied tradition of the Black press, the Center for Journalism and Democracy will help produce journalists capable of accurately and urgently covering the challenges of our democracy with a clarity, skepticism, rigor and historical dexterity that is too often missing from today's journalism.
---
Joining Hannah-Jones at Howard is Ta-Nehisi Coates, whose blistering and insightful work lit up the pages of The Atlantic for years. Coates, a Howard alum, will join the faculty at the College of Arts and Science. (You don't need to enroll at Howard to review Coates's list of five books to make you less stupid about the Civil War.) This is great for Howard and amazing for Coates and Hannah-Jones who can work and thrive in an academic environment that fully embraces them.
Hannah-Jones created the "1619 Project" for the New York Times and both she and her work were demonized by conservatives who can only accept a pleasing (to them) myth about America's history. UNC had bent to pressure from conservatives and refused to approve Hannah-Jones's tenure recommendation. Instead, she was offered a measly five-year contract. This rightly led to backlash and claims that conservatives, who won't shut up about "cancel culture," were just big hypocrites. That's probably not a fair accusation, because conservatives are pretty ideologically consistent bigots.
People might've expected Hannah-Jones to perform the Daffy Duck shuffle of gratitude once UNC finally made her an offer after putting her through the wringer for months. But Hannah-Jones respects herself too much for that foolishness.
You should read her full statement, which movingly describes how the UNC alum wanted to continue giving back to the institution that she said "took a woman with ambition but no practical journalism training and provided the foundation for all that I would become." Hannah-Jones has mentored and supported students through the Ida B. Wells Society for Investigative Reporting, which she co-founded, and she's regularly visited the campus and given lectures. She delivered the journalism school's commencement address in 2017 and received the Young Alumni Award that same year. UNC presented her with the Distinguished Alumna Award in 2019 and inducted her into the N.C. Media Hall of Fame just last year. But suddenly, she wasn't qualified for a tenure position?
Hannah-Jones's tenure vote was the result of weeks of protests, "scathing letters of reprimand, the threat of legal action," and her steadfast refusal to start work on July 1 without it. Lamar Richards, the student body president, publicly demanded a special meeting. The Board of Trustees then made Hannah-Jones wait for their vote until the "last possible day at the last possible moment."
If I had any doubts about whether I should come to UNC or not, watching the proceedings affirmed my decision.
Hannah-Jones didn't want to make this battle public. That was the choice of conservative activists who were incensed that she'd been hired in the first place, with or without tenure. And although Hannah-Jones won the battle against these made-for-TV villains, she doesn't have to accept the circumstances in which her position was finally offered nor must she endure an unhealthy, toxic work environment where she's expected to constantly prove that she belongs. This isn't 1955, when UNC was integrated.
I cannot imagine working at and advancing a school named for a man who lobbied against me, who used his wealth to influence the hires and ideology of the journalism school, who ignored my 20 years of journalism experience, all of my credentials, all of my work, because he believed that a project that centered Black Americans equaled the denigration of white Americans. Nor can I work at an institution whose leadership permitted this conduct and has done nothing to disavow it. How could I believe I'd be able to exert academic freedom with the school's largest donor so willing to disparage me publicly and attempt to pull the strings behind the scenes? Why would I want to teach at a university whose top leadership chose to remain silent, to refuse transparency, to fail to publicly advocate that I be treated like every other Knight Chair before me? Or for a university overseen by a board that would so callously put politics over what is best for the university that we all love? These times demand courage, and those who have held the most power in this situation have exhibited the least of it.
Damn right. And may UNC's reputation suffer for its shameful actions.
Conservatives (even many white moderates) have accused Coates and Hannah-Jones of possessing a "toxic world view" and expressing only hostility about this supposedly great nation. Yes, Coates and Hannah-Jones's work isn't without anger or rage but it's disciplined and focused. It motivates everyone who share their struggle to fight on.
As Hannah-Jones said:
I fought this battle because I know that all across this country Black faculty, and faculty from other marginalized groups, are having their opportunities stifled, and that if political appointees could successfully stop my tenure, then they would only be emboldened to do it to others who do not have my platform. I had to stand up. And, I won the battle for tenure.

But I also get to decide what battles I continue to fight. And I have decided that instead of fighting to prove I belong at an institution that until 1955 prohibited Black Americans from attending, I am instead going to work in the legacy of a university not built by the enslaved but for those who once were. For too long, Black Americans have been taught that success is defined by gaining entry to and succeeding in historically white institutions. I have done that, and now I am honored and grateful to join the long legacy of Black Americans who have defined success by working to build up their own.
Enjoy Howard's warm embrace, Ms. Hannah-Jones. You've earned nothing less.
Follow Stephen Robinson on Twitter.
Keep Wonkette going forever, please, if you are able!
Stephen Robinson
Stephen Robinson is a writer and social kibbitzer based in Portland, Oregon. He writes make believe for Cafe Nordo, an immersive theatre space in Seattle. Once, he wrote a novel called "Mahogany Slade," which you should read or at least buy. He's also on the board of the Portland Playhouse theatre. His son describes him as a "play typer guy."