Michael Flynn Not Gonna Let Deep State Toss His Salad With Vaccines, No Hell No!
Conspiracy theories
September 22, 2021 02:11 PM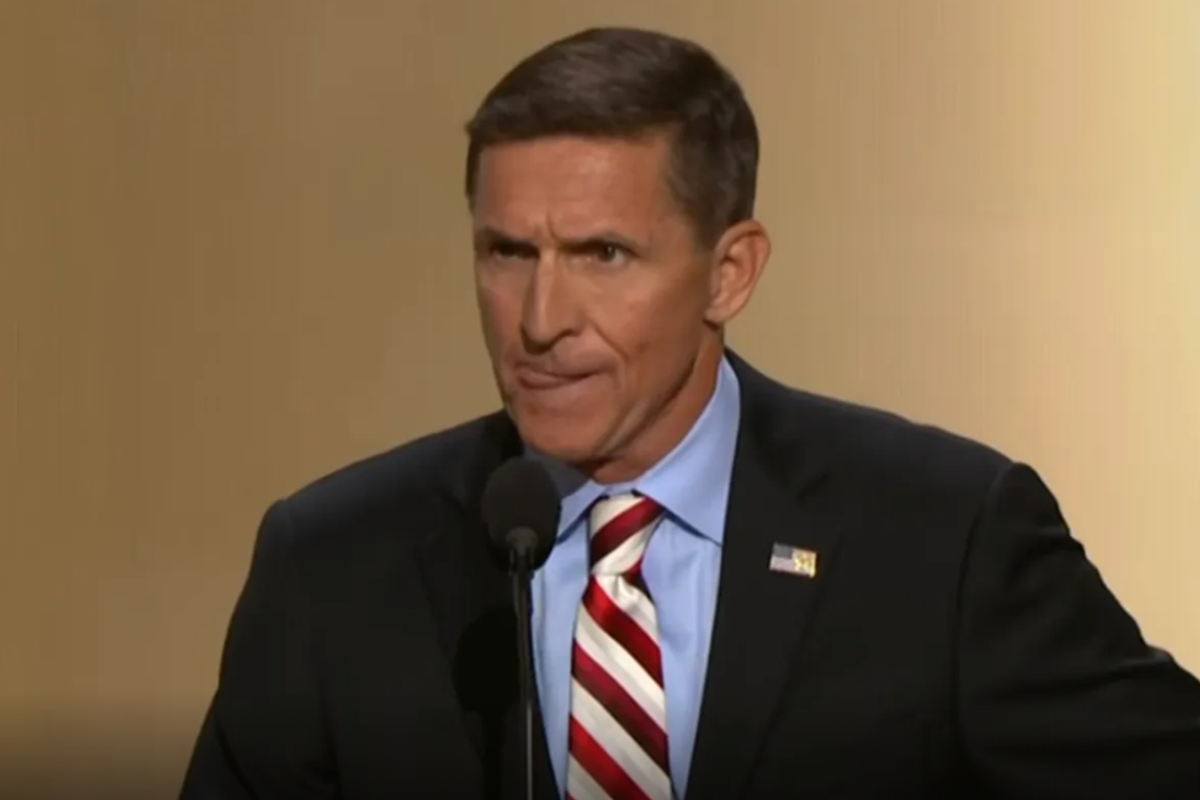 Listen, y'all, Michael Flynn heard a conspiracy theory rumor he wasn't too stupid to believe.
APRIL FOOLS IN SEPTEMBER, he is literally talking about people hiding vaccines in his salad dressing.
Put there by who, you ask? We think you mean put there by whom.
The Deep State.
---
In a show dedicated to covid and election fraud conspiracies, Michael Flynn yesterday brings up an article he read… https://t.co/HyuRgOrIL3

— Ron Filipkowski (@Ron Filipkowski) 1632311337.0
FLYNN: Somebody sent me a thing this morning where they're talking about putting the vaccine in salad dressing. Have you seen this? I mean it's — and I'm thinking to myself, this is the Bizarro World, right? This is definitely the Bizarro World. [...] These people are seriously thinking about how to impose their will on us in our society, and it has to stop.
Hi this is Sally Kellerman for Hidden Valley Ranch and Italian dressings have oil and Italian dressings have vinegar, but only one Italian dressing has the touch of ranch SECRET COVID VACCINE. It's a sensational new flavor for your salad, Michael Flynn, sensational.
Meanwhile Michael Flynn's over here rocking back and forth praying to Q that he'll have the courage to make a stealthy escape if some Deep State vaccine tries to toss his salad. #WWG1WGABNVAATTMS! ("Where We Go One We Go All But No Vaccines Are Allowed To Toss My Salad.")
Now, as things like this often do, this contains the tiniest, most mangled shred of truth, which has unfortunately gone through the heady gray matter between Michael Flynn's ears and come out unrecognizable. Researchers are indeed looking at ways to make edible vaccines, and they are in plant form. But they are not talking about tricking people into eating vaccine salad.
Besides, as some of Flynn's friends might attest, there's already a salad dressing that treats COVID and it is cheesy garlic horse paste. His brother might have some.
(PSA: HORSE PASTE IS NOT SALAD DRESSING AND IT DOES NOT TREAT COVID AND SHOULD NOT BE EATEN WITH CHEESY GARLIC UNLESS YOU ARE TRYING TO MAKE A NICE TREAT FOR YOUR ACTUAL HORSE AND EVEN THEN PLEASE CONSULT YOUR VETERINARIAN.)
We dunno whatall else we need to say about this. Michael Flynn, the former national security advisor — of America! — was on some conspiracy theory broadcast, and he blew a gasket freaking out about the Deep State surprise-tossing his salad with vaccines. It's just too bad Flynn doesn't have access to any legitimate American presidents who could declare martial law to cease this Deep State vaccine salad tossing immediately.
Maybe he should secretly tell the Russian ambassador about the article he read, then lie about that conversation to the FBI.
[h/t RawStory]
Follow Evan Hurst on Twitter.

Wonkette is funded ENTIRELY by a few thousand people like you. If you're not already, would you pls consider being the few thousandth and one?
Evan Hurst
Evan Hurst is the managing editor of Wonkette, which means he is the boss of you, unless you are Rebecca, who is boss of him. His dog Lula is judging you right now.
Follow him on Twitter RIGHT HERE.