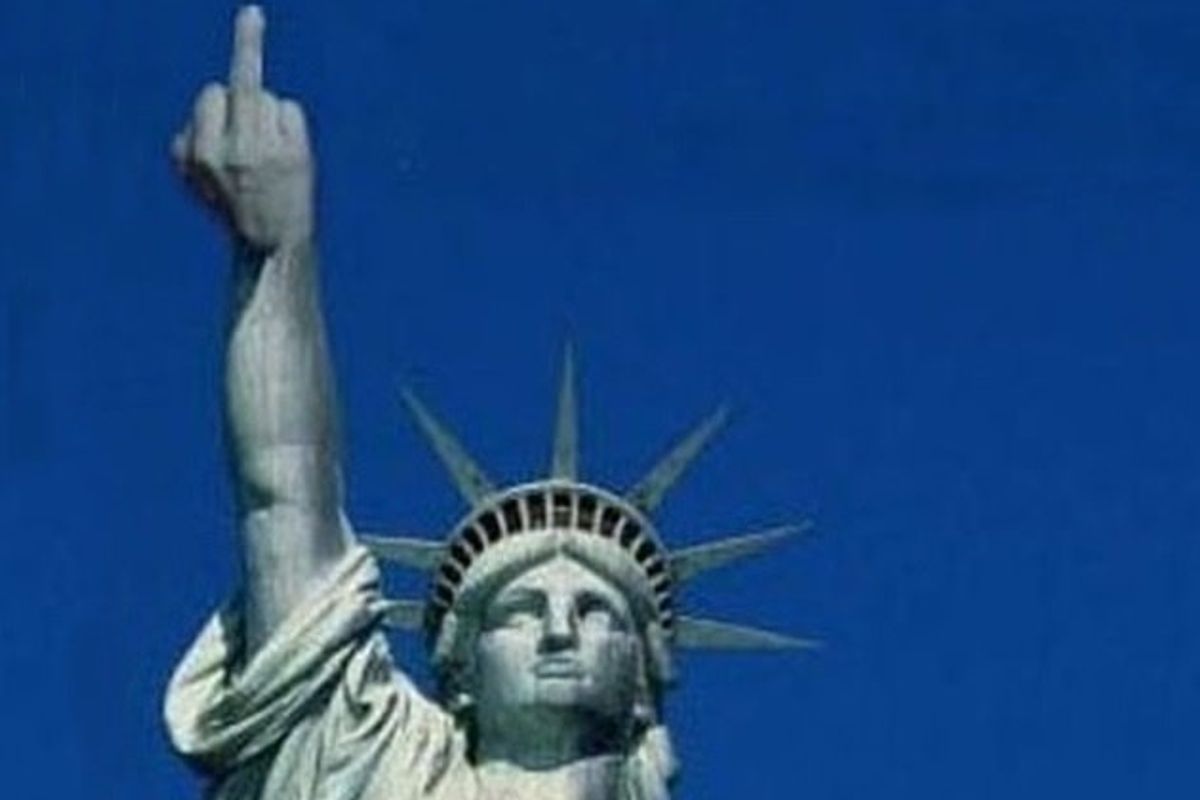 We gotcher huddled masses right here, pal
Yesterday, the Trump regime argued in court that they don't have to give kids in their child concentration camps things like soap, toothbrushes, or places to sleep.
---
As noted by Courthouse News,
The Trump administration argued in front of a Ninth Circuit panel Tuesday that the government is not required to give soap or toothbrushes to children apprehended at the U.S.-Mexico border and can have them sleep on concrete floors in frigid, overcrowded cells, despite a settlement agreement that requires detainees be kept in "safe and sanitary" facilities.
So that's just great.
At oral arguments before a three-judge panel of the Ninth Circuit Court of Appeals, DOJ lawyer Sarah Fabian argued that "safe and sanitary" conditions don't necessarily include things like soap, a blanket, a place to lie down, or the ability to brush your teeth.
Thankfully, all of the judges on the panel seemed skeptical of Fabian's arguments.
"You're really going to stand up and tell us that being able to sleep isn't a question of safe and sanitary conditions?" U.S. Circuit Judge Marsha Berzon asked the Justice Department's Sarah Fabian Tuesday.

U.S. Circuit Judge William Fletcher also questioned the government's interpretation of the settlement agreement.

"Are you arguing seriously that you do not read the agreement as requiring you to do anything other than what I just described: cold all night long, lights on all night long, sleeping on concrete and you've got an aluminum foil blanket?" Fletcher asked Fabian. "I find that inconceivable that the government would say that that is safe and sanitary."
At one point, Judge Berzon asked, "Have you considered whether you might go back and consider whether you really want to continue this appeal?" And Judge A. Wallace Tashima reminded Fabian that, "It's within everybody's common understanding that if you don't have a toothbrush, you don't have soap, you don't have a blanket, those are not safe and sanitary."
For some of the judges' best of scolding of Fabian, start this video around minute 24:
BAP Pasadena CR1 9:00 AM 6/20www.youtube.com
You may also remember Sarah Fabian as the lawyer who couldn't work over the weekend to try to reunite kidnapped children with their families, because of the importance of her dog-sitting obligations.
@bradheath The government attorney, Sarah Fabian, who doesn't think this children need soap or toothbrushes, is the… https://t.co/BwNpvrmj19

— Walter Shaub (@Walter Shaub) 1561033240.0
Have some lawsplainer!
This case is an appeal related to the case Jenny Lisette Flores v. Edwin Meese, originally filed in 1985 on behalf of unaccompanied minors who came to the U.S. fleeing torture and abuse in Central America.

In 1997, the parties settled and filed a consent decree with the court. Unlike a typical settlement, a consent decree gives a court ongoing jurisdiction, to keep tabs on the parties. The consent decree applies not only to unaccompanied minors, but to all children held in immigration detention.
The consent decree included a number of things, including requirements about how the children in government custody are treated. As described by Courthouse News,
the settlement established guidelines for the humane detention, treatment and release of minors taken into federal immigration custody. The guidelines include the right to a bond hearing and requirements that immigration authorities timely release children to parents or guardians and place those not released in facilities that meet certain standards. The facilities are supposed to be "safe and sanitary."
Flores is seen today as a turning point in how children in government custody are treated.
"The Flores case overall is a crucial landmark case in U.S. immigration history and, frankly, in the treatment of children under U.S. law generally," says Denise Gilman, director of the University of Texas School of Law's Immigration Clinic and current vice-chair of the Committee on Rights of Immigrants in the ABA Section of Civil Rights and Social Justice.
Since the consent decree was entered, there have been at least four legal battles over its enforcement. This argument involved the government's appeal of a June 2017 order from US District Judge Dolly Gee, which found that the government had violated the consent decree by, among other things, not giving the kids blankets, places to sleep, toothbrushes, or soap. Judge Gee also appointed a monitor to oversee the government's compliance with the settlement after finding that children in the Rio Grande Valley in Texas were being denied basic necessities.
We were disappointed (though not necessarily surprised) to see replies on articles about this disgusting case saying things like, "It's not a HOTEL." Those people are correct, in that child concentration camps are not, in fact, hotels. But it's a pretty foundational rule of constitutional law — and, I don't know, basic humanity — that the government has to provide safe and healthy conditions for people in its care.
It's horrific that anyone would think it's acceptable to throw children in cages with freezing temperatures, no blankets, and not even give them basic sanitary supplies like soap and a toothbrush. It's even worse that a lawyer would make that argument in court.
I would resign from my job rather than make this argument to a court. https://t.co/eoxSEoPkWT

— Heather Lynn Weaver (@Heather Lynn Weaver) 1561001147.0
We're happy the Ninth Circuit judges, unlike the Trump administration, still have respect for human life and the rule of law.
[ Courthouse News / 9th Circuit Argument / ABA Journal / SF Chronicle ]
Wonkette is ad-free and brought to you by YOU. If you are able, then MONEY PLEASE!
Jamie Lynn Crofts
Jamie Lynn Crofts is sick of your bullshit. When she's not wrangling cats, she's probably writing about nerdy legal stuff, rocking out at karaoke, or tweeting about god knows what. Jamie would kindly like to remind everyone that it's perfectly legal to tell Bob Murray to eat shit.