Obama Celebrates Thanksgiving By Reminding America of Its Dysfunction
News
November 23, 2011 05:22 PM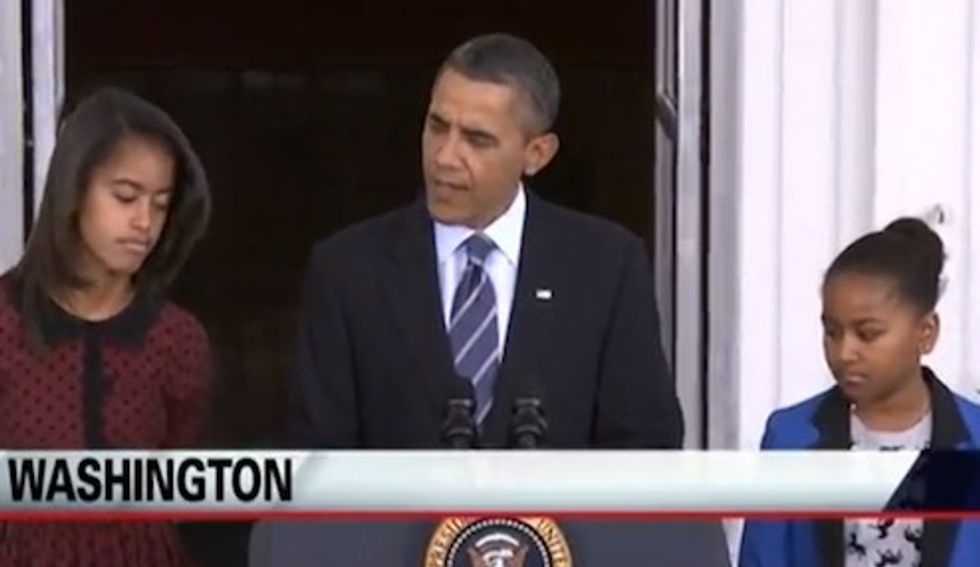 Aw, Sasha and Malia Obama looked sort of annoyed and bored, like the rest of America, during their dad's ritual Thanksgiving lectureexplaining how it would be impossible for him to do so much as rescue a single freaking turkey from death were this subject to a vote from Congress, even to save "Liberty" and "Peace," which conveniently happen to be the names of this year's two officially pardoned fowl. "Civil Rights" and "Economic Security" are currently making their final stops at a slaughterhouse outside of Toledo. It's an awkward metaphor, see!
---
Man, Obama seems to have been spending too much time on the Internet lately, because mostly his speech is a lot of snark:
"Some of you may know that recently I've been taking a series of executive actions that don't require congressional approval," Obama told a chuckling crowd at the White House, with his daughters standing at his side.

"Well, here's another one. We can't wait to pardon these turkeys. Literally. Otherwise, they'd end up next to the mashed potatoes and stuffing."
The rest of you, turkeys and Americans alike, prepare to be eaten by the rich, during these holidays!
Fun fact, these unlucky birds were also subjected to press training by their high school student masters, just in case Joe Lieberman is looking for a stand-in!
"I'm told that in order to prepare Liberty and Peace for their big day, the students exposed them to loud noises and flash bulbs so that they'd be ready to face the White House press corps. This is actually true," he said.

"They also received the most important part of their media training, which involves learning how to gobble without really saying anything," Obama deadpanned.
HY-UCK! (Seriously, though, Joe Lieberman, not a bad idea.) [AP/Reuters]