Obama Plays Freebird! Wonkagenda For Wed., Jan. 18, 2017
POTUS
January 18, 2017 09:06 AM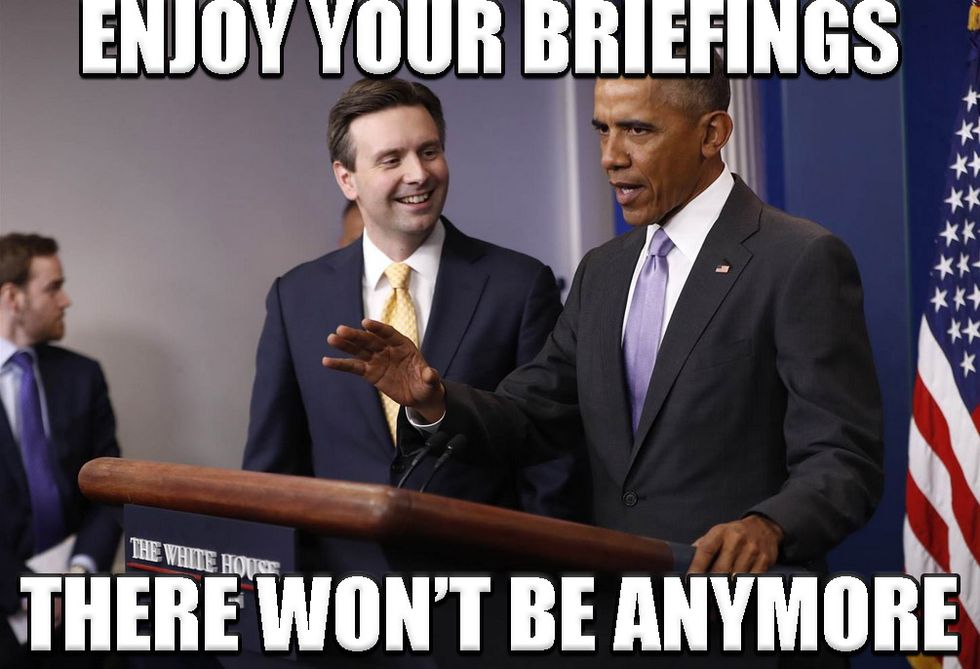 You'll all be banished to Siberia!
---
Hey there, Wonketariat! ARE YOU READY FOR MORE C-SPAN!? It's another day of confirmation hearings today, but in the meantime, here's some of the things we may be talking about today!
Obama has commuted the sentences of Chelsea Manning and Oscar Lopez, as well as given a full pardon to Gen. James Cartwright, prompting butthurt Republicans to grab their pitchforks. Meanwhile, Julian Assange is scrambling for a a way out of his promise to face extradition to the U.S. if Manning was released.

How did the Betsy DeVos hearing go yesterday? Great, if you love Jesus-filled disasterpiece theater staring dynastic and ignorant, race-baiting conservative mega-donors who defend guns in schools by saying, "I would imagine there's probably a gun in the school to protect from potential grizzlies."

Planet Fucker and SuperPAC scam artist Rep. Ryan Zinke says he can protect frontier country from climate change with his kick-ass Navy SEAL skills in a team-up with Smokey the Bear (provided there aren't any "gimmicky" vaginas in the way). [Video]

South Carolina Governor Nikki Haley and Georgia Rep. Tom Price have their confirmation hearings today, so grab a super large coffee cup and grandma's portable pooping potty because C-SPAN's too fast for toilet breaks!

The Governor of Mississippi thinks all you homo-choice buttsexing transgenders are hurting god-fearing Christians, and if you wanted to, you too could choose to not be a gaymo sexual by praying out the gay with Mike Pence and Betsy DeVos. NOT FABULOUS!

Another ex-Apprentice contestant is suing Donald Trump for defamation and is claiming that Trump sexually assaulted her, which has the potential to force the release of tapes rumored to show more evidence of puss-burgling from the Apprentice set.

The Secret Service has settled a really old law suit on racial bias for $24 million dollars, but that doesn't mean they are guilty for promoting all the white people over minorities, it's just a fascinating coincidence. Nope. Not guilty.

Nixonian hatchet-man and Trump's (ex?)dirty trickster in chief, Roger Stone, says he was poisoned with polonium before he could leak "the truth" about the Russia hack. LOL, did Vladimir Putin throw us a freebie?

The Trump administration's plan to kick reporters out of the White House is part of a ballsy propaganda strategy that would just trade LIBERAL MEDIA shills for pro-Trump "news" outlets and mouthpieces.

The New York Times will increase its BIASED LIBERAL scrutiny of Trump's administration even as it's facing more cuts because it feels a need to fight the lies and fake news regurgitated by Donald Trump. Especially since there's no more Hillary Clinton's to investigate.

Obama's final press conference will be held today at 2:15 Eastern, and there will be much sadness from reporters because they know they're about to lose their super comfy seats in the White House. Although, Obama did swing by yesterday's briefing to give White House press secretary Josh Earnest a nice job recommendation for his resume. Thanks, Obama!

If you get a second today, take a listen to Old Handsome Joe Biden's speech on foreign policy from Davos at 4:30 this morning. There's no joke here, it's just some good thinky-talk time. INSPIRATIONAL! SCRANTON! AVIATORS!

Here's your new journalism Jesus, Seth Meyers, recapping how Republicans have been dicking around with Obamacare lately. You know, just in case you run into Wesley or Brian and you need to set some shit straight.

And here's some educational Nice Time for you, a platypus (also know as God's Mistake)!
Dominic Gwinn
Dominic is a broke journalist in Chicago. You can find him in a dirty bar talking to weirdos, or in a gutter taking photos.