Obama Saves Alaska! Wonkagenda For Wednesday, December 21, 2016
POTUS
December 21, 2016 09:21 AM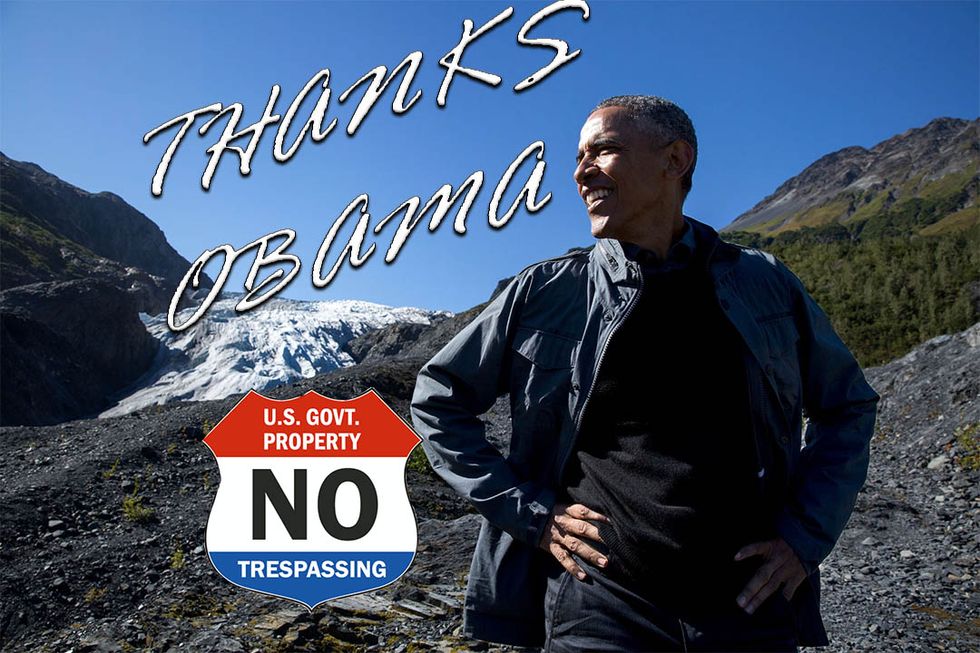 Well, a good Wednesday to you, Wonketariat! It's the shortest day of the year, so here's a nice long list of things we might be talking about today!
---
Donald Trump's spawn sons are denying that they are/were selling access to themselves and the president-elect for around $500,000 to $1 million through a "charity" (owned by Eric and Donald Trump Jr.) event on January 21, 2017, called "Camouflage and Cufflinks," that was aimed at celebrating the great outdoors with hunting trips. Yes, for a million dollars you too could jerk-off a Trump with hundred dollar bills while whispering sultry self-serving policy desires and killing cute woodland critters.

Trump and his kids are going out of their way to hold control of their company and elected office. Rather than give up their business like every other president and elected official, Trump wants to set up a "discretionary trust" that would allow him and his kids to maintain some control and knowledge of the businesses dealings while skirting ethics violations which, if I'm not mistaken, would still be a conflict of interest in just about any possible way.

Obama utilized a forgotten law leftover from 1953 to enact a permanent ban on oil and gas drilling along the Atlantic and Arctic Seaboard as part of his super evil plan to screw over obsessive oil addicts who love fiddling with their drill bits, and save those godless, pasty white death machines we call polar bears facing extinction. Thanks, Obama (and Justin Trudeau)!

However, Trump's transition team wants to know how much the State Department is spending on international environmental organizations, presumably to bring that money back from places in Not America for jobs and NOT because they're going to go on a witch hunt and "You're Fired" all the tree-hugging federal employees.

Mitch McConnell doesn't think there needs to be a Senate select investigation on reports of Russian hacking in the election because it's clearly not a big deal to anybody because the Senate can take care of this by sweeping it under the rug seeing as how this has nothing to do with Hillary's Benghazi pizza orders.

A bipartisan Senate report will be released today that spotlights price hikes for prescription drugs which is SO typical considering all the Congress critters get SOCIALIST government healthcare instead of being forced to buy private Cadillac cardiac care packages like the rest of us!

Republicans have fired the opening salvo in the repeal of Obamacare with a lawsuit aimed at stopping federal subsidies for insurance companies' healthcare plans for low and middle-income people. TrumpCare© will, of course, probably just be a cheaper alternative to euthanasia after it gives us access to unregulated over-seas pharmaceuticals.

Texas has finally kicked Planned Parenthood to the curb, potentially leaving 11,000 Medicaid recipients without access to birth control, cancer screenings, and HIV tests, but on the other hand they stopped government sponsorship of medical research donations!

The Department of Veterans Affairs has been getting better, according to two independent studies from the Harvard Business School and the Journal of General Internal medicine, despite rhetoric to the contrary from conservative blowhards in Congress. But it's still got a ways to go before it can really be touted as a model of efficiency.

Chris Christie is being force-fed heaping bowls of karma after being such a miserable greaseball! New Jersey slapped down Gov. Christie's "revenge" bill that would have royally screwed print newspapers. And then, just for good measure, the New Jersey legislature decided to kill a fast-tracked bill that would have allowed Christie to collect profits on a pending book deal. Naturally, Christie took to Twitter to vent about how this is all the fault of the lame-stream liberal media and its gluttonous vagenda of manocide.

Newt Gingrich (shockingly) doesn't think Donald Trump is really going to "drain the swamp" because Trump won't indict Hillary Clinton emails for pizza preferences in Benghazi and is attempting to dodge serious ethical conflicts while he fills his cabinet with CEO's and lobbyists, none of whom are Newt Gingrich. SAD!
The U.S. has banned 15 Russian people and companies for doing business in Crimea and Ukraine as part of ongoing U.S. sanctions against Russia, though it's just a speed bump by the Treasury Department as people like Rex Tillerson may just declare their love for Russia and its oligarchs anyway.

Representatives from Russia, Iran and Turkey met in Moscow to talk about how to end the Syrian civil war and didn't bother to invite the U.S. or the U.N. now that U.S.-backed rebels are being mercilessly beaten by the Syrian government and ISIS/ISIL/IS/Daesh/Whatever. It's cool though, the U.S. didn't even want to go seeing as how we're not really that cool supporting a regime that gasses children and bombs entire neighborhoods because of an illogical hatred of ethnic minorities.

Israel's U.S. ambassador is backing a campaign promise by Donald Trump to move the U.S. embassy in Israel to Jerusalem as a step toward peace, and not a catastrophically large step towards inciting a sectarian civil war with the Palestinians and Arabs who also live in the Holy Land. Say your prayers!

The U.S. has given back a large piece of land on the Japanese island of Okinawa that was previously used by the U.S. military as Jungle Warfare Training Center. Whatever, we didn't even want the crummy old base anyway; we're not even fighting jungle wars (yet), we're still stuck in a desert.

Los Angeles Mayor Eric Garcetti and county leaders have pledged $10 million for a legal defense fund to help undocumented immigrants facing deportation under Donald Trump's exile and extermination squads by matching philanthropic donations with city funding. Looks like those taco trucks may be sticking around after all!

The Washington D.C. Trump International Hotel has been rated as one of the worst new luxury hotels by an exclusive U.K. travel agency. But they're Brits, not Americans, so what would they know about high society?

Bill O'Reilly went on a rather racist tirade about the movement to abolish the electoral college where he started defending white privilege before making a not-so-vague endorsement of white supremacists. Then, of course, Twitter went completely apeshit.

According to new polling data by the PPP, conservatives who complain a lot are offended by politically correct holiday greetings, so here's wishing you a Happy Non-Denominational Winter Solstice Season of Festivities, and to all a pleasant insomnia-free rest!

If you, like our Editrix, have been flirting with running for local office, you might want to check out this site dedicated checking your eligibility for local office. Get your ass out there and do some civil service! You might not sleep much, but you'll certainly sleep well! [H/T TPM!]

And here's your morning Nice Time! SEA LIONS! They're like dogs, but they live in the water, grunt, and waddle instead of opening your fridge and stealing your fancy deli sandwich!
Dominic Gwinn
Dominic is a broke journalist in Chicago. You can find him in a dirty bar talking to weirdos, or in a gutter taking photos.