Obama Speechwriter Calls CNN A Dumb Dick To Its Face, And It Is BAD. ASS.
News
March 27, 2017 11:45 AM
Jon Lovett is some kind of Jon Stewart or something!
---
Let's have HAPPY VIDEO TIME, because it is Monday and why not? Everybody is already comparing this video of Obama speechwriter Jon Lovett going on CNN and saying CNN is the worst, and even cussing at CNN, to that wonderful time years ago when Jon Stewart went on "Crossfire" and yelled at Tucker Carlson to stop hurting America. That was some good shit!
Today's episode of "Good Shit" happened Sunday morning on CNN's "Reliable Sources," as Lovett noted that Donald Trump's surrogates are, without exception, stupid dicks who lie a lot, and moreover, CNN encourages this by actually giving Trump douches a spot on the payroll, so they can come on TV and lie constantly:
LOVETT: You turn it on and there's a big giant panel, and you have ...

CNN GUY BRIAN STELTER: You mean Jeffrey Lord and Kayleigh McEnany and other Trump supporters ... [it's helpful to name stupid Trump surrogates out loud, you see. - Ed.]

LOVETT: Absolutely, and you look at that giant panel and it's smart person, smart person, smart person, stupid person. Smart person, smart person, smart person, bullshit factory.
UH OH HE SAID A CUSS!
STELTER: Why does it help you to insult Trump supporters like that?
It doesn't help him, Brian, it helps America.
Lovett wasn't done, though:
LOVETT: ... [T]he people that CNN puts on television are terrible representatives of the views of conservatives, they're terrible representatives of the kind of politics we should have. I mean, these are not intellectually honest people, these are people building a brand, these are people willing to say anything. And the same criticism you direct at [Sean] Hannity, you could direct at the people that CNN puts on the air. [...]

So often on CNN there's a world-class journalist interviewing campaign rejects and ideologues and silly, craven people who do not care about informing people, that aren't there to ... help people understand what's going on with the news.
Let's see, off the top of our head, we can also include Jason Miller, Kellyanne Conway, Stephen Miller, Sarah Huckabee Sanders, and also Boris Epshteyn, the dude every single person in the world hates (including the White House apparently, as his Russian ass has just been fired). And to that list, you can also add every other Trump surrogate, living or dead, whether they're employed by CNN or the White House or a "think" tank, because you have to be a very stupid person to support Donald Trump FOR YOUR JOB.
Later in the interview, Lovett said the "BS" cuss AGAIN, and concluded by asking, "Who comes away from a ten person panel on CNN thinking, wow, I really understand that story, and I feel super pleased with my experience?" NOBODY is the answer.
Now, this one video would be fun enough, but did you know there was also a BONUS moment of bad-ass-ness that happened Sunday around the same time, involving a nice smart TV journalist telling Sean Hannity to get fucked? It's true! Ted Koppel interviewed Sean Hannity on "CBS Sunday Morning," and this happened (start at 5:50):
HANNITY: Do you think we're bad for America? You think I'm bad for America?

KOPPEL: Yeah.

HANNITY: You do?

KOPPEL: In the long haul I think you and all these opinion shows ...

HANNITY: Really? That's sad, Ted. That's sad.
Awwwww, Sean Hannity got his feelings hurted. Maybe he needs to put that Trump-shaped buttplug back in his mouth so that he might recover from his sadness.
Of course, once news of this got around, Hannity, truth-teller that he is, got on Twitter to have a nuclear butthurt explosion about how Ted Koppel was FAKE NEWSING him, claiming Koppel wasn't specifically singling him out, but rather saying ALL shows like his are bad for America: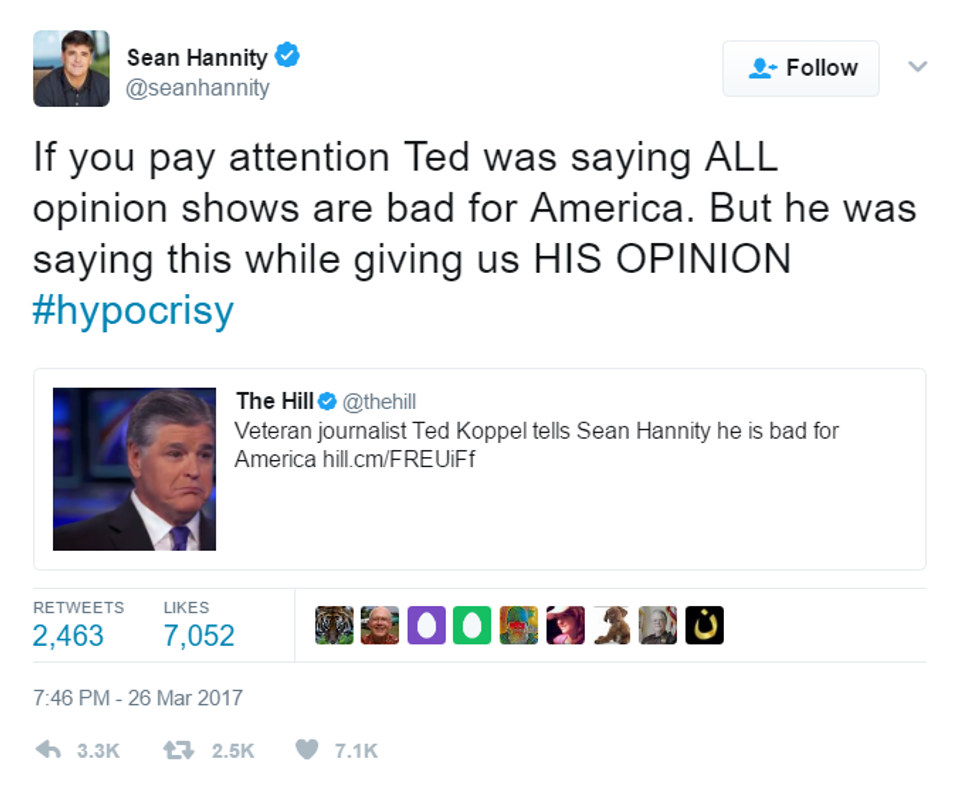 We really don't know why Hannity thinks he vindicated himself right there -- like, the transcript and the video show clearly that Koppel said Hannity, specifically is hurting America -- but he's a very stupid man, so it's best not to worry about it too much.
Anyway: Jon Lovett and Ted Koppel win one million pairs of gold-plated Truck Nutz, and as usual, Sean Hannity and CNN suck three million bags of dicks. THE END.
Wonkette is reader-funded. If you liked this story, click the happy banners below, to give us dollars!
[h/t Esquire]
Evan Hurst
Evan Hurst is the managing editor of Wonkette, which means he is the boss of you, unless you are Rebecca, who is boss of him. His dog Lula is judging you right now.
Follow him on Twitter RIGHT HERE.