Obvious Fake News Poll Says America Hates Trump's Fucking Guts More Than Ever
News
August 03, 2017 11:27 AM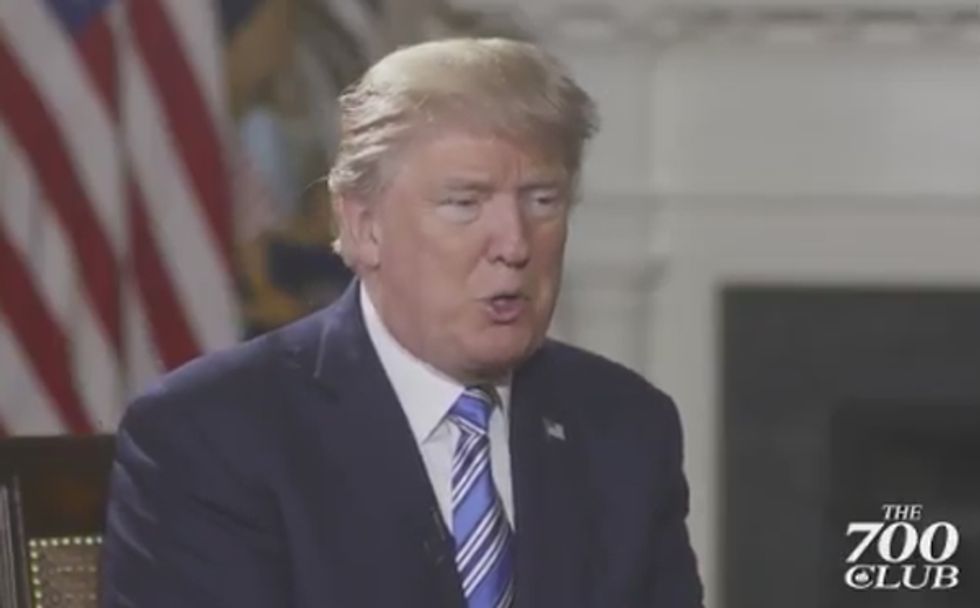 And also we don't think he's sexxxxy AT ALL.
---
OK, we know everybody loves NSFW poll porn, especially of the variety that shows everybody hates Donald Trump SO MUCH. We've been writing about it since shortly after the inauguration, because Trump has been reviled the entire time he's been president.
Last time we did a post like this, Trump was beaming with pride over his "almost 40%" approval rating. Of course, his "almost" was actually 36%, so use your imagination on how much the president rounds up his penis size when he's on Tinder. (We are kidding, the president doesn't have a Tinder account, he just grabs them by the pussy and takes them furniture shopping.) Another interesting thing from that poll a couple weeks ago was that Trump's "strong approval" rating, on many specific issues, hovered around 25%, which may be his rock bottom. No matter what he does, even if he shoots Jeff Sessions in the middle of 5th Avenue, about a quarter of the American population will 1) eat glue, 2) injure themselves in fireworks accidents, and 3) support Trump.
But now we have a NEW SEXXX POLL to look at, and it features a pathetic number we've never seen before. Trump's overall approval rating, according to Quinnipiac, is THIRTY-THREE PERCENT. If you're not familiar with common mathematics, that means only one out of three Americans even would piss on the dude if he was on fire, whereas 61% would probably say, "Pffffffft, he would probably enjoy that." His "strong approval" number here? Down to TWENTY-THREE PERCENT. That's right, y'all. Trump sees that rock bottom 25% number, and he will take a jackhammer to it!
Diving deeper, there are more troubling trends for Trump. For instance, white voters with no college degrees -- you know how Trump loves the poorly educated! -- now disapprove of Trump by a 50-43 margin. Ruh roh!
Want more sexxx numbers on how much Americans hate Trump? OK! Quinnipiac notes that "President Trump is not levelheaded, say 71-26 percent of voters, his worst score on that character trait." Also too, 62% of Americans correctly assess him as a liar and 63% know he's a weak and failing pussy when it comes to leadership skills. In fact, he's lost ten points on that metric in just the last month alone, probably because Americans are noticing he's a shitty businessperson who can't close a deal.
Furthermore, only 28% of Americans approve of how Trump "handled" healthcare. Guess people think there are better ways to "handle" healthcare than to spend the week of the big vote telling Boy Scouts stories about orgies, yelling about your attorney general on Twitter, and otherwise doing nothing to seal the deal on healthcare. Sad!
Finally, 54% of Americans are literally embarrassed that Orange Fuckhead McGee is squatting in the gross dump of a White House he doesn't deserve.
Quinnipiac also polled folks on how much they like such beloved Trump World figures as Donald Trump Jr., Jared Kushner and the Mooch, and they all have approval ratings of like nothing percent. The only good number in this poll is for John McCain, who is loved by 57% of all people. That is SURELY good news for John McCain! What's funny, though, is that all that McCain love is coming from DEMOCRATS, 74% of whom (!!!) have a favorable opinion of him.
Geez, Democrats. We know McCain mavericked up and helped save the day (HELPED. AS IN, DID IT WITH SUSAN COLLINS AND LISA MURKOWSKI) on healthcare, but you don't have to fucking throw yourselves at him.
Anyway, there are a bunch more fun data numbers in the poll, but we're going to make you go look at them your own damn self, because this post is now over.
Wonkette salaries are fully funded by lovely folks like you! If you love us, click below to pay our salaries!
Evan Hurst
Evan Hurst is the managing editor of Wonkette, which means he is the boss of you, unless you are Rebecca, who is boss of him. His dog Lula is judging you right now.
Follow him on Twitter RIGHT HERE.