Oklahoma GOP Sen. James Lankford Launches Half-Baked Boycott Of Ben & Jerry's West Bank Boycott
Right Wing Extremism
July 22, 2021 09:18 AM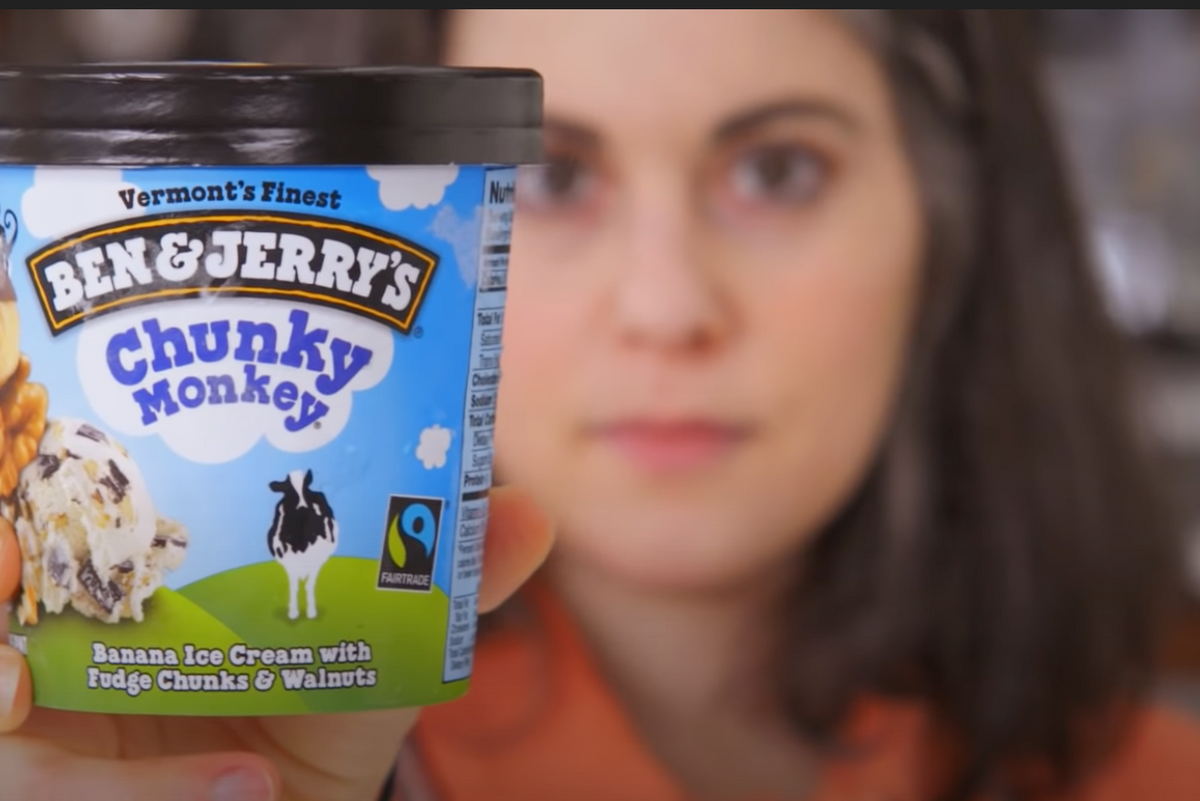 Republican Senator James Lankford from Oklahoma is facing a primary challenge from MAGA stooge Jackson Lahmeyer, who was recently endorsed by state GOP chairman John Bennett. Many Oklahoma Republicans consider the avowed conservative Lankford a RINO because he didn't go all in on overturning the results of a Democratic election.
Lankford must have seen some bad internal polling, because he's picked a fight in the ongoing culture wars. That, ladies and gentleman, is how you win GOP primary elections. Lankford is superficially upset because Ben & Jerry's announced this week that it would stop selling ice cream in what it calls "occupied Palestinian territory." The Vermont-based company (acquired by Unilever in 2000) will continue operating in Israel but plans to pull its delicious products from Israeli settlements in the West Bank.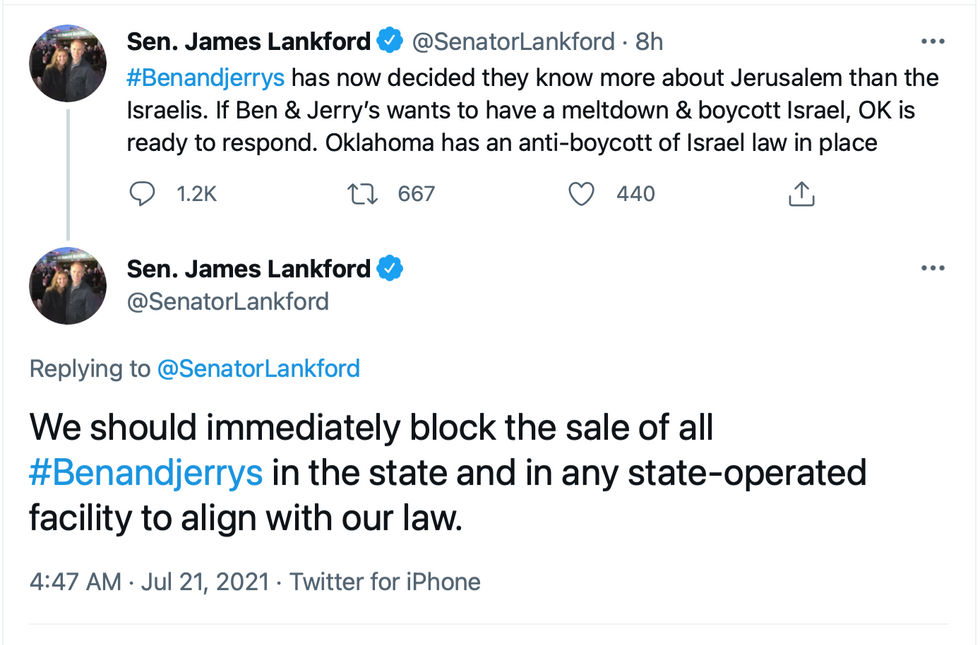 Twitter
#Benandjerrys has now decided they know more about Jerusalem than the Israelis. If Ben & Jerry's wants to have a meltdown & boycott Israel, OK is ready to respond. Oklahoma has an anti-boycott of Israel law in place
Oklahoma has an anti-boycott of Israel law? That sounds so absurd it must be true. In May 2020, Oklahoma Governor Kevin Stitt signed legislation that declared the state "will not sign any contract with a company, unless the company submits a written certification that it's not currently engaged in a boycott of goods or services from Israel."
---
"Companies that refuse to deal with United States trade partners such as Israel make discriminatory decisions on the basis of national origin that impair those companies' commercial soundness," the bill reads.
That seems like a stretch, though it does recall the Republicans who opposed economic sanctions against South Africa. However, that was at least opposition to proposed state action. Now supposed free market conservatives are dictating how private companies conduct business.
Lankford doesn't just support this law of dubious constitutionality. He's ready to put it in action!
We should immediately block the sale of all #Benandjerrys in the state and in any state-operated facility to align with our law.
Obviously, that's potentially devastating for Ben & Jerry's, the top-ranked ice cream brand in the United States. Ben & Jerry's had sales totaling $863.1 million for the 52 weeks ending November 1, 2020, and at least $800 million of that came from Oklahoma. No, wait, that doesn't sound right. The state has a population of 3,552,821, which puts it right between the cities of Los Angeles and Chicago. Maybe it's $400 million. Regardless, Ben & Jerry's will probably survive the hit.
Lankford is standing up against Ben & Jerry's the way he didn't stand up for democracy when he originally joined Ted Cruz's sedition crew. This probably isn't news to anyone reading but Republicans are a pack of shameless hypocrites. Just last week, South Carolina Senator Lindsey Graham vowed to "go to war" for Chick-fil-A's "principles," which are gay-hating, because he believes Chick-fil-A has an inalienable right to conduct business wherever it wishes. Graham isn't calling out his Republican colleague Lankford as an anti-business communist, so he must not believe Ben & Jerry's has the same free speech rights. I guess only conservative corporations are people.
Israel's President Isaac Herzog called Ben & Jerry's West Bank boycott a "new form of terrorism." If lack of access to Chunky Monkey is the new terrorism, it's certainly preferable to the old terrorism, with all the suicide bombers. New York Rep. Nicole Malliotakis was similarly melodramatic.
In my interview today with Congresswoman @NMalliotakis we discussed a range of topics: 1. @benandjerrys BDS BS "I… https://t.co/NHfnSEPoCj

— Dov Hikind (@Dov Hikind) 1626823575.0
During an interview Tuesday, Malliotakis said:
It's a shame that they've decided to target the Jewish people like this. I think it's really important that Americans here send a message to Ben & Jerry's by not buying their ice cream, quite frankly. To try to deprive people of their ice cream is really just outrageous and they shouldn't be participating in what is the BDS movement.
Ben Cohn and Jerry Greenfield are both Jewish. Lankford and Malliotakis are not. However, it's grossly anti-semitic to conflate Jewish faith and heritage with reflexive support for the Israeli government. The Boycott, Divest, and Sanction movement is a non-violent pressure campaign, and it's concerning that Israel's president would describe even non-violent resistance as "terrorism."
Also, Malliotakis should GTFOH with her line about Ben & Jerry's depriving "people of their ice cream." Republicans apparently consider ice cream a human right but not health care.
I wonder if these clowns realize that McDonald's has a longstanding policy of not operating in the West Bank. Oklahoma has one of the highest concentrations of McDonald's per 100,000 residents. That's another boycott Lankford won't win.
Follow Stephen Robinson on Twitter.
Keep Wonkette going forever, please, if you are able!
Stephen Robinson
Stephen Robinson is a writer and social kibbitzer based in Portland, Oregon. He writes make believe for Cafe Nordo, an immersive theatre space in Seattle. Once, he wrote a novel called "Mahogany Slade," which you should read or at least buy. He's also on the board of the Portland Playhouse theatre. His son describes him as a "play typer guy."