Oklahoma Legislator Wants Hoodies To Be Illegal When Cops Feel Like It, Punk
News
January 03, 2015 03:10 PM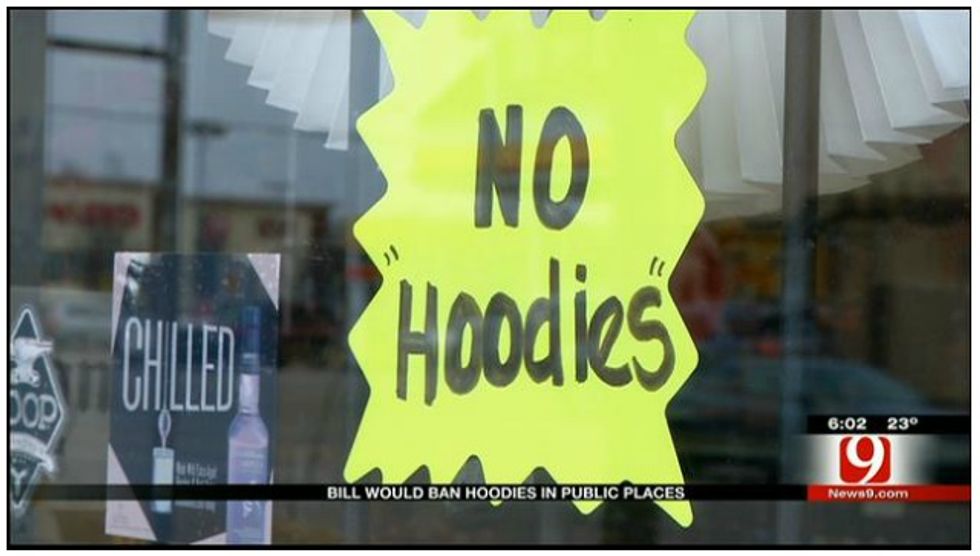 Image viaKOTV video
---
Oklahoma state Sen. Don Barrington has decided to use the power of his office to take a bold stand against depraved criminals menacing the public. He's apparently taken inspiration from noted crime experts like Geraldo Rivera and  an Oklahoma City liquor store manager, taking aim at the greatest threat imaginable to the safety of his constituents: outerwear garments with attached head coverings.
Shelly Cruze's store, Mayfair Liquor, was once a target of a robbery and once was enough.

"Of course the hood was up and it was drawn," said Cruze.

So now, Shelly has a clear message to customers even before they walk in. No hoodies, hoods or masks.

"When you go into a place they need to see your face. That's just human contact, that's communication, to see your face," said Cruze.

Shelly's rule could eventually be law.

After consulting with the Department of Public Safety, Senator Don Barrington has authored a bill that would make it unlawful to wear a mask, hood or covering during the commission of a crime or to intentionally conceal his or her identity in a public place.
The law would have some exceptions to avoid criminalizing Halloween costumes, religious headwear, "special events like a parade," or winter weather so flipping cold your face will freeze off without a balaclava, "but if you wear a hood with ill intentions, you could be slapped with a misdemeanor fine of $50 to $500 and or one year in jail."