Oklahoma Runs Out of Varmints and People to Shoot, Turns to Flying Robots
Featured
February 12, 2015 08:45 AM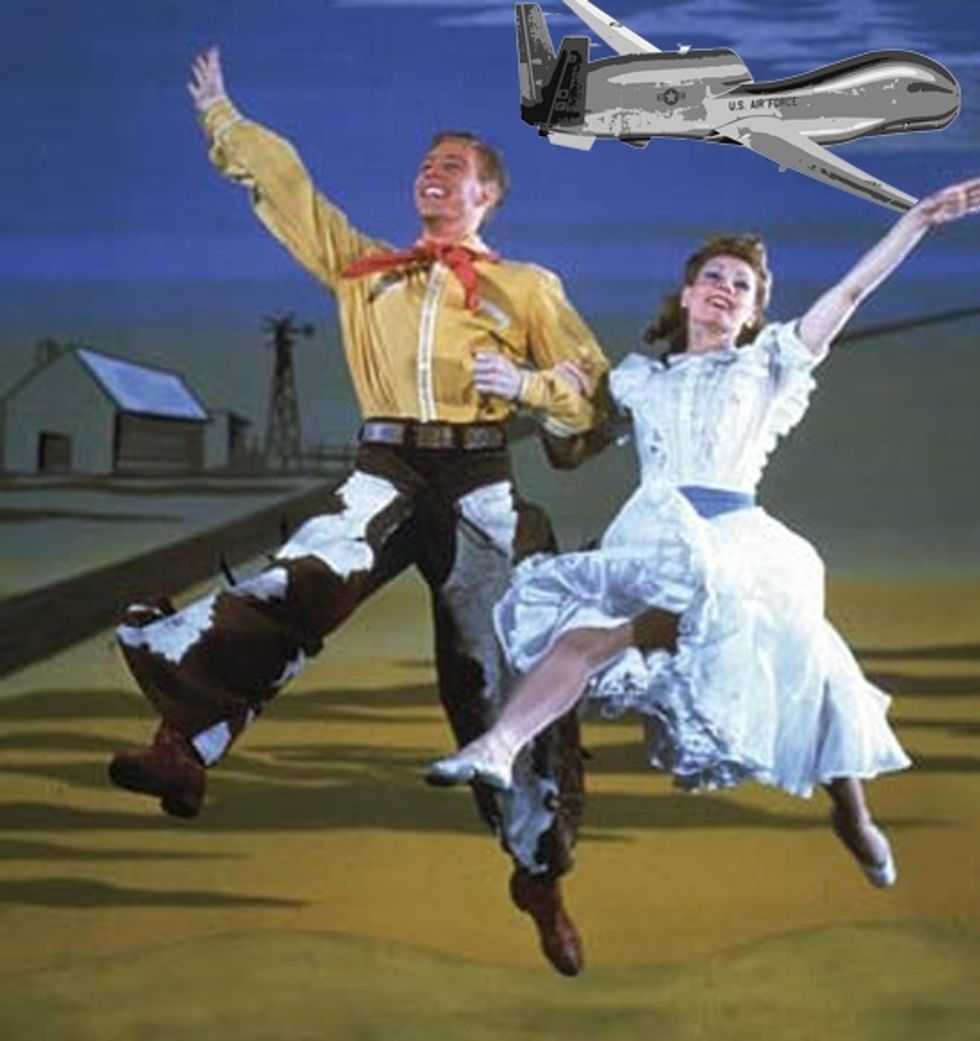 The good congresscritters of Oklahoma are up to some legislatin', folks. A bill has advanced to their senate floor that will make it legal to shoot drones out of the sky. That SPROING you heard is the sound of Rand Paul's spontaneous freedom boner.
---
[contextly_sidebar id="P9eDgjwmB6sP80WmITnWRScJFQGAUhsR"]
The bill provides civil immunity for damage done to a drone that is flying on personal property, though it doesn't seem to address how far up one's "personal property" extends -- it's hard to stand your ground when you're in the air. Ostensibly the bill is meant to prevent lawsuits against citizens who are just defending their homes from the coming robot invasion, but as even the bill's own sponsor admits: "Shortey says he's received reports of people shooting down drones, but acknowledged he's unaware of anyone being sued for doing so."
Wonderful. A bill to address a made-up problem that can only be solved by discharging weapons into the air. The good people of America in general and Oklahoma in particular are well known for their restraint when it comes to discharging their metal buddies even without civil immunity, so in celebration of Oklahoma gun humpers' oncoming freedom explosion, let's have a quick recap of all the ways responsible gun owners have made the Sooner State so much safer:
[contextly_sidebar id="SpfkCrRQZREiM6J728admlRcgLVppysS"]
With such a stellar record of responsible gun ownership, we're sure nothing will go wrong with this new "shoot up in the sky, hope it hits something" bill. The sponsor, State Senator Ralph Shortey, has attempted to allay concerns by reassuring reporters that it wouldn't change laws about discharging guns in city limits, which really doesn't correct the obvious problems of this bill, such as all of it.
Regardless, Senator Shortey's tepid non sequitur reassurances should do well to assuage our fears. We'd rest easier at night, if only our pillow weren't made out of AR-15s. Happy shootin', folks!
[Public Radio Tulsa via NPR]