One Million Moms Yelling At Sticky Gay Cadbury Jizz Eggs Now
Religion
January 21, 2021 04:30 PM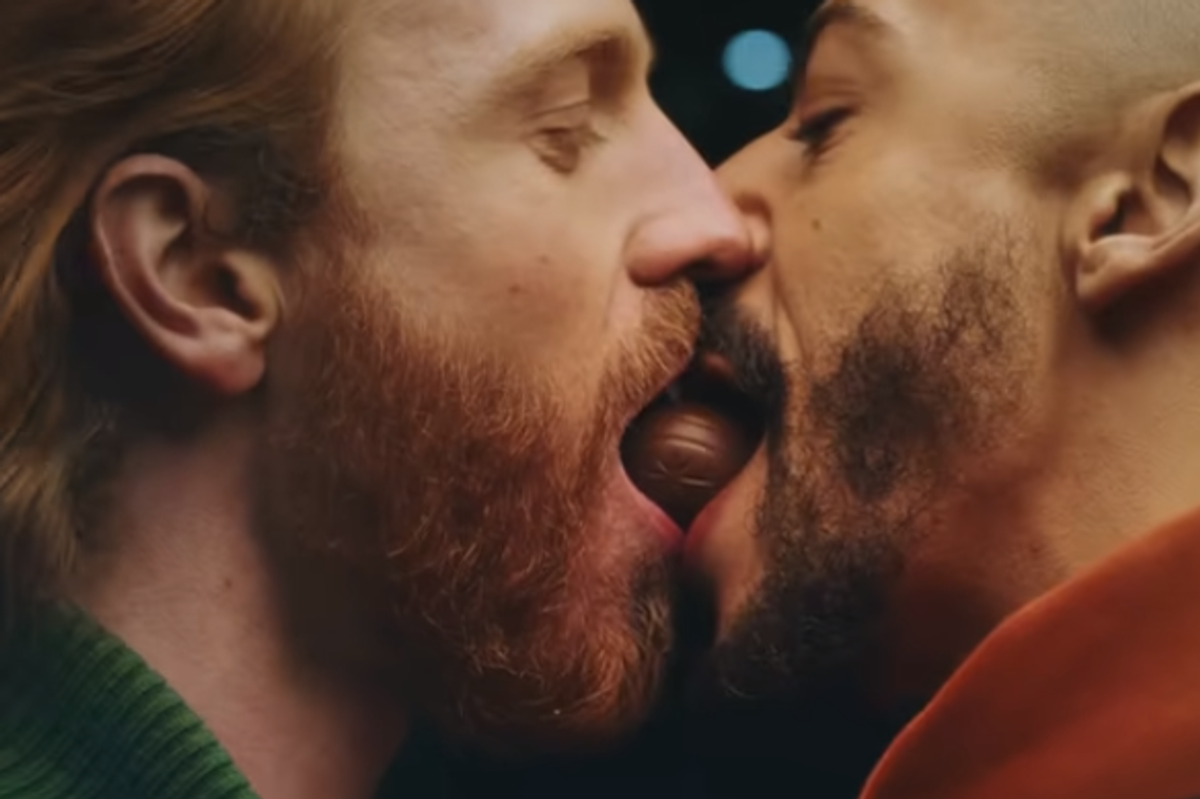 We interrupt your jubilant exultation over the humiliating exit of Dear Leader Donald Trump to bring you glad tidings of the greatest One Million Moms ever.
You know the One Million Moms. There's like one of 'em, and her name is Monica Cole, and she uses computers. Specifically she uses 'em to TOTALLY ANNIHILATE companies when they do naughty things, like when Dole says grown-ups do "fruit bowls" to each other (ON THE GENITALS) and Hallmark puts gays in the movies (WHICH MAKES HER THINK OF THEIR GENITALS) and Highlights For Childrenputs gays in their children's magazine (GENITALIA) and GAY DUCKS (GENITALS!) and Toy Story 2has one scene with lesbians (HOO-HOO GENITALS!) and GAY DEMON OWLS (HOOT-HOOT GENITALS!) and GAY PAPER TOWELS (probably use them to wipe up their GENITALS!) ...
Oh and one time the Burger King said the "D" word, which is SURVEY SAYS GENITALS!
Lady may not have one million actual moms behind her, but lady got at least one million issues. What she doesn't have is a track record of companies paying attention to a damn word she screams into her computer with her typing fingers.
Now, you might have thought Monica Cole spent the night before Inauguration Day crying and crying because President Pussygrabber was leaving, or maybe anticipating the next day's promised QAnon storm, because we absolutely would not be surprised if she is also a QMommy.
But she managed to send out our favorite One Million Moms press release ever of all time, and it is about gay Cadbury eggs. Sticky, oozy, jizzy Cadbury eggs, shared by gays. (ON THEIR GENITALS! Oh no wait, it is on their tongues. WHICH MIGHT AS WELL BE GENITALS IF WE'RE TALKING ABOUT GAYS, LIKE COME ON!)
---
If you look forward to having your annual Cadbury Creme Egg each Easter season, you might not like how the company celebrates the risen Savior.
We've read the Bible cover to cover multiple times but we have never seen the part about how creamy chocolatey eggs are part of the traditional celebration of the risen Savior.
Cadbury just released a commercial that has resulted in a backlash of comments from Christians and non-Christians alike. Everything from "disgusting" and "very disappointing" to "yech" and "gross."
Show your work, Ms. Cole.
Todd Starnes ...
Suspected pee enthusiast Todd Starnes?
... best describes the ad this way: "It's like Disney's 'Lady and the Tramp' scene where the two dogs share spaghetti. Except, it's two grown men spinning around in a circle and sharing a creme-filled chocolate egg in a sexualized way."
So it's like Lady And The Tramp except it's dudes using Cadbury Eggs as anal beads?! While spinning?!
We are gonna have to watch these acrobatic candy-loving homosexuals!
Cole continues:
The 10-second segment is part of a longer commercial called "Crème Egg Golden Goobilee," showing ways to eat a Cadbury Crème Egg. You can see it here.Warning: This video is graphic and offensive.
NSFW! Because of the STICKY and the MEN and the ... EGGS!
Also, it is not 10 seconds, and we don't know whether Cole can't count or can't tell time or is just a brazen liar. It's like 6.5 seconds out of a 54-second commercial. And yes, the gays are spinning and then they kiss and break the Cadbury Egg in their mouths and we'll hand it to Monica Cole that it made us think of jizz.

But here's the thing. Did you notice also that the commercial's voice-over is spoken in British? Yes, ClownMommy McChristALot, whose LinkedIn says she lives in Tupelo, Mississippi, home of the American Family Association hate group that sponsors the "One Million" Moms, is bellyaching about a commercial in Britain. Doesn't she know the Brits killed the baby Jesus ages ago and "cunt" isn't a cussword over there and the whole archipelago is just covered in jizz? (OK, that may not be a geography fact.)
But she says she is just worried that maybe Cadbury will bring this commercial, full of sticky, creamy, sugary, white gay jizzes that make her think of GENITALS! over to America. And we gotta send a message to those Cadbury perverts! No sticky, creamy, sugary, white gay jizzes for America! Because then Monica Cole might see the ad on the actual TV, and aw dang, there goes mom, spinning out again about GENITALS!
Monica Cole can probably rest easy, because that commercial does not even work in America. It would have to be completely redone with gays doing Cumbury Eggs to each other in an immaculate white kitchen with marble countertops, or possibly in a tub outdoors with bubbles flying through the air. Also that ad has old people in it, who actually look old, and the American ad consumer is not down with that.
Whatever, the point is that it's a new day in America, Joe Biden is the president, and Monica Cole is still Inspector Gadgeting the entire world for any vague allusion to jizz she can find, so she can yell at it. She's got a pretty cool life.
OPEN THREAD!
[One Million Monicas / h/t Joe My God]
Follow Evan Hurst on Twitter RIGHT HERE, DO IT RIGHT HERE!

GIVE IT WONKETTE. We mean money. Thank you.
Evan Hurst
Evan Hurst is the managing editor of Wonkette, which means he is the boss of you, unless you are Rebecca, who is boss of him. His dog Lula is judging you right now.
Follow him on Twitter RIGHT HERE.