Discover more from Wonkette
Wonkette is filthy, hilarious, liberal news. YOU CAN HANDLE THE TRUTH!
Over 18,000 subscribers
Flaccid Clown Continues To Shriek. Wonkagenda For Thurs., June 28, 2018
Not sure your police work's a hundred percent there, Don.
Morning Wonketariat! Here's some of the things wemaybe talking about today.
Before we get started, have some baby marmosets.

After FBI agent Peter Strzok spent all day telling Congress about his anti-Trump sexts, members of Congress stormed off, calling the hearing a "farce." This morning Trump has been shitposting (as usual) about Stzrok, and a bunch of other nonsense.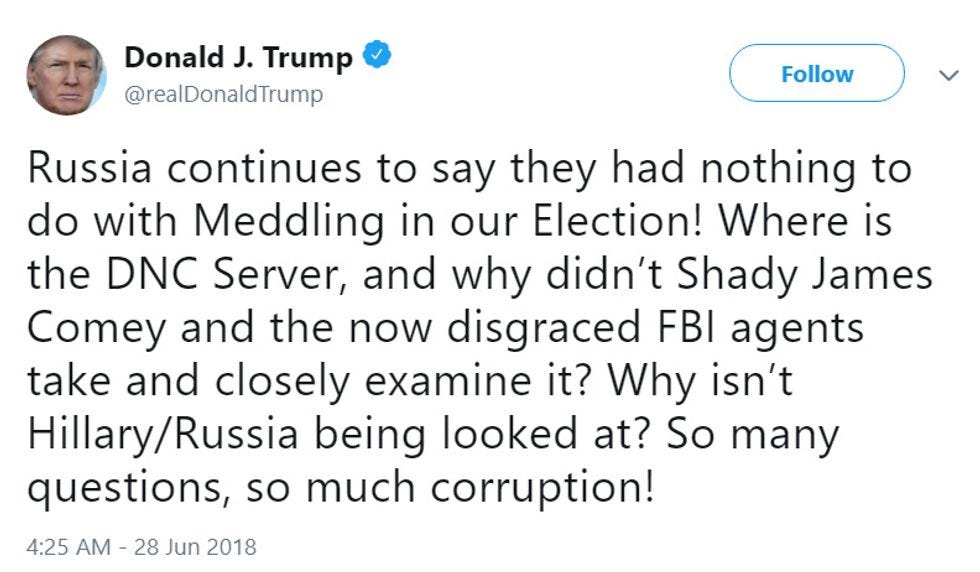 In addition to all the millions Paul Manafort got from Russianmobstersoligarchs, new documents show that Manafort and his wife got a $10 million loan from Oleg Deripaska, the Putin-link Russian oligarch, back in 2010.

Rod Rosenstein and FBI Director Christopher Wray will likely get bitched out by the House Judiciary Committee's diaper babies during another hearing about HER EMAILS. 
 DHS wants 12,000 beds for migrant familiesimprisoned detainedin Trumpville's at military bases in the Southwest, with 2,000 beds ready to go within the next 45 days. The Defense Department says it has been asked to find spaces that can hold 12,000 people, and potentially build separate (but equal) tent cities to house up to 4,000 people each.
 The House immigration bill miserably failed 121-301 despite a zero hour Trump tweet in all caps. As Congress gets ready to piss off for the Fourth of July, there's rumors of a new plan to force an immigration vote among "moderate" Republicans by convincing holdouts who tried to avoid the earlier infighting.
 The GAO and HHS have started reviewing Trump's baby jail policy, and claims made by HHS head Alex Azar that he can find all the children by snapping his finger and twitching his nose.
 Marco Rubio is stalling the awful farm bill with anti-Cuban amendments, so that's kind of weird.
 Last night Trump was in Fargo, North Dakota, to rant, ramble, and brag about Justice Kennedy's retirement, bitch about Sen. Heidi Heitkamp, and complain about the EU .
With Justice Kennedy retiring, Trump's consolidation of power is almost complete, and battered journalists in the Fourth Estate have become the last check on his power now that every other branch of government has ceded constitutional authority. 

Mitch McConnell is already promising a vote on for a new Supreme Court nominee before the midterms -- even if the margin for error is razor thin. Axios has a shitty infographic showing judges the Heritage Foundation ( ie , Trump) wants.
The former Fox News executive who was "You're Fired" for covering up everyone playing grab ass, Bill Shine, is expected to be tapped as Trump's White House "deputy chief of staff overseeing communications." You can almost hear the late night three ways with Hannity...
 Scott Pruitt has ALLEGEDLY been personally "ratfucking" former aides in an attempt to exact revenge for not lying to investigators, and/or telling reporters about all his scams.
Grifty bastard Ryan Zinke is trying to explain his  shady Montana land deal with Halliburton and BNSF Railway as a bunch of overblown hooey. He says they were just talking (about his plans for a development and microbrewery ).
During a hearing in front of the Senate Finance Committee, it was revealed that Chuck Rettig, Trump's pick to head the IRS, was trying to hide his property at Trump's hotel in Waikiki, and failed to report hundreds of thousands of dollars on interest in loans he received on his tax returns from 2014-2016. Man, any other time and we would NEVER SHUT UP ABOUT THE HILARITY.
Trump's new VA nominee, Robert Wilkie, told the Senate that he'll make the VA great again by echoing the same sentiments said by every other VA Secretary for the past two decades, and denied allegations of racism and sexism by pointing to his black friend, Condoleezza Rice.
 Mike Pompeo says that Trump is serious about Russia rejoining the G-7 . Running the world is, like super hard, and stuff.
A group of Republican billionaires led by the Koch brothers is going to war with public sector unions .
 Puerto Rico's non-voting representative introduced a bill to make Puerto Rico a state, but it's unlikely to pass since everyone thinks they're Mexicans.#TaxationWithoutRepresentation
No matter what happens in the 2018 elections, there will be no pro-choice Republicans in the House next year . The last few "moderates" are fucking off for greener pastures.
 Political fortune tellers are being forced to re-crunch their numbers this morning after Justice Kennedy decided to take a giant dump all over America just before the 2018 midterms. Thanks a lot, you old bitch.
The DNC is moving ahead with plans to shrink the power of super delegates in presidential primaries, and the Bernersseemhappy enough with the change.
 Texas officials say they can't afford to hold a special election to fill the seat left open by disgraced former Rep. Blake Farenthold (the super rich and fugly Bro Caucus douche who still owes taxpayers $84,000).
The SCOTUS ruling on Janus v. AFSCME has sent Illinois unions into a blind rage at Republican Governor Bruce Rauner, so they're throwing a ton of money behind a third party right-wing candidate to challenge Rauner in the fall.
China's President for life, Xi Jinping, has told Defense Secretary Jim Mattis that China won't give up anything it considers it owns -- a perceived shot across the bow in the ongoing conflict in the in the South China Sea.
Late this morning it was announced that Finland will host a meeting between Trump and Putin on July 16. 
NATO is sweating bullets after Trump said, "NATO is as bad as NAFTA," during the G-7 meeting earlier this month, and his pro-Putin positions aren't exactly making him any friends either.
 The British Intelligence and Security Committee has published a brutal report about the US torture of 9/11 detainees, saying it's almost impossible to imagine British officials didn't know what was going on. Fun Fact: The Trump administration attempted to redact the report.
Laura Loomer, one of James O'Keefe's wannabe journalists, filed assault charges against 80-year-old Rep. Maxine Waters after Waters pushed past Loomer on her way to a floor vote.
The new CEO of Fox News, Suzanne Scott, wants network producers to start hovering over the on-air talent to rein in the racism, and nitpick edgy comments made by hosts or guests.
 The DOJ signed off on Disney's plan to buy 20th Century Fox after Disney agreed to sell off a bunch of Regional Sports Networks -- thussidestepping congressional hearings and FCC approval.HOWEVER, there are murmurs of Comcast teaming up with a private equity firm to pony up even MORE money.
Weirdo director David Lynch says that the right-wing diaper babies took his "greatest president" comment out of context, and is asking people to actually read his short, seven sentence letter to Trumpwhere he states,"He could go down as one of the greatest presidents in history because he has disrupted the thing so much. No one is able to counter this guy in an intelligent way. Our so-called leaders can't take the country forward, can't get anything done. Like children, they are. Trump has shown all this...It's not too late to turn the ship around. Point our ship toward a bright future for all."
 A House bill to save net neutrality is only 46 votes short of a discharge petition that would force Paul Ryan to put the bill on the floor for a vote.
Some stupid European Homo-swans think solo cups are babies, and they're attacking people. Eurotrash, man.
Finally,Connecticut Wonkers,there's asuper seekrit officially unofficial meet-up TONIGHTat 8pm at the Stonebridge Restaurant in Milford. Y'all go out and treat yo'self tonight! The first round is on your comrade Donkey Option, so have all the fun!
And here's your morning Nice Time! RED PANDA CUBS!!
 We're 100% ad-free and reader-supported, so consider buying us coffee, or get a subscription! 
Follow Dominic on Twitter and Instagram!