Discover more from Wonkette
Wonkette is filthy, hilarious, liberal news. YOU CAN HANDLE THE TRUTH!
Over 15,000 subscribers
Florida, Man. Wonkagenda For Wed., Aug 29, 2018
Primary weirdness, Trump's trade war blues, and California kills cash bail! Your morning news brief.
Morning Wonketariat! Here's some of the things wemaybe talking about today.
Grab some coffee and the Pepto, here's the biggest takeawaysfrom last night's "weird" primaries! [ Nerdy Stuff ]

Establishment-backed Martha McSally won the Republican Senate primary in Arizona after beating crazy caucus candidates "Chemtrail" Kelli Ward and pardoned felon Sheriff Joe Arpaio. McSally will face Democrat Kyrsten Sinema this fall after Sinema defeated Deedra Abboud in the Democratic primary.
Political fortune tellers are scrambling to their crystal balls after this shocking upset:  Trump-loving Ron DeSantis will face Bernie-backed Andrew Gillum in the Florida gubernatorial race.
Disgraced slap-happy Florida man and former congressman Alan Grayson miserably lost his absurd bid to reclaim his seat from incumbent Democratic Rep. Darren Soto. There's not much of a story here, we just wanted to pour salt on this wound. 
Former Clinton cabinet member Donna Shalala will face Republican Maria Elvira Salazar, a Cuban-American journo for Telemundo, in the race to replace Republican Rep. Ileana Ros-Lehtinen in the Florida 27th.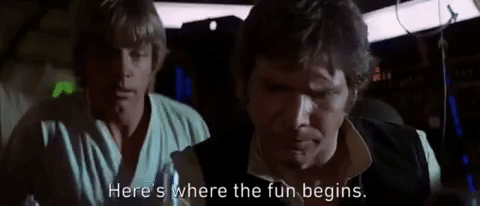 Once he brushed off his knees, Axios's Jonathan Swan reported that White House Counsel Don McGahn will step down this fall. All the speculation is on Emmet Flood to replace McGhan, but it's just as likely Trump nominates Lionel Hutz. 
 Devin Nunes went to London to investigate THE DOSSIER, but all he got was this lousy t-shirt after British spy agencies told him to jog on back to his winery.
Everyone is j eering at CNN's Carl Bernstein for rushing to report that Trump knew about Russian fuckery at Trump Tower in the 2016 campaign now that the only source, Michael Cohen's lawyer, Lanny Davis, has recanted. CNN is standing by the story and citing additional unnamed sources, and its reporters are bitching out Davis for "repeatedly" changing his story of what Cohen knows. Further proof that irony is dead, Tucker Carlson brought on Glenn Greenwald to bitch and moan about ethics in journalism.
In the middle of the night Trump started tweeting (again) about HER EMAILS after watching a Fox News hit that cited a farcical story from the disreputable Daily Caller alleging a Chinese company secretly h@x0red HER EMAILS. 
About an hour ago Trump started shitposting about Tucker Carlson and Obama spying him, or something ... again.
Trump's White House still hasn't submitted the paperwork to revoke former CIA Director John Brennan's security clearance. Apparently Twitter declarations don't count for doodly squat in DC's bureaucratic alphabet soup.
The Trump administration has to cough up almost half a billion dollars for New York and Minnesota to fund Basic Healthcare Programs created under the ACA. Thanks, Obama!
Puerto Rico has revised its official death toll from Hurricane Maria from 64 to 2,975 people . In a statement, Trump's White House said Trump "remains proud of all of the work the Federal family undertook to help our fellow citizens in Puerto Rico."
During a closed door meeting with Evangelical Jesus freaks, Trump warned that Antifa super soldiers "will overturn everything that we've done and they'll do it quickly and violently" if Republicans lose control of Congress this November. He then bragged about killing the 1954 Johnson Amendment which banned religious institutions from endorsing political candidates.
Ever determined to have the last laugh, one of the pallbearers for McCain's funeral will be Russian dissident Vladimir Kara-Murza. Kara-Murza, who Vladimir Putin has failed assassinate twice , worked with McCain to pass and enforce the Magnitsky Act.
Efforts to rename the Russell building after John McCain have ground to a halt after Mitch McConnell became determined not to let Chuck Schumer one-up him.
The Congressional Leadership Fund, a Republican PAC closely aligned with Republican Speaker Paul Ryan, sent out copies of the CIA security clearance application for Abigail Spanberger to media outlets. Spanberger, a Democrat, is locked in a tight race against Tea Party Republican Rep. Dave Brat for the Virginia 7th. Through a shit-stained grin, the CLF says they ACCIDENTALLY got the highly classified documents in a FOIA, and are already using the document to try and damage Spanberger's campaign. 
A new NBC News/GenForward survey shows Millennials have consistently more favorable views of Democrats, but are growing impatient and unenthused about the November midterms.
Political soothsayers have revamped their bean counters with the hope of making sure something like Donald Trump never happens again, but the jury is still out on whether or not they can call this fall's House races.
GROSS TIME: Even though Republicans are loathe to admit the effects of climate change, Florida's highly toxic "red tide" is killing marine life, poisoning people, and damaging a multitude of businesses up and down the peninsula with no signs of retreat.
A Wisconsin sheriff's office is under fire over treatment of two black pastors who had stopped on a highway while waiting for a tow-truck. The sheriff's office says they treat all people they pull over the same, but the pastors want to know why it's necessary to ask two black men with a flat tire if they have any guns or drugs when they're already on the side of the road.
A former Dallas area police officer has been found guilty of murdering 15-year-old Jordan Edwards, a black honor roll student, after the officer fired into a car in April of 2017.
NICE TIME! After a 40-year fight for the poors, California became the first state to end the cash bail system. 
After Trump wiped his fat ass with NAFTA, Canada and Mexico have a proverbial gun to their heads as they try to decide if they should eat the bullet and sign on, or tell Trump to eat a dick and watch the combined economies of North America crumble.
At an Oval Office photo op with the not-at-all crooked heads of FIFA, Trump reiterated that Mexico would pay for his stupid wall, prompting Mexican officials to say, "We just reached a trade understanding with the US ... We will NEVER pay for a wall, however."
Trump's trade war has emboldened Justin Trudeau's political rivals to start sharpening their knives ahead of next year's elections. YOU LEAVE OUR SECRET CANADIAN BOYFRIEND ALONE!
The US relationship with Japan is showing signs of weakness after Trump's meeting with Shinzo Abe in June where Trump said he "remembered Pearl Harbor." According to aides, Trump's idea of Japan is rooted in a bastardized interpretation of the 1980s and 1990s, and Japanese officials are beginning to rebuke Trump's trade war. Behind the scenes, the Japanese have been holding secret meetings with North Korea to prevent nuclear war.
Defense Secretary Jim Mattis says Uncle Sam might start playing with war toys near North Korea now that Trump is throwing another tantrum.
SERIOUS TIME:  China's rapid expansion of its naval power is causing real concern among US Naval brass as it seeks to exert dominance throughout the Pacific and openly challenge US naval supremacy with "asymmetrical capabilities" that now include aircraft carriers, anti-ship missiles and submarines.
Facebook is facing an internal revolt from Libertarians and conservatives who feel that they have no safe space in Silicon Valley, but everyone else just calls them misogynistic racists suffering from Loser Denial.
And here's your morning Nice Time! A r adiated tortoise rescue in Madagascar!!
 We're 100% ad-free and reader-supported, so consider buying us coffee, or get a subscription! 
Follow Dominic on Twitter and Instagram!