Discover more from Wonkette
Wonkette is filthy, hilarious, liberal news. YOU CAN HANDLE THE TRUTH!
Over 15,000 subscribers
We Were In The Sh*t, Man! The 2019 Iowa Democrats Steak Fry, We Mean
We've all gone to look for America.
At one time the Iowa Steak Fry was considered the starting line of the Democratic presidential race. There's a lot of costumed pageantry, over-seared meat, and beer, and the mostly old, white swingable diehards who show up to these things actually listen to what candidates have to say.
The 2019 Polk County, Iowa, Steak Fry began Saturday with 2020 candidates massing their supporters in a large field of the Water Works Park. Most flipped a few slabs of burnt cow flesh, gave a 12 minute stump speech, then posed for a few selfies before getting the hell out of there.
For those high enough in the polls, the Steak Fry is a chance to show off how much muscle you have on the ground. Former Vice President Joe Biden strolled in surrounded by local firefighters and a fire truck, while Julian Castro danced his way to the gates with a mariachi band. The Isiserettes Drill and Drum Corps cleared a path for Kamala Harris to barnstorm her way in with an ear-splitting din. Senators Elizabeth Warren and Bernie Sanders skipped the opening "march" as the festivities started about 20 minutes late and they were already booked for a presidential forum on the other side of Des Moines.

Kamala Harris makes an enterance at Iowa Steak Fry https: //t.co/xTsDLA2HbJ

— Dominic Gwinn (@Dominic Gwinn) 1569093190.0 
Some candidates, like Montana Gov. Steve Bullock, give a fiery speech to a crowd dwindling like their election chances. Others, like former Rep. Joe Sestak -- yes, he is actually running, for president! -- give weird, rambling sermons about living in a cheap motel for a few months until being literally played off the stage like a bad Oscar's speech. Some of the candidates avoid making a grand entrance in order to avoid an embarrassing photo op. Bullock, Sestak, Marianne Williamson, Rep. Tulsi Gabbard, and Tom Steyer all fall into this sad category, but I suppose nobody sent Andrew Yang that memo. He showed up with three or four staffers and was greeted by a large crowd of Pete Buttigieg supporters and a very confused woman at the front of the check-in area who was a little shocked to hear that he was a presidential candidate.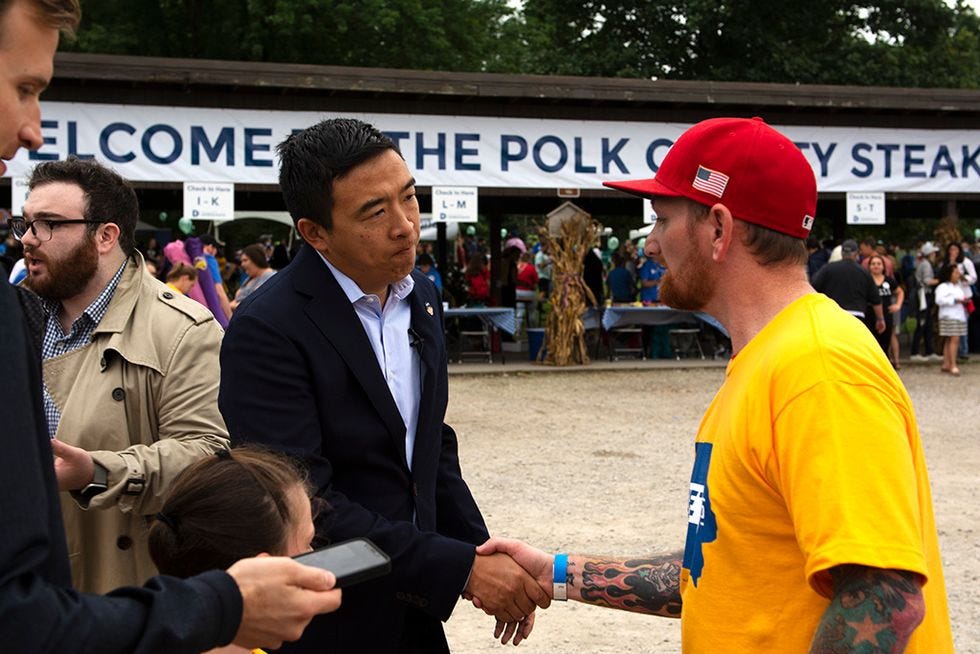 Andrew Yang greets an Iowan in a Pete Buttigieg t-shirt by Dominic Gwinn 
Events like the Steak Fry are also a learning experience for novice campaigns. With such easy access to candidates, constituents and reporters often toss out hardball questions instead of clamoring for a photo-op. Tulsi Gabbard was badgered; during Tom Steyer's speech a staffer with Marianne Williamson's campaign walked over to the press buffer by the stage to ask me and a colleague where Williamson should go to speak with reporters. This led to a very awkward conversation best summed up as, "Don't call us, we'll call you."

Heading into the event, the campaigns of Joe Biden and Sen. Cory Booker were hoping to change a night of bad headlines. Biden was catching heat for more dumbass comments he'd made, this time at an LGBT Forum in Cedar Rapids the night before.
As for Booker, someone leaked an internal memo to NBC saying that his campaign was broke and needed $2 million by the end of this week in order to stay in the race. Biden ultimately avoided talking about shoving his foot in his mouth (again), while Booker actually leaned into his cash problem by urging voters to support their candidates with more than t-shirts and signs.


After the Steak Fry, a new poll sponsored by the Des Moines Register showed Warren surpassing Biden among likely Democratic caucusgoers with 22 percent to Biden's 20. The geeks over at Five Thirty Eight point out that this is good news for Warren. But it's excellent news for John McCain.