Discover more from Wonkette
Wonkette is filthy, hilarious, liberal news. YOU CAN HANDLE THE TRUTH!
Over 15,000 subscribers
Are You OK, New York Times? Do You Need A Policeman Or A Grownup?
We're honestly a little worried.
Based on an intensive analysis that we just made up completely, we're fairly confident that among the most-tweeted images Tuesday evening had to be of cable news graphics showing Rep. Lauren Boebert (R-Crazytown) trailing badly in her reelection bid, with Democrat Adam Frisch ahead in the ballot count. We like this one for its dramatic capture of Steve Kornacki in full Data Doofus mode. (With 90 percent of votes counted when I wrote this Wednesday afternoon, it's still too close to call: The latest New York Times count has Frisch ahead of Boebert by just 3,475 votes, a 50.6 to 49.4 percent split.UPDATE: as of Thursday morning, thecount has narrowed significantly, and Frisch leads Boebert by just 64 votes with 95 percent of the votes counted. We're likely looking at a recount whichever way the race goes, huh?)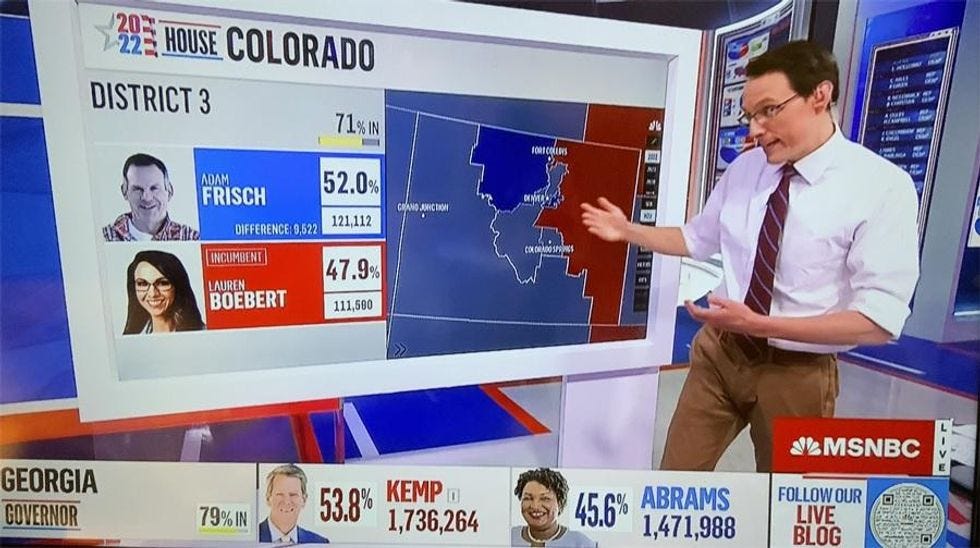 Another really popular image on Twitter, especially late Tuesday and Wednesday morning, as it became clear that the media-invented "Red Wave" was turning out to be more like a bit of "mid-cycle spotting," was this screenshot of aNew York Times "analysis" from three weeks before the vote: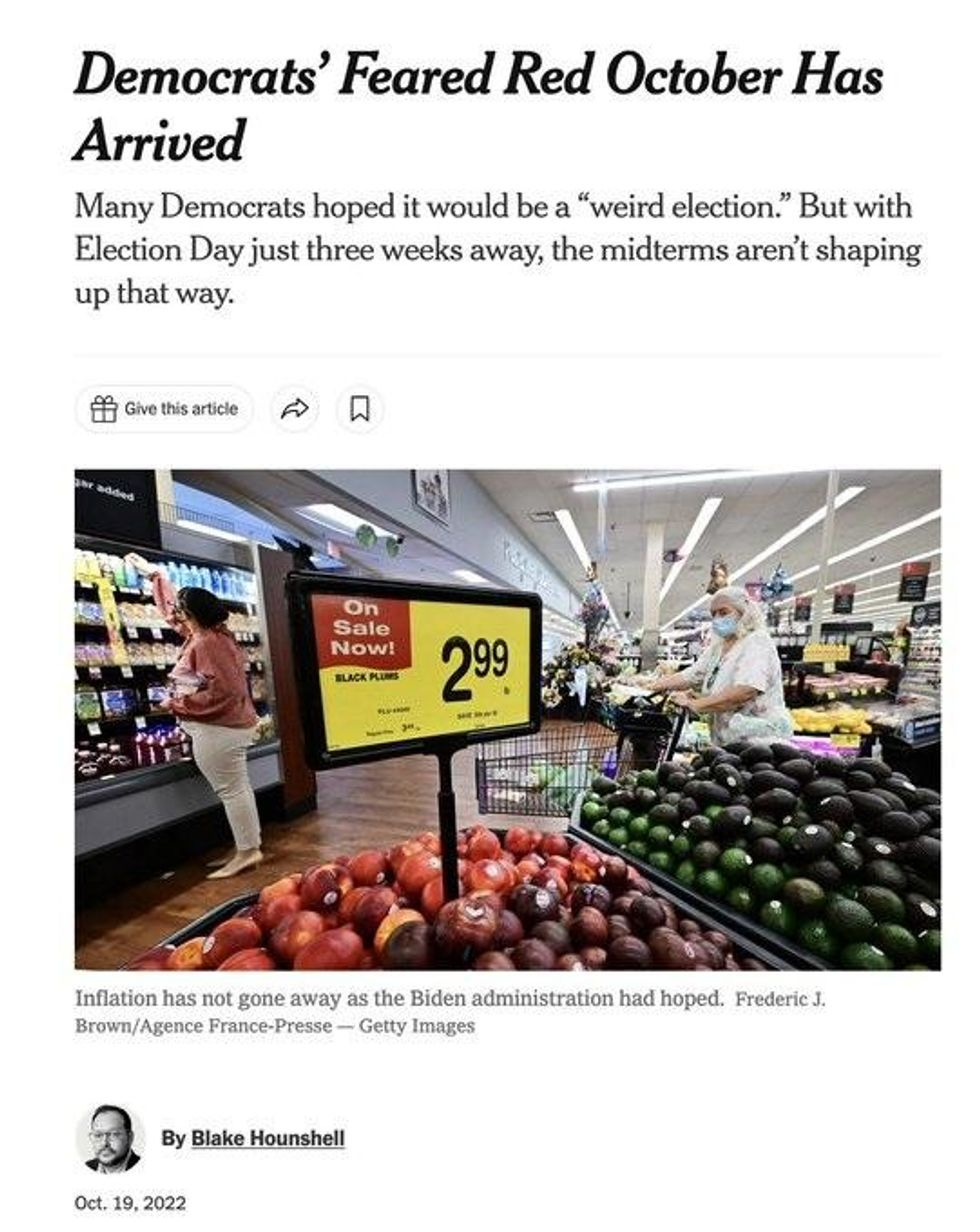 Or maybe it was just really popular with climate scientist Michael Mann, who called for a retraction and I really liked his tweet. In any case, that article, along with far too many media takes, was responsible in part for pushing the narrative that Democrats faced huge losses in the House and the Senate and probably in coroner races all over the nation. The article discussed a Times /Siena College poll that found Democrats maintaining a narrow lead in polls nationwide — which was not enough, naturally, for the Times to point out that Democrats maintained a narrow lead in the polls nationwide. After all, maybe other data — invisible data — showed that Republicans were poised for big wins, because maybe women were finished being angry about the Supreme Court overturning Roe v. Wade, and now they're angry with Democrats because groceries still cost too much.

The article also mentioned a Kaiser Family Foundation poll which found only 36 percent of voters had heard that the Inflation Reduction Act would limit medical expenses, so golly, nobody cares about a signature win in Congress. Mostly, though the piece just lazily fell back on "history": The president's party always loses big in midterms, so here comes a Red Wave!
Read More:  New York Times Will Have Its Red Wave If It Has To Make It Up Itself! 
 As we noted last week, the Times was so devoted to that narrative that it even insisted that a more recent Times /Siena College poll showing pretty good numbers for Democrats in four swing states instead somehow "offers fresh evidence that Republicans are poised to retake Congress this fall as the party dominated among voters who care most about the economy."
As we said at the time, the poll actually showed two of the districts had huge Democratic leads, while another two districts were essentially tied. Yes, even in a New Mexico district where voters were supposedly super worried about the economy, but Democratic challenger Gabriel Vasquez was one point ahead of incumbent Republican Yvette Herrell, which amounted to a tie because statistician Marge Inovera always messes with polls. (We miss "Car Talk.") But if voters were Red Wavily angry at Dems about inflation, shouldn't Vasquez have been several points behind the incumbent?
Actual outcomes: The two Democrats leading in the polls, Kansas's Sharice Davids and Pennsylvania's Matt Cartwright, both won, as did Gabriel Vasquez. In Nevada, the threatened Democratic incumbent, Dina Titus, is leading her GOP challenger 50.3 percent to 47.4 percent with 78 percent of the votes counted; that could change, of course.
Well gosh, those races sure did offer fresh evidence of a Republican wave, now didn't they?
NYT datadork Nate Cohn explained on Twitter on Election Night that polling is a very scientific thing — "you just do the best methodology you can come up with and publish the results," and then promptly repeated the same doubts that he'd had last week , that the poll showing Sharice Davids winning just looked like an outlier to him, even though the poll numbers were remarkably close to the actual vote in Kansas.
"Would have bet *a lot* on this one being wrong"

— Nate Cohn (@Nate Cohn) 1667970717 
Got it. You do the best work you can, then publish the results, then say you don't believe the results and explain that the Republicans will see big gains, and then we suppose you collect underpants and profit.
Even as the Red Wave narrative got bleached out to nearly nothing, the Times  kept doing that thing:  
"No no no, @nytimes, you don't get to pretend that you weren't ALL IN on this bullshit "red wave" narrative. You didn't even believe YOUR OWN POLLS. Democrats defied YOUR predictions and insistence that Republicans were headed toward big victories."

— Markos Moulitsas (@Markos Moulitsas) 1667968710 
Well we guess the editors listened to Markos (after stealing Obama's time machine), because here's the absolute fartsniff they came up with for today's front page:  
"lol you do you, @nytimes"

— Anil Kalhan • @kalhan@mastodon.social (@Anil Kalhan • @kalhan@mastodon.social) 1667996879 
"GOP Collects Early Wins In Pivotal Vote" — what, that's not how you remember it too?
And then we all threw up and reminded you to drop your New York Times subscriptions and give us the money so we can read it for you, the end.
[ NYT / Photo by Anil Kalhan on Twitter]
Yr Wonkette is funded entirely by reader donations. If you can, please give $5 or $10 a month, which we will make far better use of than those weirdos at the Times . Like we just said.
 Do your Amazon shopping through this link, because reasons .