Discover more from Wonkette
Wonkette is filthy, hilarious, liberal news. YOU CAN HANDLE THE TRUTH!
Over 18,000 subscribers
Half-Ass Corrupt Baltimore Mayor Quits To Make Way For Excellent Corrupt Mayor Baltimore Deserves!
Always with the stupid shit!
Hello from Charm City, where we seem to have misplaced yet another mayor. How clumsy of us! Perhaps she's hiding in a warehouse off Pulaski Highway with the remaining 8,700 of her books purchased by the Baltimore City School system and never distributed. Knock twice if you're hiding in a box, Mayor Pugh!  
In order to set up this story, we should start last month, when the Baltimore Sun   reported that several members of the board of trustees at the University of Maryland Medical System (UMMS) had lucrative business deals with the UMMS. My very own state senator Jill Carter recently sponsored legislation to bar the state hospital chain from doing business with board members, which is good public policy, and has the added benefit of kneecapping a political rival. We really don't play nice here. 
In related news -- I promise, it's related! -- Baltimore Mayor Catherine Pugh has a side business writing a series of children's books about Healthy Holly and her salubrious lifestyle.
Baltimore Mayor Pugh addresses fallout over 'Healthy Holly' book deal in statement - Baltimore Sun… https: //t.co/ywqtQygV07

— Publishing News (@Publishing News) 1553232484.0 
While we can all appreciate the benefits of eating a pound of beets while jumping rope every morning, we're not sure Healthy Holly would approve of Mayor Pugh's business dealings with UMMS. (Told you it was related.)
A board member since 2001 when she was a Baltimore City Council member, Pugh sold 100,000 of her books to UMMS between 2011 and 2018, netting $500,000, of which she declared $100,000 as profit. But wait, there's more! Because after 2016, when Mayor Stephanie Rawlings Blake decided to nope out of another run after the Freddie Gray uprising, then-state Senator Pugh became Mayor Pugh. And suddenly, her books became a lot more popular.
By the numbers: UMMS paid $500,000, for 100,000 books Kaiser Perm paid $114,000 for 20,000 books Associated Black C… https://t.co/lADRXa95qC

— Jean Marbella (@Jean Marbella) 1554169090.0 
So nice of Kaiser Permanente to buy all those Healthy Holly books while soliciting business from the City of Baltimore! What an absolutely altruistic and above-board transaction! (And as to the math in that tweet, why was ABC paying $8.71 per book and then turning around and selling them to CareFirst for $7.25? I mean, it's hardly the craziest thing about this story ... but, still.)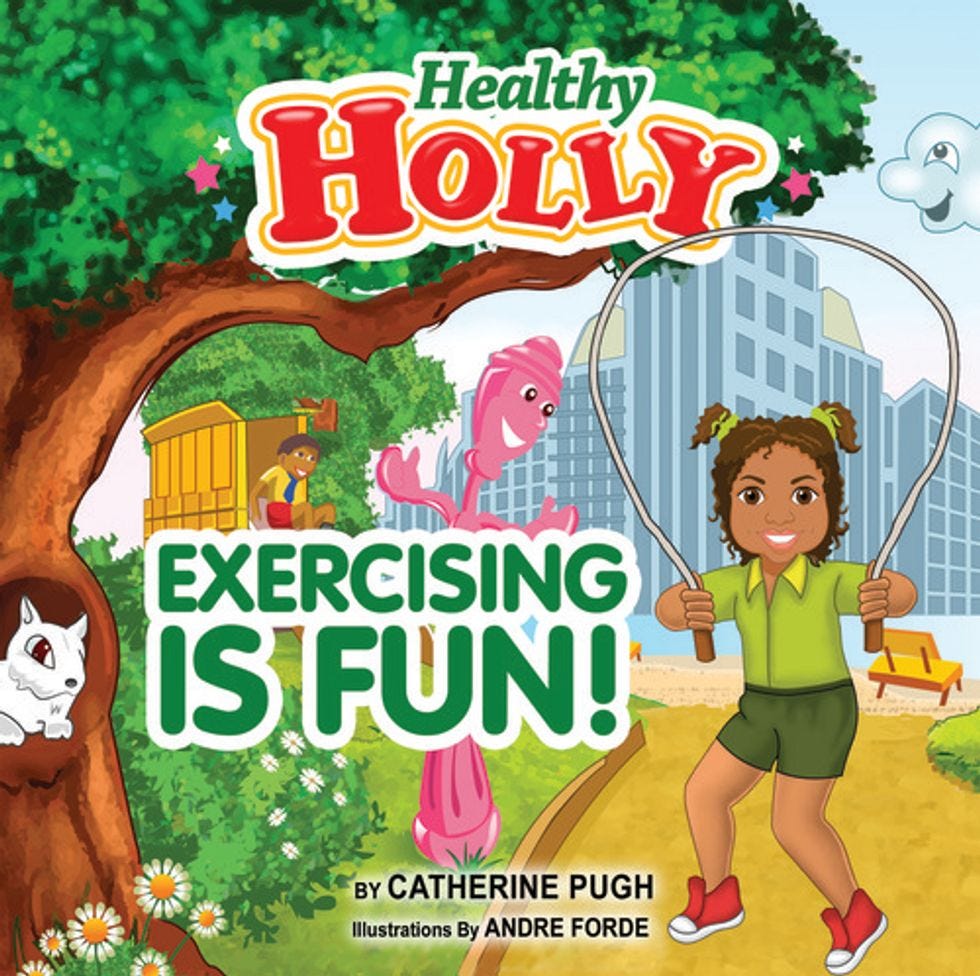 Faced with mounting scandals, Pugh did what any rational politician would do to contain the damage. She held a press conference at City Hall to showcase her line of baby clothes. OH, I WISH I WERE KIDDING.
Bibs, onesies and shipping documents - but no explanation how $400,000 was spent. Scenes from @MayorPugh50 Healthy… https: //t.co/aiUsZ6YCey

— Baltimore Brew (@Baltimore Brew) 1553864004.0 
Throw in an all-cash purchase of a house from a political ally for 60 percent of the assessed value, and this is starting to look like a real scandal! By last weekend, local politicians were running the other direction and shouting for Pugh's resignation. So last night, Pugh announced that she was taking a leave of absence for "health reasons." And while we wish her a speedy recovery, we also wish her GONE FOREVER, DO NOT COME BACK.
Did I, your Five Dollar Feminist, vote for Catherine Pugh in 2016? No, I did not. I voted for Sheila Dixon, our former mayor, who had by then completed her probation after stealing gift cards meant for poor children. Which is bad, I know, but don't give me that look! Dixon got 22 percent of the November vote as a write in after she lost the primary to Pugh. Because if we're going to have a corrupt mayor -- and we probably are -- she might as well be competent. And Mayor Dixon did know how to get shit done.
So now City Council President Jack Young takes over as acting mayor, setting off a knife fight for next year's primary. God only knows who the machine will kick up this time. At this point I'd vote for the Utz girl and a bag of horse manure collected off the track at Preakness. I do love it here, but it's kind of exhausting. Ah, well, you know what they say ...
FORGET IT, HON, IT'S BALTIMORE. And also, support your local paper -- it's the only way to hold the bastards accountable!
[ Baltimore Sun ]
 Follow your FDF on Twitter! 

  Please click here to support your Wonkette, who tells you the most depressing horrible shit but makes it all okay-ish with dick jokes!