Discover more from Wonkette
Wonkette is filthy, hilarious, liberal news. YOU CAN HANDLE THE TRUTH!
Over 15,000 subscribers
Professional asswipe Dave Portnoy -- whose name I had to learn to write this -- runs Barstool Sports, AKA the "site for boys who wanna grow up to be Donald Trump Jr." And this week, he decided it would be fun to spend a few days vomiting labor law violations all over the internet.
Portnoy is a real charmer who likes to do things like send angry sexist internet mobs after women he's harassing , post videos of his employees in the shower , and tell his employees they'll be too ugly to be on camera in five years. Apparently now he's also added committing labor law violations on Twitter to his resume.
In response to the news that employees at The Ringer had unionized , Portnoy re-upped an anti-union blog that was dumb when he wrote it in 2015 and is still dumb today.
Heard @ringer employees want to unionize. Little refresher how I feel about unions. Gawker Writers Vote To Unio… https: //t.co/plXHmNKvLC

— Dave Portnoy (@Dave Portnoy) 1565627008.0 
Then he doubled down, with astute observations like "Unions are for pussies. At least in our world."
At this point, RafiLetzter, a writer for Live Science, offered to talk to any Barstool employees interested in unionizing -- and Portnoy said he'd fire anyone who sent Letzter a DM.
If you work for @barstoolsports and DM this man I will fire you on the spot https: //t.co/u9vG3VgfV1

— Dave Portnoy (@Dave Portnoy) 1565703030.0 
So, umm, it's illegal to fire employees for union activities. As noted by the NLRB :
It is unlawful to discourage (or encourage) union activities or sympathies "by discrimination in regard to hire or tenure of employment or any term or condition of employment." For example, employers may not discharge, lay off, or discipline employees, or refuse to hire job applicants, because they are pro-union.
That includes firing people for talking about the idea of starting a union, in case that isn't clear.
AWKWARD.

Naturally, the internet tried to teach Portnoy a thing or two about the fact that he was using Twitter to intimidate employees, in violation of federal labor law.
The New York Department of Labor jumped in to make sure Portnoy and Barstool got the message.
It is illegal to take any unfavorable action – including termination – against employees for union-related activit… https: //t.co/R5FEP3cnED

— NYS Dept of Labor (@NYS Dept of Labor) 1565712688.0 
So did the AFL-CIO.

Bad Boss Example #1. The NLRA prohibits bosses from engaging in unfair labor practices including "interfering with… https: //t.co/UedvtBtosg

— AFL-CIO (@AFL-CIO) 1565710290.0 
And AOC called Portie out on his shit.
If you're a boss tweeting firing threats to employees trying to unionize, you are likely breaking the law &can be s… https: //t.co/7mNV0TDeeE

— Alexandria Ocasio-Cortez (@Alexandria Ocasio-Cortez) 1565717102.0 
After that, MAGA fan Portnoy decided to pull a Ben Shapiro, where you DEMAND that someone debate you who's way out of your league and then declare victory when they don't have the time for your sad shit. And now he thinks AOC is afraid of him or something? Seems legit!

Live look @aoc when I challenged her to an intellectual debate. https: //t.co/seUTkyKz99

— Dave Portnoy (@Dave Portnoy) 1565746612.0 
Yeah, bro. I'm sure AOC is shaking in her fabulous boots, she's just so completely terrified of your intellectual abilities. 
Though to be fair to Portnoy, running away from being in the same room as him is a pretty reasonable thing to do.
And just in case Portnoy wasn't enough stupid for one day, Butthead Trump also weighed in.
Picking a fight with @stoolpresidente and @barstoolsports is probably the biggest mistake @AOC has ever made on Twi… https: //t.co/oRfQ2i7Msc

— Donald Trump Jr. (@Donald Trump Jr.) 1565730991.0 
Women folk are dumb. Just let these two intellectual giants explain to you how unions work.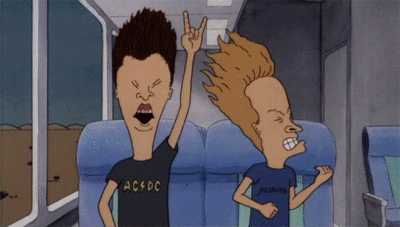 Debaters of the world, beware. This is a man to fear.
When you definitely understand how Venn Diagrams work. https: //t.co/ZhBwYN4l3G

— pokey pup (@pokey pup) 1565726454.0 
At least the courtroom sketches will be fun.

very excited to see the "bro, it's a prank, your honor" defense in court

— jordan (@jordan) 1565713760.0 
Before we go, can someone teach these boys a little Appalachian history?

Someone should probably tell the rich that workers banding together to present formal address of grievances is the… https: //t.co/fR8w1dfmzQ

— Holden Shearer (@Holden Shearer) 1526994396.0 
Oh, and btw, I offered to debate Portnoy on unions. He didn't respond. By his logic, I'm pretty sure that means he's scared and I win.
Give the Wonkette union your dues. (No we're not unionized; Rebecca keeps pre-recognizing the union, and someday Dok will get off his ass and onto Norma Rae's table.)