Discover more from Wonkette
Wonkette is filthy, hilarious, liberal news. YOU CAN HANDLE THE TRUTH!
Over 18,000 subscribers
You may have seen this SHOCK VIDEO rolling around the internets the past couple days, of Breitbart's never-nude pussy Ben Shapiro arguing with transgender journalist Zoey Tur on the "Dr. Drew On Call" program. It's a long video, not worth your time, but Shapiro was doing his typical little pissypants bigot thing, talking about how Caitlyn Jenner and Zoey Tur (sitting right next to him) are just men in dresses, referring to her as "sir," and finally Tur let her anger get the best of her for a second, grabbed Shapiro on his little bitch neck and said, "You cut that out now, or you'll go home in an ambulance." NOT NICE! Also, too, Shapiro can't defend himself, clearly, even though his dad probably gave him that whole talk about "if a bully hits you, you hit them back, son!"
So, Shapiro must have had a stream of urine continually leaking out of his pant-leg that day and the next, because on Sunday he filed battery charges. Was any crime committed? Who knows? But even so, we're going to go out on a limb here and guess that the real injury sustained by Shapiro was that which Tur inflicted upon Shapiro's already fledgling sense of his own masculinity:
Shapiro later alleged that Tur had threatened him after the appearance, "I'll see you in the parking lot," and that CNN security had escorted Shapiro to his car after ensuring Tur had left the premises. Tur also tweeted out on Friday that he would like to "curb stomp" Shapiro.
Hahahaha, he wouldn't go outside unless the nice security guard walked him to his car LOLOLOL.
But it is also not nice to say you want to curb stomp people on Twitter, Zoey Tur! Love you and stuff, but he's an inconsequential twit, please be the bigger lady. Oh wait, Tur didn't tweet that she wanted to curb stomp him? Ben Shapiro and Dead Breitbart are embellishing the truth? THE FUCK YOU SAY. Tur merely agreed with somebody ELSE, who said he wanted to see Tur curb stomp Shapiro, which is STILL NOT NICE: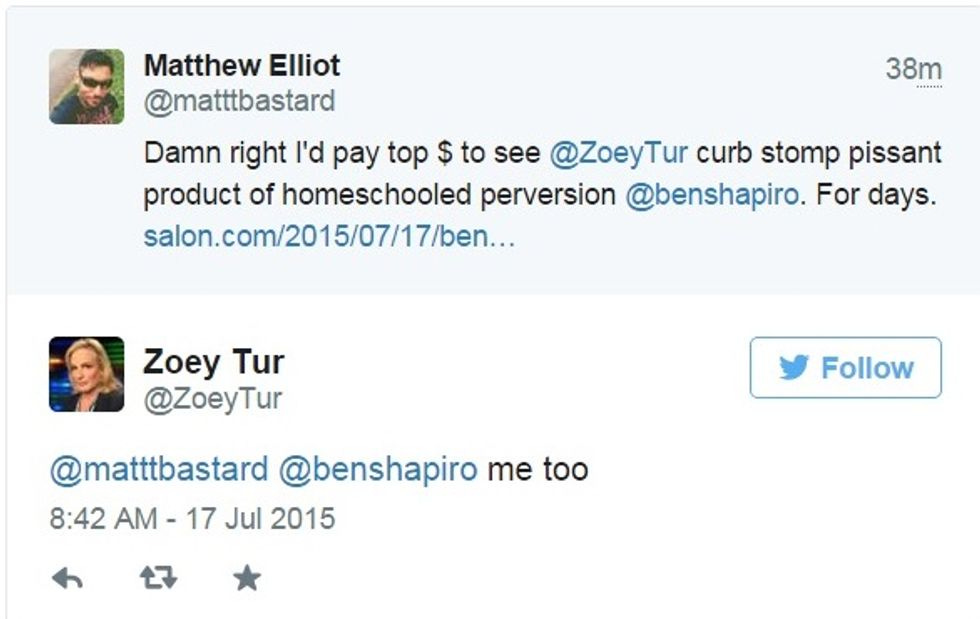 Here is why Shapiro says he filed the charges:
"Just because the left has designated someone a member of the victim class does not mean that that person gets to infringe the rights of others," he said of his report. "Until the left learns that, their aggression will not stop." Shapiro also said that he had spoken with a detective at LAPD, and that he would be pursuing any possibility of charges regarding alleged criminal threats.
Oh, this is about The Left, we see. Ben Shapiro is a victim of Zoey Tur, the transgender mafia, all liberals, and of what we surmise are some mighty fine secret sex demons that keep him awake at night, even when he's supposed to be celebrating the birth of his daughter, an event allegedly brought about by an act of sexual intercourse involving Ben Shapiro and a human woman.
[contextly_sidebar id="hDAMIPD07OEgy0RVqqkAZBw7WVafZMgS"]
For the record, the police report does not mention anything about Tur being mean on Twitter, or about her saying she'd see him in the parking lot, or how he's so traumatized that he's had a shame boner for DAYS now. Just the thing that happened on the television, when he looked like a sniveling pussy in front of all the girls in his class and now he'll be a virgin forever.
[ Dead Breitbart   via   JoeMyGod ]