Discover more from Wonkette
Wonkette is filthy, hilarious, liberal news. YOU CAN HANDLE THE TRUTH!
Over 15,000 subscribers
Oh no, Christopher Steele, Lindsey Graham is on your tail!
Oh no, is the kitchen getting too hot in the Trump-Russia investigation and maybe Robert Mueller is going to put people in jail for ACTUAL CRIMES? Are Lindsey Graham and Chuck Grassley complicit assholes who love power more than they love America? Are they throwing shit at the wall and trying to help obstruct justice for the president? YES and YES and YES.
The  New York Times  reports that Grassley and Graham, as senators on the Judiciary Committee, have sent a letter to the Department of Justice to say Christopher Steele, the spy who compiled the intelligence that became known as THE DOSSIER, is a big criminal who should get the old LOCK HER UP treatment, like a common Hillary Clinton. Why? SHHHHH IT'S CLASSIFIED. Why are we hearing about this if it's so top secret? OH NO REASON.
Here, have a statement, which you'll have to click to embiggen: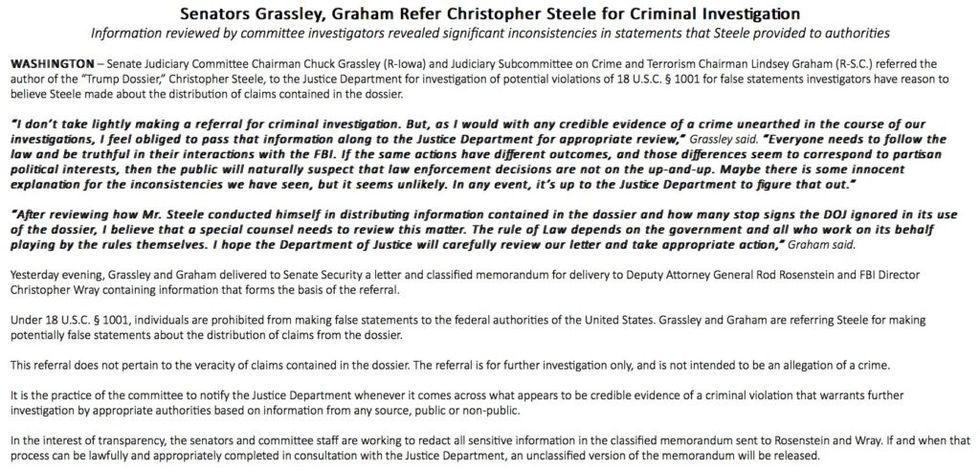 And here's the cover letter sent by Grassley and Graham, which is covering up the HOT TOP SECRET CLASSIFED STUFF about Christopher Steele allegedly (according to Grassley and Graham) lying to the FBI about his communications with US American reporters: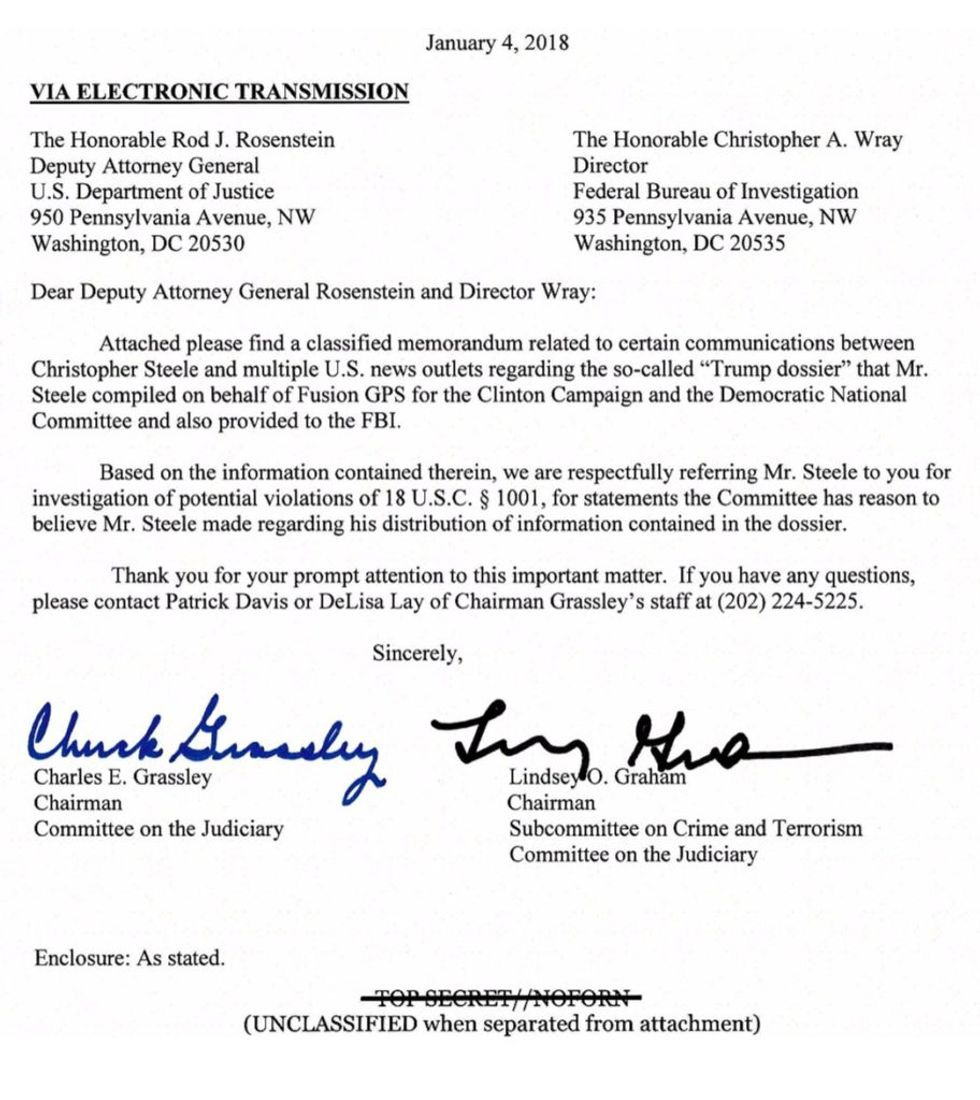 We'd transcribe all this out for you, but it's a bunch of horseshit and it would be a waste of our time. It would have been simpler if they had written, "We are two assholes who are for some strange reason beholden to Donald Trump in an unnatural way. Is he blackmailing us? We're not allowed to say! ALLEGEDLY!"
As NYT notes, this is the first criminal referral the Senate Judiciary Committee has made, after it promised with its fingers crossed behind its back to investigate Russian interference in the election. Apparently they are done investigating, and now they want to put all the people who exposed that conspiracy IN JAIL. History will not look upon these men kindly.
You might be wondering whether these jackholes let the Democratic vice chair of the committee, Senator Dianne Feinstein, know what they were up to. We don't know why you'd wonder that, since the answer is obviously a big fat no:
To be clear, the Graham/Grassley letter says nothing about whether or not the contents of the dossier are true , because that would require them to confront hard truths like the fact that none of it has actually been debunked, much of it has been corroborated, and Steele himself is like "sorry, fuckers, but shit is true." We must yet again ask:  Do Republicans Hate The Trump Pee Hooker Dossier Because It's TOO TRUE? At this point, we're just going to go with "Yes."
So, is this just a publicity stunt? DING DING DING!
It was not clear why, if a crime is apparent in the F.B.I. reports that were reviewed by the Judiciary Committee, the Justice Department had not moved to charge Mr. Steele already.

The circumstances under which Mr. Steele is alleged to have lied were unclear, as much of the referral was classified.
"Classified" AKA Graham and Grassley maybe probably are blowing smoke out their asses right now. Maybe Graham came up with the idea to do this on one of his many golf dates with Trump!
Fusion GPS, the private intel firm that commissioned Steele's work, and which DEMANDED in the Times this week that the Congressional committees they've spoken to (INCLUDING SENATE JUDICIARY) release the fucking transcripts of their testimonies, is calling bullshit on this latest distraction:
"Publicizing a criminal referral based on classified information raises serious questions about whether this letter is nothing more than another attempt to discredit government sources, in the midst of an ongoing criminal investigation," said Joshua A. Levy, the lawyer for Fusion. "We should all be skeptical in the extreme."
"Skeptical" would be putting it mildly. "Tired of these complicit justice-obstructing fucking shitheels" is more like it.
So is this going to happen? Will the FBI/DOJ start a criminal investigation into whether or not Christopher Steele lied to the FBI, based on "intelligence" Lindsey Graham and Chuck Grassley found in their butts? Well, it's Trump's America, and we do need to give Sean Hannity something to have fever-gasms about at night.
Even so, probably not. These assholes are just dancing for Trump and the idiots who watch Fox News, doing everything they can to undermine the real investigation, which is being conducted by the unimpeachable Robert Mueller.
So dance, monkeys, dance!
 Follow Evan Hurst on Twitter RIGHT HERE.  
 Wonkette is fully paid for by YOU! Please click here to pay Wonkette's salary. 
[ New York Times ]