Discover more from Wonkette
Wonkette is filthy, hilarious, liberal news. YOU CAN HANDLE THE TRUTH!
Over 18,000 subscribers
We're gonna have the best cholera. You'll be sick of how much cholera there is.
Just in time to provide a bookend for Donald Trump's terrible education budget, the administration is expected to release its full budget proposal Tuesday, and mercy, it's a dog's breakfast of horrible Republican ideas. Actually, we probably shouldn't use that metaphor -- anyone feeding a dog so little would get in trouble with the ASPCA. Among other terrific ideas it's expected to include will be huge cuts to Medicaid (thanks, president who promised not to cut Medicaid!) and bigly cuts to food stamps, while offering some fun state's rights measures allowing states to clamp down on the poor so they will stop being poor, or at least not have any government benefits, which actually make people poor.
The draft budget's $800 billion reduction in Medicaid over ten years is actually not a new cut; it assumes the House version of TrumpCare, which everyone hates, will magically pass the Senate without modification, leaving between 10 and 24 million people uninsured. The budget would also give governors the chance to make most programs jointly funded by federal and state expenditures subject to more stringent work requirements for "able-bodied Americans," even though many people receiving public assistance already work -- though often in jobs that don't pay a living wage, because they are losers. The rules would also allow states to further reduce the amount of time people can receive benefits, which should teach them to not be poor anymore.
The broad outlines of the Trump budget were released in March, and addressed only discretionary spending; that abomination called for huge budget cuts in everything but military spending, which would grow enormously. The new budget provides further detail on how Team Trump hopes to Make America Meaner Again, with exciting cuts to virtually every social safety net program, because if there's no safety net, people will watch their step, now won't they?
Beyond the cuts to Medicaid and food stamps, the leaked budget plans, given to the Washington Post by the think tank Third Way, suggested possible big cuts in the Supplemental Security Income program run by Social Security, which provides cash benefits for poor people and for people with disabilities. A White House source told the Post the Third Way copy was only an early draft, but wouldn't comment on what changes to SSI might be coming. Trump has told Office of Management and Budget Director Mick Mulvaney there should be no cuts to Medicare or Social Security's retirement program, but that still leaves room to cut SSI and Social Security Disability Insurance, because there are probably a lot of fakers who could walk or lift cotton bales if they had to.
Oh, and here is one of the amusing jokes in the whole hilarious plan: More magic!
A key element of the budget plan will be the assumption that huge tax cuts will result in an unprecedented level of economic growth. Trump recently unveiled the broad principles of what he has said will be the biggest in U.S. history, and Treasury Secretary Steven Mnuchin told a Senate panel last week that these tax cuts would end up creating trillions of dollars in new revenue, something budget experts from both parties have disputed.
Jeez, guys, if you won't even show you believe in fairies by applauding, Tinker Bell is NEVER gonna fly again. But this time, cutting taxes for the super-rich will definitely result in an unbelievable amount of economic growth, because all the other tax cuts for the rich simply weren't big enough to do the trick. Team Trump really believes, though, so you won't see any negative nellies fretting about a huge military increase combined with a revenue cut, because supply-side magic is REAL, DAMN IT. There'll be three percent growth every year ( during the campaign, Trump predicted 3.5 % or 4% a year), and the budget will be balanced within 10 years. And if instead there's a recession, then we can elect a Democrat to blame it on again.
Seems to us Friend of Wonkette Charlie Pierce had something relevant to say on this topic, too: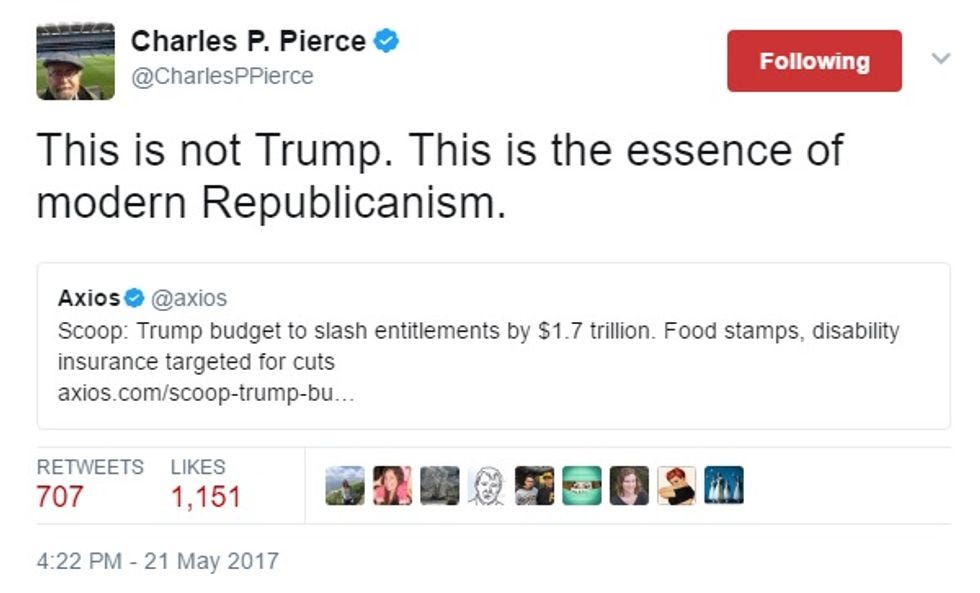 Now, if Trump's budget seems a bit on the insane side, we'd like to remind you of this comforting thought: Under the Constitution, the president is certainly welcome to propose a budget. But the job of actually writing the budget belongs to Congress. Which is held by Republicans who are even more rightwing crazy than Trump. Hmmm. Never mind, then.
 Yr Wonkette is supported by reader donations. Please click the "Donate" linky to send American money; after a few years of Trumponomics, we may begin accepting chickens and other barter goods. 
[ WaPo ]