Discover more from Wonkette
Wonkette is filthy, hilarious, liberal news. YOU CAN HANDLE THE TRUTH!
Over 18,000 subscribers
complicit
Republican Trump-sucking dildo rash Rep. Devin Nunes, chair of the House Intelligence Committee, is trying to shut down the investigation of Donald Trump's collusion with Russia before it even begins. How do we know this? WELL, we can start with the presser he gave today, where he announced he has new "information" from "sources" that "shows" that the Trump transition team was "under surveillance," but DON'T WORRY, it was just incidental, and it had NOTHING to do with Russia, so guess that story's over, YAY! Now, we just need to focus on the OBAMA LEAKERS who "unmasked" the PURE AND INNOCENT Trump team what got tied up in all this nonsense ON ACCIDENT.
Let's go to the tape:
. @DevinNunes : Information was "incidentally collected" about people involved in Trump transition; surveillance not related to Russia probe. pic.twitter.com/dBGZ8dSGjJ 

— ABC News Politics (@ABCPolitics) March 22, 2017 
I recently confirmed that on numerous occasions the intelligence community incidentally collected information about U.S. citizens involved in the Trump transition. Details about U.S. persons associated with the incoming administration, details with little or no apparent foreign intelligence value, were wide disseminated in intelligence community reporting. ... I have confirmed that additional names of Trump transition team members were unmasked . ... I want to be clear, none of this surveillance was related to Russia, or the investigation of Russian activities, or of the Trump team.
Hooray, the Trump regime has been found "Not Guilty!" by the one-man jury of Devin Nunes! Politico reports that Nunes got his info from "sources who thought we should know," and now he has hopped, skipped and jumped to the White House to tell the Trump team about all the fancy things he's learned about their newfound "innocence." Press Secretary Sean Spicer was reportedly SO 'SCITED that he read words from Nunes's presser during his daily briefing! Hooray! Everybody in the White House gets the Russian pee hooker treatment tonight, allegedly, for "CEEEEEE-LE-BRATE GOOD TIMES, COME ON!"
Excuse us, if Devin Nunes could pull his heavily lubricated head out of his rectal region, we have a few questions and observations:
Firstly, DO THE RUSSIANS HAVE A PEE HOOKER VIDEO OF DEVIN NUNES? Because this obvious obstruction of what is supposed to be his own investigation sure does suggest he might be compromised in some way too! He was certainly on the Trump transition team, the one what got its communications picked up by oopsie-daisie, as part of an "unrelated" investigation! Did a big Russian scary man corner Nunes in a dark alley and make him promise to be part of the cover-up for his Dear Leader, the orange-faced "president"?
[wonkbar]<a href="https: //wonkette.substack.com/p/house-gop-wont-investigate-russias-own-michael-flynn-its-not-like-hes-hillary-clinton"></a>[/wonkbar]Secondly, what the hell is up with these people that they don't understand that if they're CALLING RUSSIAN OFFICIALS ALL THE TIME, and those Russian officials are being recorded, then they are probably going to be recorded? Because if those Russian officials are UNDER SURVEILLANCE, and you are calling them every minute of every day, like pretty much everybody Donald Trump has ever met seems to have been doing, you're going to get caught up in it! Looking at you, Paul Manafort,   Jeff Sessions,   Michael Flynn,   Roger Stone, and hell, probably all the rest of the regime at this point.
Thirdly, we totally get what Nunes is doing here, as we alluded to above. Devin Nunes's "sources" (probably the Rudy Giuliani wing of the FBI) told him Trump and all his buddies got caught up in "legal, incidental collection" from "another investigation" that had "nothing to do with Russia," which led to poor innocent Trumpers getting "unmasked" in the "Obama Democrat fraud smear campaign" against Trump, so can we please focus on how Obama unmasked the poor innocent Trumpers? The REAL investigation is about who LEAKED THE WIRE TAPPS, not some silly stuff about how Trump maybe colluded with a foreign enemy to steal the election, and also may still be colluding with that foreign enemy today.
That is what Devin Nunes is doing, that fucking troll.
Just to make sure we are not crazy in our interpretation, let's check in with our old pal intelligence expert John Schindler, to see what he's tweeted about this:
Ever heard the old expression, "The cover-up is worse than the crime"?
Also too, has it occurred to you that whatever "information" Nunes is discussing, about signals intelligence (SIGINT) picking up Trumpers discussing "Not Russia," but only "incidentally," would probably be HIGHLY CLASSIFIED? Should he be holding pressers about this?
Oh yeah.
[wonkbar]<a href="https: //wonkette.substack.com/p/the-five-best-times-devin-nunes-shit-the-bed-during-mondays-comey-hearings"></a>[/wonkbar]Remember that Monday hearing of the House Intelligence Committee, where FBI Director James Comey confirmed for official that the Trump team is definitely under investigation, and that the "wire tapp" thing was a Trump lie? Do you remember the thing we wrote about how utterly fucking USELESS Nunes was, during that hearing conducted by the committee OF WHICH HE IS THE CHAIR? Aside from barely participating, you might remember that pretty much everything Nunes asked in the hearing was set up to undermine the very existence of a counter-intelligence investigation into Trump's Russia connections.
Here are ways Nunes used the hearing to pour cold water on the investigation before it even started:
By suggesting that it's HILLARY we should really be investigating.

By acting like it's just silly to act like Russians tried to steal the election for Trump, because they never try to win elections for OTHER Republicans.

By trying to "disprove" once and for all that Russian meddling had any effect for Trump, since there is no proof voting machines flipped votes.

By lying and saying the GOP didn't even change its platform to give Russia a reacharound.

By whining about how it's UNFAIR that this Trump Russia investigation has put a sad dark Eeyore cloud over the entire Trump administration, which makes Devin Nunes sad also too : (
After the hearing, Nunes told Mother Jones reporter David Corn that he had never even heard of Trump team members known to be targets of the investigation, like Carter Page and Roger Stone. Here's video of that:
Here's the video: House Intel Chmn Nunes tells @DavidCornDChe's never heard of Carter Page or Roger Stone —via @MSNBC   pic.twitter.com/y3wJeOoHUt 

— Kyle Griffin (@kylegriffin1) March 20, 2017 
This is, of course, a lie, as strategic analyst Eric Garland points out in this thread (WHICH YOU SHOULD READ). Over at The Atlantic , Conor Friedersdorf notes that Nunes said in early March that he didn't even want to bring in folks like Page and Stone (or Michael Flynn) for questioning, because (not shitting you) they were listed in a New York Times article, and aw shucks, we can't just "go on witch hunts against the American people just because their name ends up in a newspaper story, because look, we know this, all newspapers are biased" -- most of all the Failing New York Times !
So now, less than 48 hours after the conclusion of Monday's hearing, we are supposed to believe Nunes has found the pot of gold at the end of the rainbow, finished the investigation ALL BY HIS-SELF, and cleared the Trump regime of any and all charges. You might be wondering if Nunes mentioned to his partner on the House Intelligence Committee, Democratic ranking member Rep. Adam Schiff, that he had found all this exculpating evidence and would be jizz-sploding it all over the place today.  Nyet , as they say in the Trump team's homeland: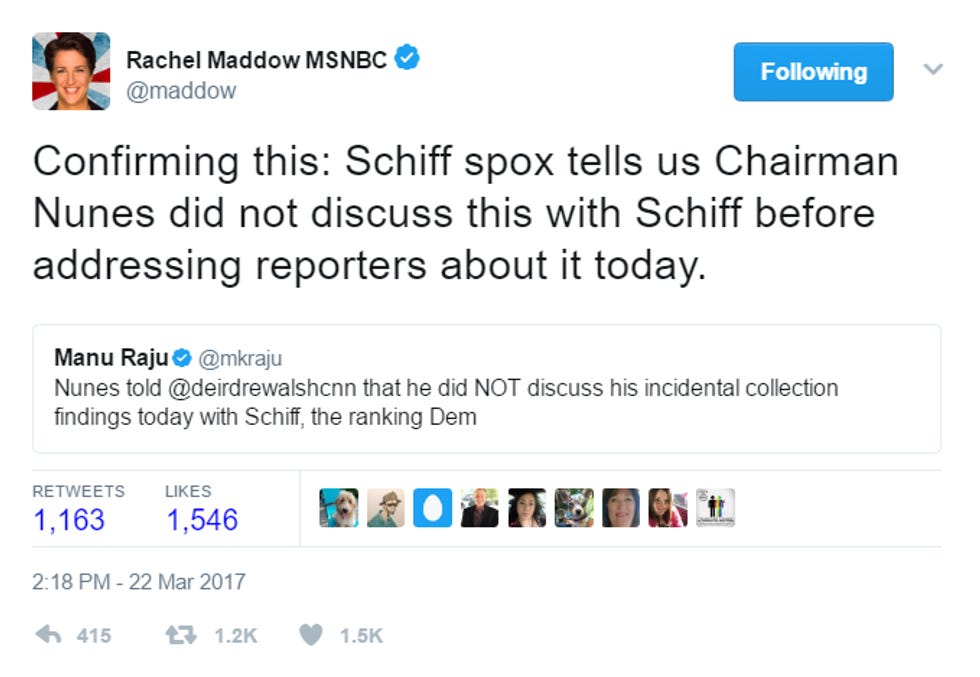 Be sure to watch for Adam Schiff on TV for the rest of the day absolutely losing his fucking mind. 
Now, we're sure Devin Nunes will get an extra serving of Snausages from the Trump White House tonight for being such a GOOD AND LOYAL BOY, and when he rolls on his back, he'll get so many belly scratches his lipstick will pop out and everybody will be like "HEY-O!"
But this shit is not going away. Not by a long shot. Good try, shithead, but literally everybody who's actually investigating this is better and smarter, and the truth WILL come out.
Take it to the bank, fuckbaby.
 Wonkette is totally funded by readers like you! If this post made you MAD the way it made us to write it, throw us a few dollars in solidarity, by clicking the banner below! 
[ RawStory / Politico / The Atlantic ]