Discover more from Wonkette
Wonkette is filthy, hilarious, liberal news. YOU CAN HANDLE THE TRUTH!
Over 18,000 subscribers
 
 If there's one thing people hate about the lamestream media, it's all the bad news. There's so much good in the world, but the New York reporter elite just want to bring us down! That's why when you hear "Florida" in the news, you assume the story's going to be about gun-toting maniacs   shooting unarmed victims , and when you hear "shirtless pics of Republican legislator surface on Internet," you assume they were sent to non-wife ladies he met on the Craigslist casual encounters section . Well, turn that frown upside down! Those pictures you might have seen of Peter Nehr, a member of the Florida legislature, are nothing to be ashamed of, says Peter Nehr, but are a document of his new healthy lifestyle. Are you inspired by the majesty of of his abs? You should be! 
When Nehr's pectorals started "going viral," he released the following statement, which is long but which we are going to blockquote in its entirety anyway because it is perfect in every way:
To all those interested in my pictures that were posted on the blogs:

I have been a diabetic for many years and like many diabetics have had problems with my weight and my blood sugar control.

The attached pictures are all originals with no photo shopping which include a before picture and after picture of my face and also a before and after picture of my body.

I went from 210 pounds to 160 pounds and from a 38 inch waistline to a 30 inch waistline. I also went from taking over a 110 units of insulin per day taking 5 shots to almost no daily insulin shots. My blood sugar went from highs of over 300 to currently from 100 to 140. This was done by proper and moderate exercise and being very careful regarding not only what I eat, but how much I eat.

I also receive Acupuncture treatments to improve my overall health. I have also been featured in an e book called "Fit over 40" due to weight loss and have made key note speeches at FSU Medical School and other venues to audiences interested in Diabetes and Health.

I use every opportunity I can to show other Diabetics that it is possible to control and possibly reverse the effects of this terrible disease. There are over 2 million diabetics in Florida alone and if my before and after pictures can give some of them the hope of a better life even with diabetes then I am happy to have helped.

I have even included a picture that is only a week old (the one at the beach with a white shirt on) to show everyone that I am still in great shape and that it is possible not only to get into shape but stay that way long term.

I have sent these pictures to many of my friends that have been following my health and diabetes progress and they have shared them with others as well. It appears that someone who has a problem with my politics is trying to use them in a way to hurt my campaign. I am proud of what I have done to improve my health and will discuss this with anyone who wants to know how to do what I did.

If you have any further questions please do not hesitate to contact me by e mail or my cell.
We love every word of this, from opening old-manisms like "the blogs" and "photo shopped," to the idea that someone might expect photo shopped pictures of a middle-aged state legislator to exist, to the conclusion where he basically encourages you to call or e-mail him if you want to talk more about living with diabetes, or about his dietary changes, his workout regimen, or his muscled torso. The human body is not a shameful thing, and Peter Nehr will not be shamed by his! We are going to avoid reading anything about Nehr's political beliefs so that we can denote him Wonkette's #1 Florida Legislator with a clear conscience.
The only bad thing about this whole affair is that the article about it informs us that "selfies" is "what the kids call taking pictures of yourself with your cell phone," which, gross, what's wrong with you, kids of today. Here, let's get that bad taste out of our mouth by enjoying some more shirtless Peter Nehr action.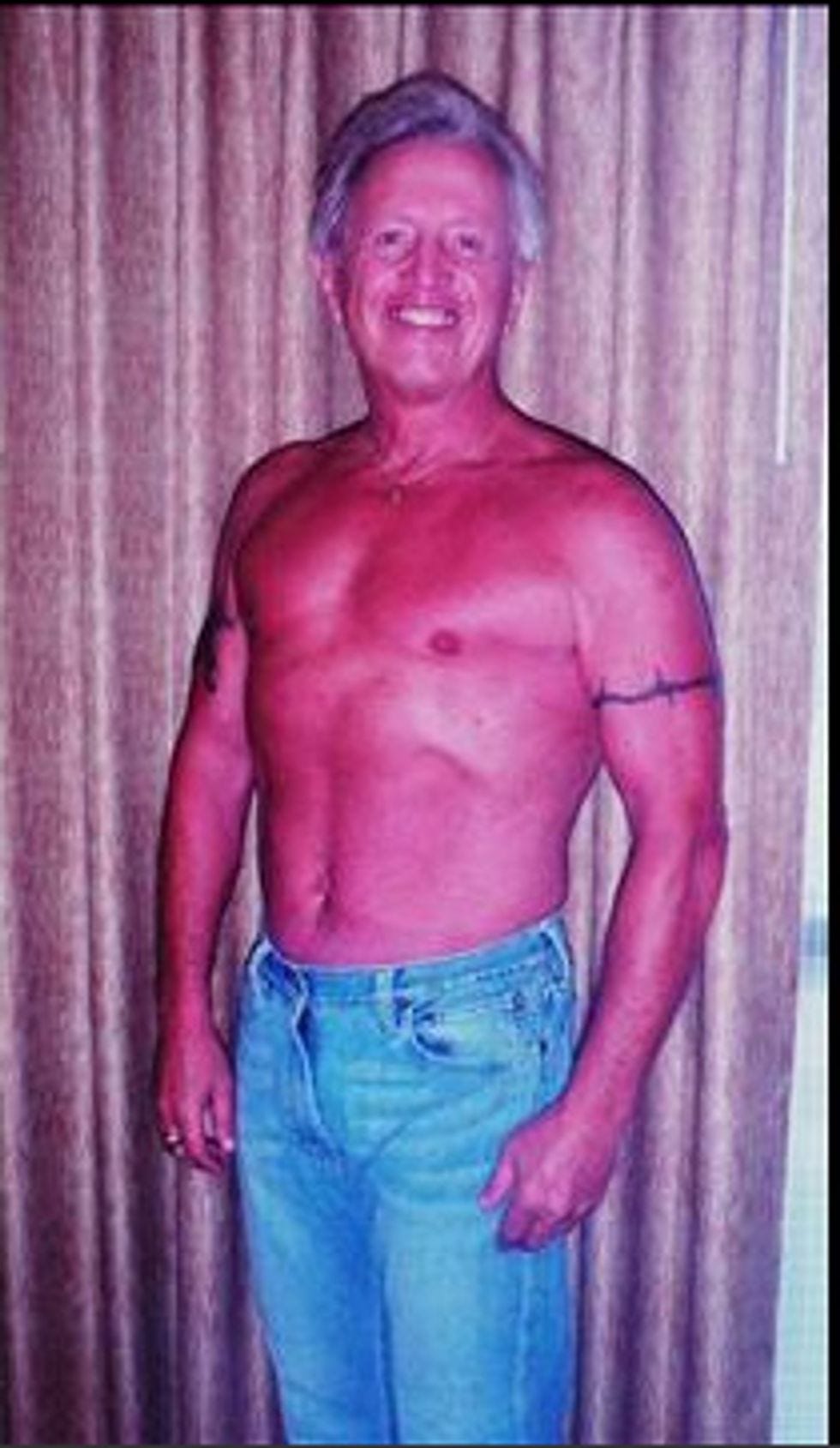 [ WTSP ]