Discover more from Wonkette
Wonkette is filthy, hilarious, liberal news. YOU CAN HANDLE THE TRUTH!
Over 18,000 subscribers
For Third Anniversary Of Newtown Child Murders, Give Classy 'Christian Carry' Pin To Someone You Love
If any of them had grown up, they could have bought a gun for self-protection
It's been three years since Sandy Hook, and 554 American children have been killed by guns since then. That works out to an average of one child sacrificed every other day on the altar of the Holy Second Amendment. It's probably worth it, however, since as you have no doubt noticed, the nation has not become a Nazi dictatorship. (If we want one of those, we'll vote one in. ) But for the guarantee that armed patriots could stave off tyranny, 554 children seems a small price to pay. Really small, especially when you notice the size of the coffins.
[contextly_sidebar id="P7J3fqw6tdIRIqw6zzbUjzK3fdF0cRnN"]Remember, Wayne LaPierre and the NRA say more guns are the only way to go. And if you can't trust the gun industry's chief lobbying organization, who can you trust?
In Newtown, where the Sandy Hook Elementary child murders took place, it's also the first time that the anniversary has fallen on a school day. The middle and high schools will hold a moment of silence to commemorate the 20 children and 6 staff murdered in 2012, but the elementary schools won't be doing anything to call attention to the date. Instead, extra counselors will be on hand if they're needed by kids or staff. The children who survived the shootings are now in fourth grade, and attend a school in nearby Monroe while a new elementary school is constructed on the site of Sandy Hook Elementary, which was demolished several months after the massacre.
"At the elementary and intermediate school level, staff fully understands that many children under their guidance may or may not know about the tragedy," Superintendent Joseph V. Erardi Jr. wrote in a letter to parents about the anniversary.

"If requested by parents, school staff will provide talking points with parents to assist them in personal conversations with their child," Erardi said.
Erardi told the Hartford Courant that he'd met with several of the families of the victims to help decide whether to cancel classes, hold some sort of ceremony, or try to go ahead with school as normally as possible. "It is my hope that everyone will find a quiet moment to reflect on what was lost that day," Erardi said.
[contextly_sidebar id="Pv5WYYW9q7oY8jFiP8iwmyzc9xfJCleT"]Apart from some states which enacted slightly stronger restrictions on firearms, little has changed in national gun laws since Newtown; in Congress, even a modest attempt to require background checks for all gun sales was defeated in 2013. We have more guns everywhere, and yet somehow we don't feel safer, which undoubtedly means we need more guns, and perhaps also to prevent Muslims from coming to America. Even so, three years after the horror of Newtown, we can take heart that the odds are still pretty good that almost all our kids will come home from school alive. Every other day, at least.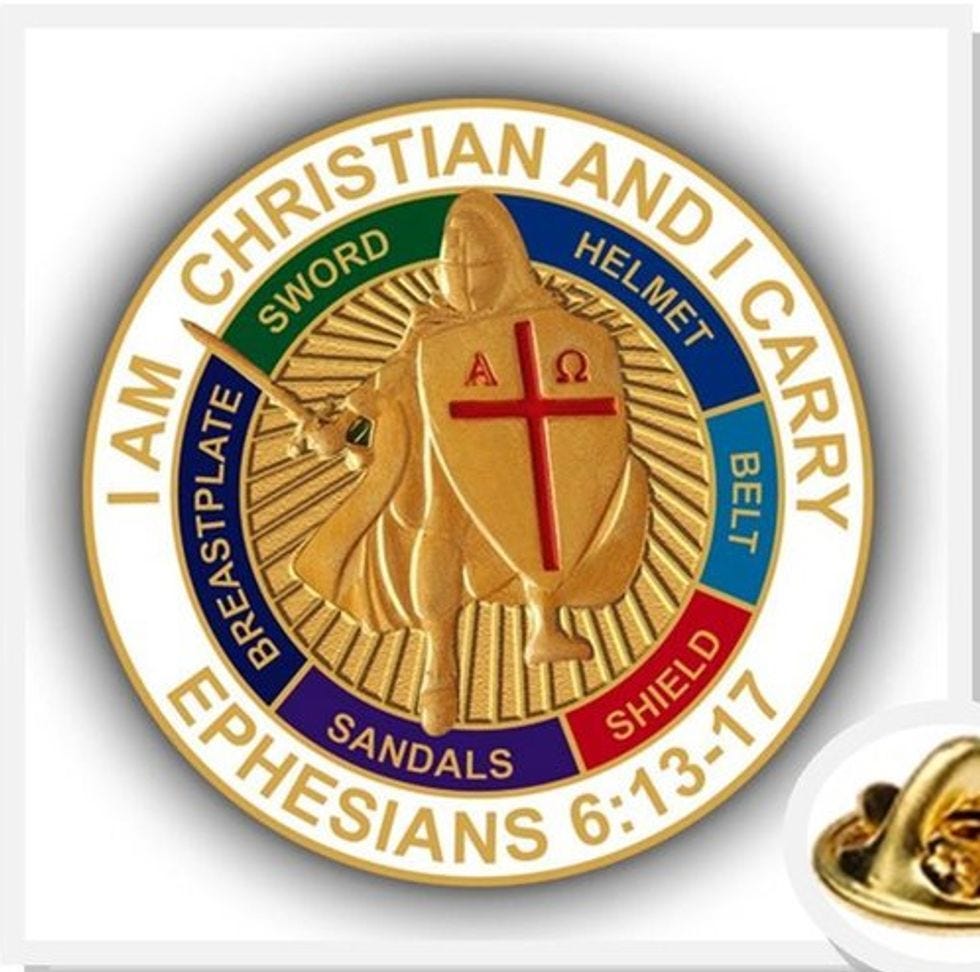 If you want to mark the day with less of a Gloomy Gus attitude, you could also proudly proclaim that you're a Bible-believing Christian who packs heat, with an elegant and classy "Christian Carry" pin, the brainchild of one Brant Williams, owner of Frontier Firearms in Kingston, Tennessee. Williams told Knoxville TV station WVLT how he was inspired to create the pins, which feature a number of beautiful designs: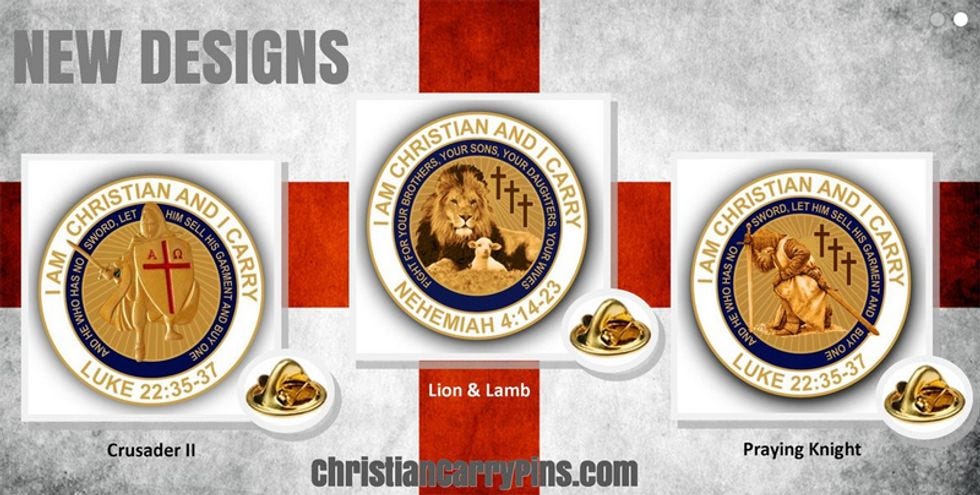 There ought to be a way for Christians to kind of be able to give a nod to each other that they're Christian and carry and that they're not going to kneel down and allow someone to kill them.
As we all know, Jesus Christ was a big proponent of armed self defense, what with that beautiful line from Luke 6: 29, "If someone slaps you on one cheek, turn to them, draw your Desert Eagle, and give them two shots to the center of mass and a finishing shot in the head." It's a loose translation.
Williams's Guns-N-Jesus business got started with an ad on Facebook offering a 5% discount on handguns to anyone who said they were Christian, because he believes Christians are an increasingly marginalized minority. Apparently he just took their word for it, so it's possible some lying atheists or Muslims may have cheated him. From that, it was only a natural step to start marketing a variety of pins citing some sanguinary verses of the Bible:
Ezekiel 33: 6 But if the watchman sees the sword coming and does not blow the trumpet, and the people are not warned, and a sword comes and takes a person from them, he is taken away in his iniquity; but his blood I will require from the watchman's hand.

Nehemiah 4: 14 ...fight for your brother, your sons, your daughters, your wives, and your houses.
We could be wrong, but that first one sounds a lot more like a mandate to call 9-1-1 than to shoot anyone. Then there's Ephesians 6: 13-17, which some wacky liberal theologians might foolishly interpret as having more to do with spiritual resistance to evil than to literally blowing away bad guys:
13 Therefore put on the full armor of God, so that when the day of evil comes, you may be able to stand your ground, and after you have done everything, to stand. 14 Stand firm then, with the belt of truth buckled around your waist, with the breastplate of righteousness in place, 15 and with your feet fitted with the readiness that comes from the gospel of peace. 16 In addition to all this, take up the shield of faith, with which you can extinguish all the flaming arrows of the evil one. 17 Take the helmet of salvation and the sword of the Spirit, which is the word of God.
Not a word in there about whether God wants you to have a revolver or an automatic, or what kind of stopping power you need, much less whether you should choose hollow-point or armor-piercing rounds, so you may want to check with your own spiritual advisor/arms merchant. We're also impressed by the Crusader imagery on the pins; perhaps by next December 14, Williams can come up with a special Sandy Hook commemorative pin that celebrates the Children's Crusade. You know, for kids.
[ Hartford Courant / NBC News / WVLT / Christian Carry Pins ]