Discover more from Wonkette
Wonkette is filthy, hilarious, liberal news. YOU CAN HANDLE THE TRUTH!
Over 18,000 subscribers
Only good thing about this week is that we've been introduced to the wonderful Rep. Frederica Wilson.
This stupid week just keeps getting stupider. When General John Kelly, Donald Trump's chief of staff, addressed the press Thursday, he spoke from the heart about what happens when an American servicemember is killed in action. It was especially touching because Kelly lost his own son in the American war in Afghanistan, and his other son is still serving.
Then Kelly transitioned from that sober moment into taking a giant shit all over Sarah Huckabee Sanders's podium, which was rude, because that's where SHE shits. Kelly attacked Congresswoman Frederica Wilson for being a terrible person who lies about what Donald Trump says to the widows of the fallen, but in his defense of Trump, he actually confirmed Wilson's account. 
But there was a weird moment in the presser where, apropos of nothing besides trying to damage Wilson's credibility, Kelly told a story about Wilson taking credit for getting "all the money" for an FBI building in south Florida named for two agents killed in the line of duty. He said she rudely said this during her speech at that building's dedication. He accused Wilson of being the face of "a long tradition of empty barrels making the most noise." (What an asshole.) Kelly said he and everybody else present were just appalled by her words, but you didn't see them going on "Morning Joe" to talk about it, the way Wilson did re: the president's phone call to Myeshia Johnson, widow of Sgt. La David Johnson, who was killed in Niger for reasons Donald Trump has yet to explain.
You will be floored when we tell you the next thing. Are you ready?
KELLY WAS LYING.
The  Miami Herald  spoke to Wilson about the 2015 FBI building dedication:
Thursday night, Wilson said Kelly got the story flat-out wrong. In fact, she said Washington approved the money before she was even in Congress. The legislation she sponsored named the building after [Benjamin] Grogan and [Jerry] Dove, a law enacted just days before the ceremony.

"He shouldn't be able to just say that, that is terrible" ... "This has become totally personal." [...]

The General Services Administration had already bid out a $144 million construction contract for the project in September 2010, just a few months before Wilson won her congressional seat. The bidding for federal projects takes place after Congress has secured the funding.

"That is crazy that I got [the money] and Mr. Obama just gave it to me," Wilson said. "That building was funded long before I got to Congress. I didn't say that. I have staff, people who write the speeches. You can't say that."
When the Miami Heraldpublished, it hadn't been able to independently corroborate Wilson's side of the story yet. But the  Sun Sentinel  did! Indeed, they posted video of her full speech, which shows she categorically did not say what John Kelly said she did. In reality, her speech was anything but All About Her.
Go watch it. We'll wait.
Have we called John Kelly an asshole in this post yet? (Yes.) Let's all say it together this time: CHRIST, WHAT AN ASSHOLE.
Short version: Donald Trump, John Kelly and their flying monkeys want you to know they think Rep. Frederica Wilson is a real bitch, and they're lying to get that message across. And people have gotten the message! Wilson's office has gotten threatening phone calls,and Trump idiots/Russian bots are flooding the Twitter hashtag #IBelieveFrederica with barely literate comments about FREDERICA DERANGED RODEO CLOWN HILLARY CLINTON URANIUM FAKE NEWS I DON'T LIKE THOSE HATS SHE WEARS.
President Dipshit attacked Wilson again Thursday night on Twitter:
Psssst, Donald! Are you saying Kelly was lying when he confirmed Wilson's account? Or are you lying? OR IS IT BOTH? Also how was she SECRETLY on the call? Was she hiding under the backseat in the limo the Johnson family was riding in to receive Sgt. Johnson's body? Because Wonkette hates it when our elected officials do that. (Of course, she was invited along, because she is friends with the family and she mentored Sgt. Johnson.)
Wilson responded to the president's pissy tweet on Thursday night:
And when the Sun Sentinel produced the video of her speech, which showed Kelly was lying, Wilson tweeted again.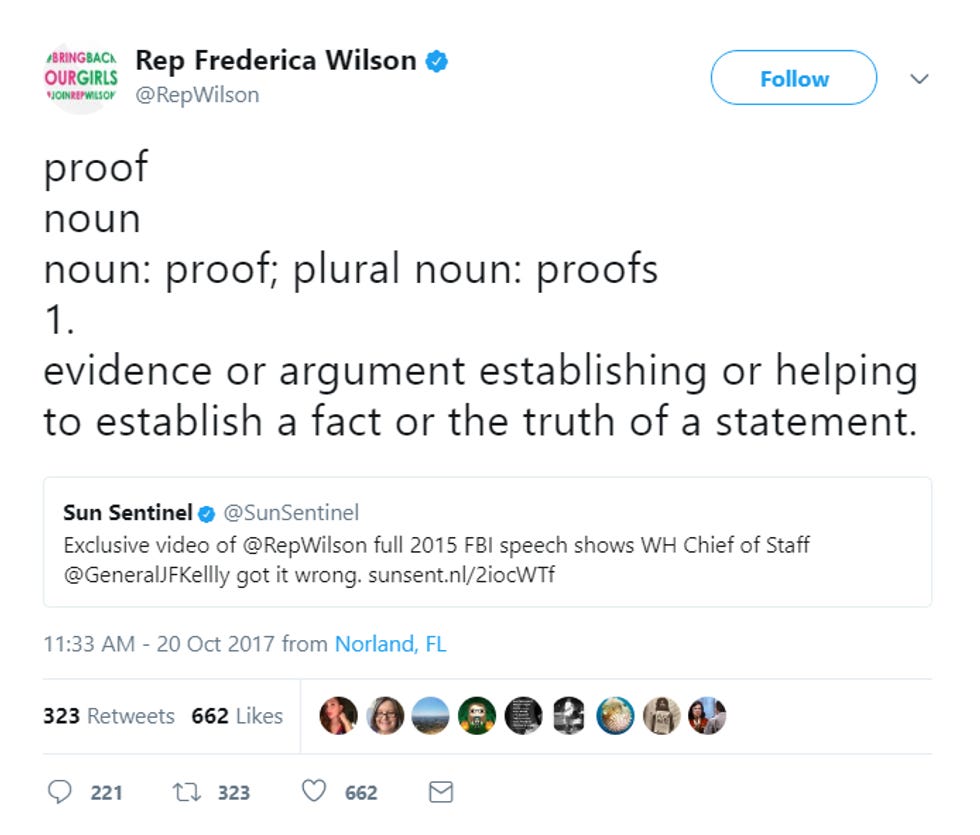 LOL! And that , dear ones, was the second Wonkette started following Rep. Frederica Wilson on Twitter. You should also do that!
Anyway, this has been an excellent blog post about how John Kelly lies like a rug. Goodbye!
 Follow Evan Hurst on Twitter RIGHT HERE.  
 Wonkette salaries, servers, and all of the things are fully funded by readers like you! If you love us, click here to fund us! 
[ Miami Herald ]