Discover more from Wonkette
Wonkette is filthy, hilarious, liberal news. YOU CAN HANDLE THE TRUTH!
Over 15,000 subscribers
Finally We Exported Something To Japan, Sorry It Is Gun Murder
This one's a global gun roundup.
In Japan yesterday, former Prime Minister Shinzo Abe was assassinated by a man who shot him with a homemade gun. Abe, 67, was giving a campaign speech supporting of a candidate running in this weekend's parliamentary elections when he was shot from behind. He was taken to a hospital but didn't survive; one of the two bullets that struck him hit his heart. Abe, who'd been Japan's longest-serving prime minister, was pronounced dead about five hours after the shooting.
You may hear some idiots saying, "See? Japan has some of the strictest gun control in the world and Abe still got shot," but keep in mind that Japan has the lowest rate of gun violence in the world, largely because it has among the lowest numbers of guns in circulation: Private ownership of handguns is illegal; police have handguns, but tend not to need to use them.
There were six reported gun deaths in Japan in 2014, according to the National Police Agency, and the number rarely exceeds 10, in a country of 126 million people. In 2006, just two people were killed in gun attacks.
When I worked in Osaka from 1998 to 2000, I felt perfectly safe walking around at midnight — far safer than in godforsaken Idaho, where you can easily get a gun but finding anywhere serving okonomiyaki is nearly impossible.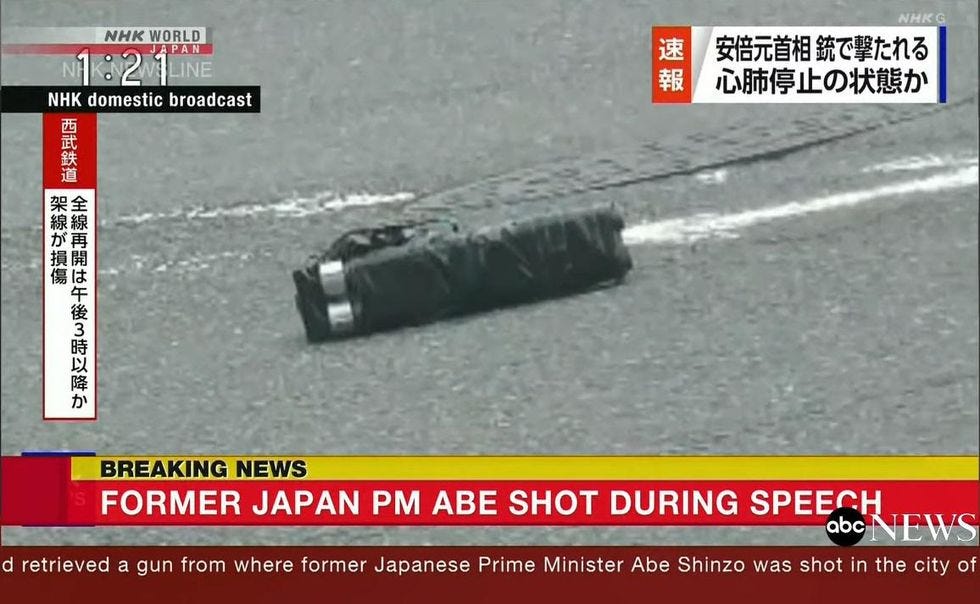 And again, Abe's assassin was forced to make his own gun. If the worst weapons the US had to worry about were this sort of crudely rigged thing, we'd be in pretty good shape. [ Reuters / Guardian / ABC News on Youtube]
Also too, apparently wingnuts on Twitter have tried to make "Defund NPR" a thing yet again, because the radio network described Abe, accurately, as a "divisive arch-conservative," which is actually not the sameas saying he deserved to die. The guy WAS divisive , pushing for a greater role for Japan's military. That used to be nigh-unthinkable in Japan, where the so-called "peace constitution" forswears any aggressive use of the military, which is literally called the "Self-Defense-Force" to underline its limited role.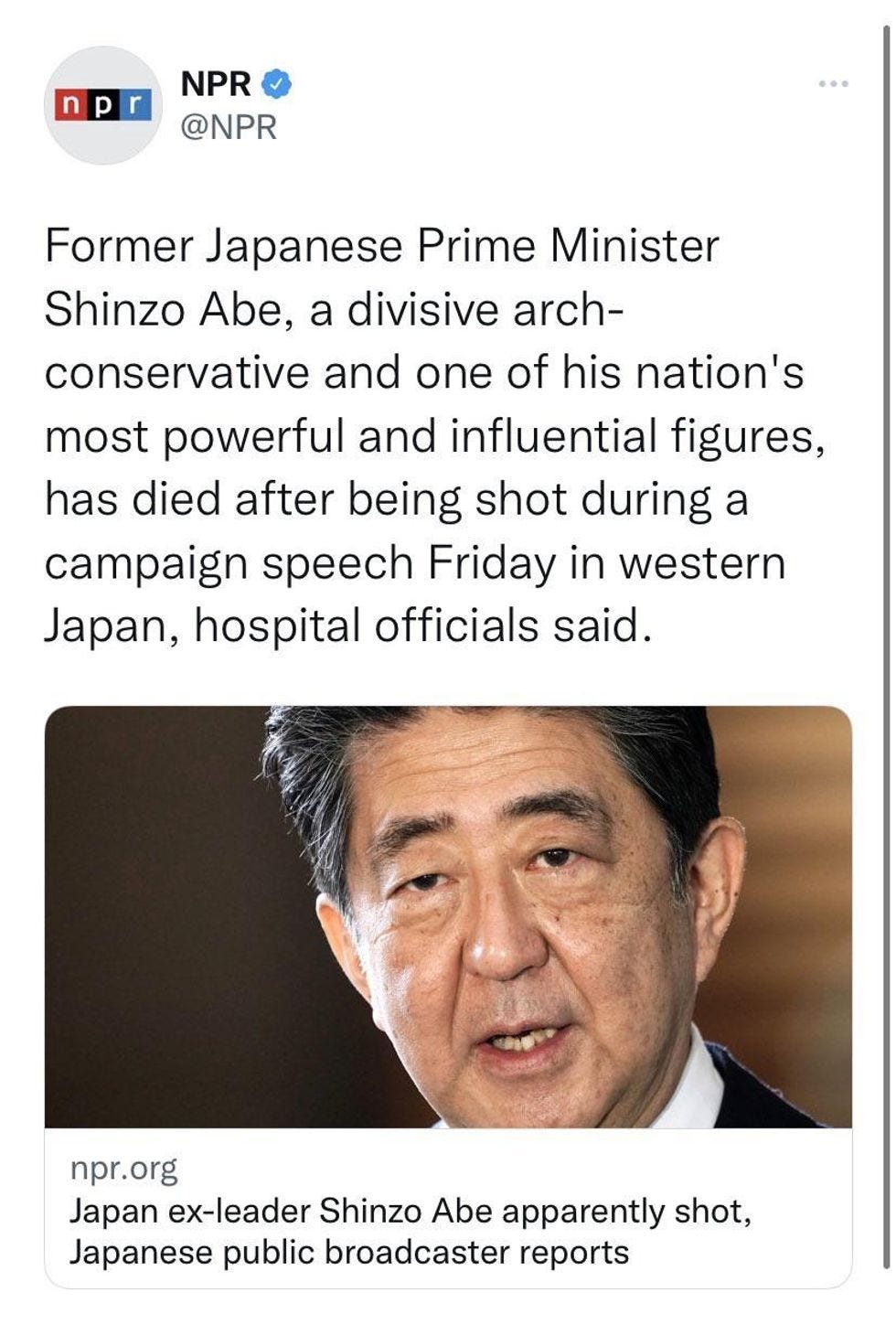 NPR deleted the tweet, but wingnuts are still mad about its replacement, which describes Abe as an "ultra-nationalist," which is a perfectly accurate description. [ NPR ]

Ron Johnson Remains Idiot, Pulls Gross 'Mass Murder' Ad
Following America's latest high profile mass shooting in Highland Park, Illinois, with seven dead and dozens injured, some American politicians had some very important things to say about violence and guns in our godforsaken country. We'll get to them, but first, there's Sen. Ron Johnson (R-Wisconsin) whose thoughts are almost never important. Johnson's reelection campaign had to scramble to cancel a tasteless radio ad after the Independence Day massacre.
The ad, which was set to start airing all over Wisconsin Wednesday, proclaimed that the "latest mass murder in America didn't involve guns," and accused Joe Biden's immigration policies of causing the deaths of 53 undocumented migrants who were abandoned by smugglers in a semi trailer last week. The ad claimed that Biden was directly responsible for the deaths of the victims, who were
murdered by human traffickers because Joe Biden's open border policy is facilitating the multibillion-dollar business model of some of the most evil people on the planet.
Tuesday, one of the companies on contract to produce and distribute the ad "frantically notified colleagues to suspend it." A vice president of sales for the Katz Radio Group sent out an email with the heading "URGENT: Ron Johnson orders," asking recipients to please please make sure the ad didn't air:
they need the creative pulled ASAP. … If you listened to the spot it talks about mass shootings which obviously is not good creative after this past weekend (especially in Chicago).
Now look, if you're gonna go using "creative" as a noun like that, you deserve all the embarrassment you get.
 Here's the awful ad, which you should feel free to skip.
"Sen. Ron Johnson's campaign scrambled to have this planned radio ad downplaying gun violence pulled after the mass shooting on July 4th in Highland Park. They kept it from airing, but it has since been leaked to me. Full story: https://t.co/MEc1DdMIE0"

— Ken Klippenstein (@Ken Klippenstein) 1657219645 
Illinois: JB Pritzker Says 'Get Angry'
We haven't actually featured this video of Illinois Gov. JB Pritzker speaking in Highland Park Monday. It's worth watching, because Pritzker doesn't pull any punches in making it very clear that the problem is guns.
Following the expected words of thanks to first responders and comfort to the families of victims and survivors, Pritzker turns his attention to the reason for yet another national ritual of mourning:

It is devastating that a celebration of America was ripped apart by our uniquely American plague. A day dedicated to freedom has put into stark relief the one freedom we as a nation refuse to uphold – the freedom of our fellow citizens to live without the daily fear of gun violence.

You know what I love about the 4th of July? We celebrate the founding of this wonderful nation by gathering with family and friends, and enjoying parades and fireworks. Our cameras on days like this are filled with messy faces and reckless smiles and pretty sunsets – an effort to bottle up that unique feeling of sun-filled joy.

That's what evil took from us today. That's what gun violence robs us of — no matter the neighborhood or city it erupts in.

f you are angry today, I'm here to tell you to be angry. I'm furious. I'm furious that yet more innocent lives were taken by gun violence. I'm furious that their loved ones are forever broken by what took place today. I'm furious that children and their families have been traumatized. I'm furious that this is happening in communities all across Illinois and America. I'm furious because it does not have to be this way and yet we as a nation, well, we continue to allow this to happen. While we celebrate the 4th of July just once a year, mass shootings have become our weekly – yes, weekly – American tradition.

There are going to be people who say that today is not the day, that now is not the time, to talk about guns. I'm telling you there is no better day and no better time than right here and right now.

It's the 4th of July — a day for reflection on our freedoms. Our founders carried muskets, not assault weapons. And I don't think a single one of them would have said you have a constitutional right to an assault weapon with a high capacity magazine — or that that is more important than the right of the people who attended this parade today to live.

So yes, I'm angry. We as a nation deserve better.
All we can add is, "Goddamn right." [Transcript:  Shaw Local News ]
Texas: This Poll On Gun Opinions Is Good News For Beto O'Rourke
No, it's not a poll of guns' opinions in Texas, it's a University of Texas/Texas Politics Project Poll about Texans' opinions on guns and other matters, like Texas's awful abortion law and the race for governor.
The poll, the first from UT/TPP since the Uvalde school massacre in May, didn't show any significant changes in Texans' attitudes about gun control, but what's remarkable there is that the majority of Texans are not in line with Gov. Greg Abbott's More Guns Everywhere policies. Instead, Texans generally support reasonable limits on guns. We'll just copy-paste some key results as summarized on the Electric Twitter Box by Houston Chronicle reporter Jasper Scherer:
Should gun control laws be made more strict, less strict or left as they are now?

More strict: 52%
Left as they are now: 28%
Less strict: 14%

If more people carried guns, would the U.S. be safer, less safe, or would it have no impact on safety?

Safer: 34%
Less safe: 43%
No impact: 15%
Permitless carry

40% support
54% oppose

Universal background checks

78% support
16% oppose

"Assault weapons" ban

54% support
39% oppose

"Red flag" laws

66% support
24% oppose

Raising legal age to buy a gun to 21

70% support
25% oppose

High-capacity magazine ban

55% support
36% oppose
Those are not numbers that suggest overwhelming opposition to sensible gun laws — but the challenge for Beto will be getting people who hold those opinions to show up at the polls in November, because of course pro-gun voters tend to be far morerabidenthusiastic in making sure they show up and vote. [ Texas Politics Project ]
Yr Wonkette is funded entirely by reader donations. If you can, please give $5 or $10 monthly so we can keep you up to date on all this aggravating madness.
 Do your Amazon shopping through this link, because reasons .