Discover more from Wonkette
Wonkette is filthy, hilarious, liberal news. YOU CAN HANDLE THE TRUTH!
Over 18,000 subscribers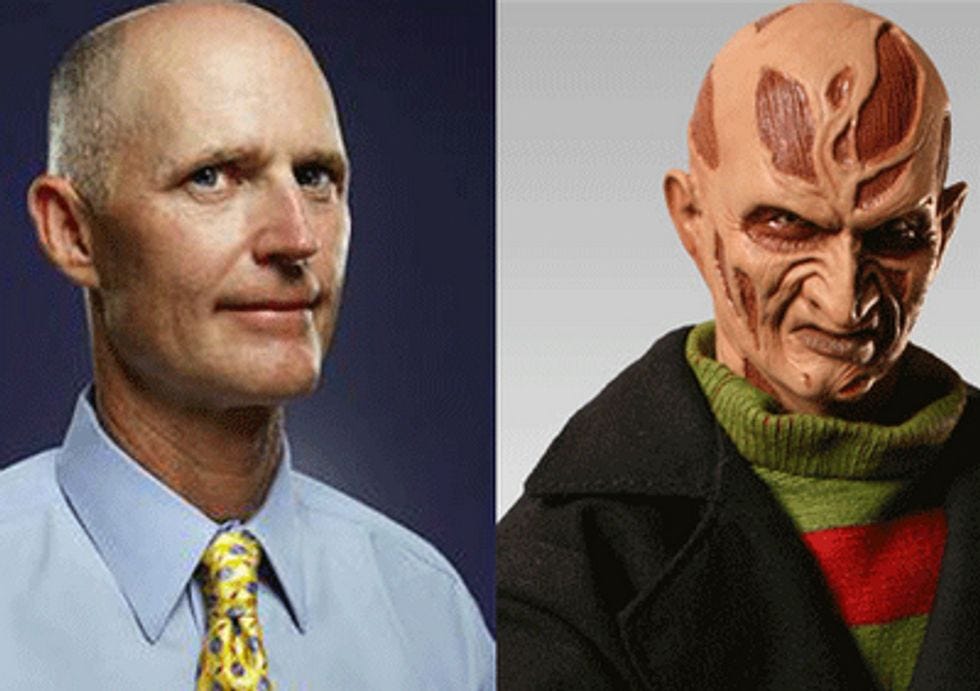 God's Waiting Room did not disappoint this week, so let's dive right in! We'll begin in Florida's northeast corner, the part that would probably rather be Georgia (and not the good parts of Georgia), where the good sheriff of Duval County has put his finger on what's really to blame for all these people shooting each other (no, it's not the freakishly easy access to guns or the endemic poverty and deteriorating safety net, don't be silly):
[Sheriff John] Rutherford attributes the violence to a "culture of death" that he believes started with the 1973 Supreme Court case Roe vs. Wade that established a federal right to abortion.

"We no longer believe in the sanctity of life," he said. "They almost glorify death. ... I don't think these kids when they are killing each other understand they ain't coming back. ... This whole culture of death we have created, it's a major problem.

"Whether you kill a baby in the womb or a woman on First and Main, it's the same thing," he said.
Hear that, ladies? Your college-years embryo frittata is exactly the same as gunning down some chick in cold blood, for drugs. (Rutherford, being a cop, goes on to blame politicians for not supplying him with an adequate army with which to battle hooligans, because of course.)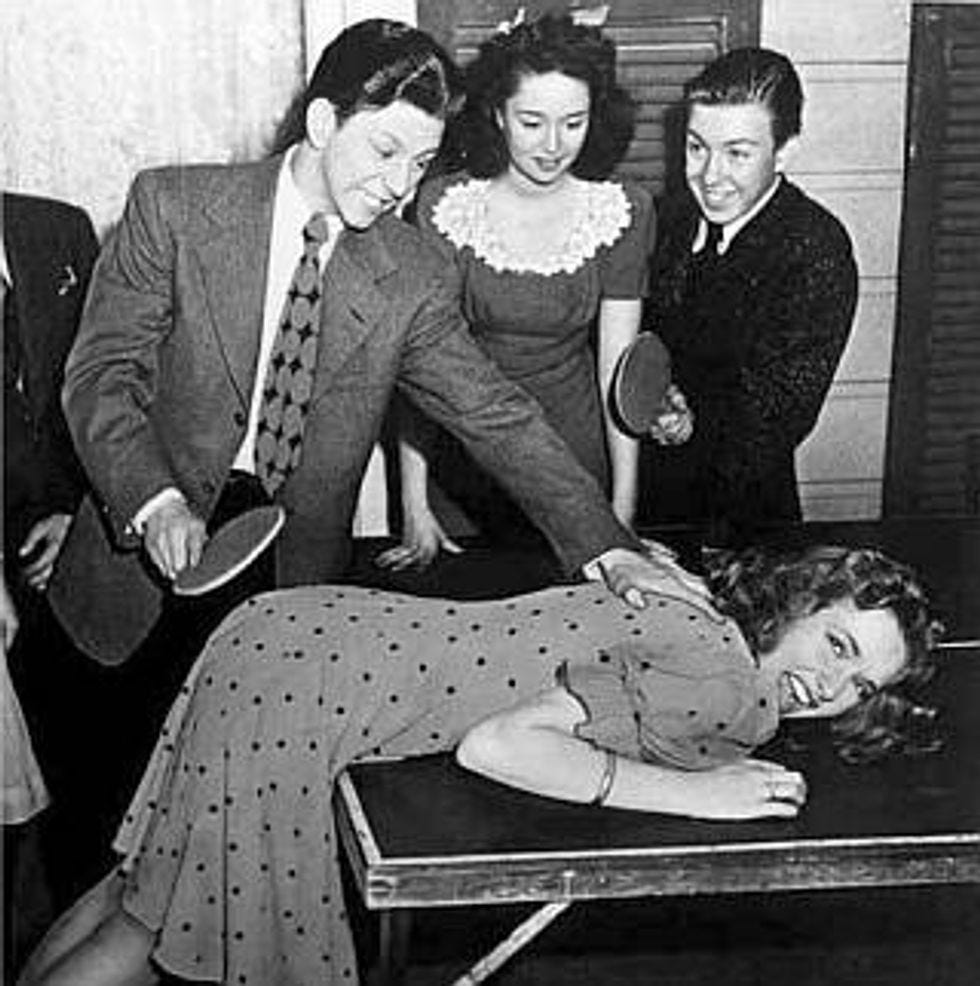 It is quite frankly amazing that my great state has any violence to deal with whatsoever, considering they buy whole hog into the "spare the rod" thing. In Florida, at least outside of most metro areas, corporal punishment is still totally kosher in public schools, and pretty liberally used. How has that not cured everything yet?
A team of University of Florida researchers said today Florida should ban corporal punishment in all its public schools. Paddling … remains a discipline option in a number of smaller, rural school systems. The UF report issued today called the practice "reactive" and "ineffective" and said it should end immediately. […] 2,757 instances of paddling were recorded in the 2012-13 school year, the most recent year for which data was available.
Speaking of schoolchildren, you'll be shocked to learn this Florida Man is a (alleged) pedo: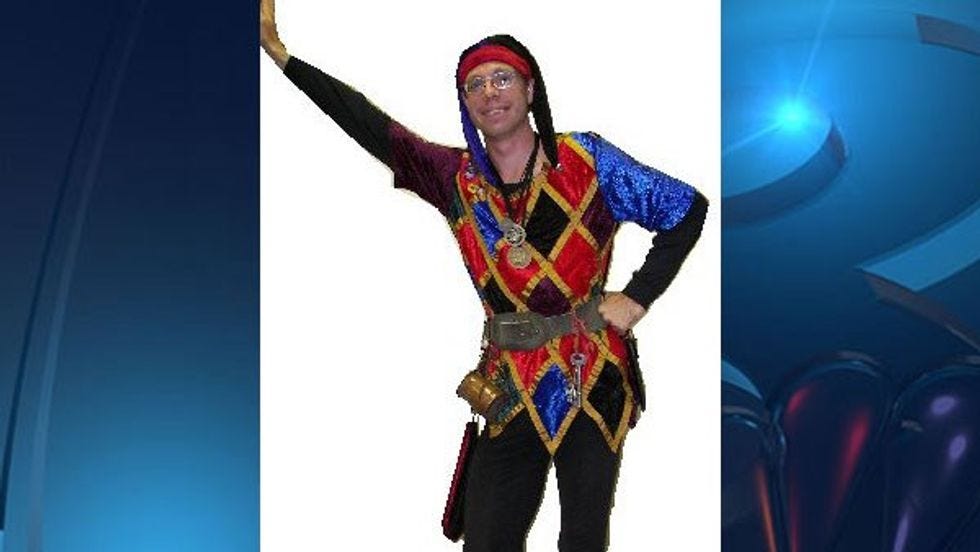 In Florida, thanks to activist judges, The Gays can get married, but that doesn't mean we let them go out in public together . A restaurant owner in Sanibel — which is gorgeous, by the way — ejected two old-ish married ladies because they were dancing together and he deemed that inappropriate because families or whatever. (The restaurant owner said the women were dancing dirty, which, well, look at them, for chrissakes.)
In other civil rights news, did you know that in Florida the whole concealed weapons thing really does apply to The Blacks, too? ( Yes, you did ). This white guy did not realize that, as he and a few buddies tackled a 62-year-old black man to the ground for completely lawfully carrying his permitted, concealed weapon. It's almost as if the color of his skin made some white folks assume he was criming, when he was not! It's actually kinda amazing the white guy, Michael Foster, was arrested for assaulting the black guy, Clarence Daniels, and not given a medal. Progress, right? [contextly_sidebar id="SmQEkZqnfjQtLa5Lg7lUgSeUGAKSmKlQ"]
Speaking of guns, it may be a smart idea to stay away from Florida college campuses for the foreseeable future .
A House committee approved a bill Tuesday that would allow guns on state university campuses just two months after a shooter wounded three people at a Florida State University library.

State Rep. Greg Steube argued his bill (HB 4005) would make campuses safer because a shooter could be stopped by a gun owner before police respond to a shooting scene. He said gun-free zones don't prevent people from going on shooting sprees.
Hormonal teenagers carrying guns. What could possibly go wrong? 
And yes, before you ask, the Florida Legislature is exactly as reasoned and sane as you would expect . Behold, this bill:
Two Florida Republicans have drafted bills that would make conservative commentator Dinesh D'Souza's film America: Imagine the World Without Her required viewing for eighth graders, The News-Press reports. State Senator Alan Hays and Representative Neil Combee respectively introduced Senate Bill 96 and House Bill 77 in order to combat what they see as the "erroneous" and "anti-American" content of American history classes.

"Frankly, it's embarrassing that we allow these lies to be taught in our school system," Hays told The News-Press. "Unfortunately, our parents and our school board members have not kept up with the misrepresentation of American history that is being perpetrated in our school system, and this movie gives a totally different view."

"I wish that the movie weren't necessary, but I think that I can do everything to make sure it's shown," he added.
 Agitprop from a convicted felon . In Florida, we call that social studies. [contextly_sidebar id="PT6HXwXPOOl4JiuiIqYwi9VrydWKF8w6"]
Moving on: The governor is still a probably corrupt fuckhead. Only now, he's a probably corrupt fuckhead whose friends are jumping ship.
During the past few days, Attorney General Pam Bondi, Chief Financial Officer Jeff Atwater and Agriculture Commissioner Adam Putnam have raised questions about how [former Florida Department of Law Enforcement Commissioner Gerald] Bailey's departure was handled. […] Both Atwater and Putnam — who supported Scott's re-election — said that someone needs to look into Bailey's allegations. "There should be some follow-up to those allegations, whether they were incidents of illegal activity versus sloppy campaign official type of interactions that occurred," Putnam said.
If you don't remember last week's adventures in America's Cialis Dispensary , here's the gist: The former head of the state's police agency has accused Gov. Rick Scott of firing him after he refused to turn the agency into an arm of Scott's reelection campaign, and of trying to pressure him into falsely assigning blame for an embarrassing clusterfuck in which two convicts forged papers and straight-up walked out of prison.
Bailey has made a set of allegations to the Tampa Bay Times/Miami Herald in the last week, including that he was asked by the Scott administration officials to falsely name the Orange County Clerk of Courts as a target in a criminal investigation into how two convicts obtained false documents to escape prison. Some of the other allegations included that the FDLE was asked to transport campaign staff during Scott's re-election campaign.
Speaking of ridiculous Florida politicians, as if there were any other kind, let us remark on the strange tale of Alan Grayson's divorce, which we told you about earlier this week . [contextly_sidebar id="hWYKdxaAbcv4WRQQoI6WBC3c1dZHLgh0"]
Grayson, we should point out, is one of the good guys, at least as close to a good guy as you can find in Congress, and by that we mean policy, and by that we mean he's basically antiwar and anti-Koch Brothers and anti-corporate fuckery, so good on him. (In person he can be a bit, shall we say, priggish, but whatevs.) But his divorce is not of the standard-issue variety :
Lolita Grayson sued her husband for divorce last year after 24 years of marriage. But Alan Grayson says the marriage was invalid because she was never divorced from her first husband at the time of their union in 1990. Lolita Grayson says she was divorced.
This week their divorce hearing was delayed, for a reason we could not make up if we tried: Lolita's boobs were leaking.
A trial to determine whether U.S. Rep. Alan Grayson's wife committed bigamy when she wed the congressman has been delayed because she required emergency surgery to remove breast implants.
The trial had been scheduled for Thursday in Orlando, but is now set for March.
Lolita Grayson had been suffering chest pains. When she went to a hospital to get checked out, she was told she needed emergency surgery to remove the leaking implants and scar tissue, according to court papers filed this week.
Also earlier this week, we told you about smirktastic Tea Party Hero Curt Clawson , who was all ready to rip communist Obama a new one, for freedom. You will be shocked, then, to learn that during his State of the Union rebuttal, Clawson whitesplained how if you really cared about immigrants you would deport them all to Mexico . [contextly_sidebar id="zM68AtOm5b15gC6UvWRoWlvH8HMd7jrq"]
If last week's anti-immigrant votes in the House are any indication of that "passion," it's likely that the Tea Party could shift the debate on immigration reform. During the official Tea Party Express State of the Union response, Rep. Curt Clawson (R-FL) blamed undocumented immigrants for the plight of 10 million unemployed Americans and emphasized legal immigration.

"Success for our nation also means embracing diversity – including legal immigrants – and the millions waiting in line legally to begin their own American Dream," Clawson said.

Transitioning to Spanish, he said, "Todos creemos en Dios, la familia, el trabajo, y la libertad. Hay que respetar la ley. Pero, ustedes son bienvenidos con nosotros. Todos somos iguales. Por supuesto. Nuestra casa es su casa," which means, "We all believe in God, the family, hard work, and liberty. The law must be followed. You are all welcome with us. We are all equal. Of course. Our house is your house."

"As we respect our immigration laws – we've also got to be fair to the more than 10 million Americans currently struggling to find good jobs!" Clawson added. "To do this, we need to secure our borders first.
Dear Tea Partiers, reading off a Spanish cue card will not make Hispanics like you any more if you are a total dick.
A Florida teenager spent a month hanging out in a hospital pretending to be a doctor , and no one noticed.
The South Florida Sun-Sentinel reports police were called Tuesday after a patient alerted staff at the medical center's OB/GYN office that a juvenile dressed in a lab coat was inside an exam room. The patient said the lab coat had St. Mary's logo and "anesthesiology" stitched on the front. A security guard told police he'd seen the teen around the hospital for a month. Another said the teen entered secured areas of the hospital this week. The teen told police he's been a doctor for years. The teen's mother told police he's under the care of a doctor and is not taking his medicine.
And finally, this beautiful headline: " Florida Boy's Circumcision Spurs Lengthy Legal Battle, Protests ."
BOYNTON BEACH, Fla. — An estranged Florida couple's fight over whether to circumcise their son has become a rallying cry for those who denounce the procedure as barbaric. The dispute between Heather Hironimus, the mother opposing circumcision, and Dennis Nebus, the father favoring it, has sparked a prolonged court battle, protests and the rapt attention of a movement of self-proclaimed "intactivists."
 Intactivists. 
That's all for this week, Florida. Lay off the meth, will ya?