Discover more from Wonkette
Wonkette is filthy, hilarious, liberal news. YOU CAN HANDLE THE TRUTH!
Over 15,000 subscribers
Hero Waitress Tells Kansas Gov. Brownback Exactly Where To Shove His Tip (Into Schools, Duh)
Here's today's dose of Nice Time Sticking It To The Man: A Kansas waitress used her last day at work to send a little message to Gov. Sam Brownback, telling him that instead of giving her a tip, it would be much nicer if he could actually fund the state's schools instead. As exits go, this one definitely tops that flight attendant who said screw y'all and jumped out the emergency slide; it's right up there with the news anchor who resigned on air by declaring her love for legal weed. 
[contextly_sidebar id="5DFw47Lk04sn4DmbQVaaxJoACTlouUBG"]
Waitron Chloe Hough had already given notice a couple weeks back at Boss Hawg's Barbeque in Topeka, so it wasn't quite the risky Grand Gesture that sacrificing her job for the sake of a political statement would have been, but she still gets style points. When she realized that the governor was sitting in her section, the plucky progressive took to the Facebook to solicit advice:
YOU GUYS 911 EMERGENCY

ITS MY LAST SHIFT AND I AM WAITING ON OUR GOVERNOR. WHAT SHOULD I SAY TO HIM. THIS IS NOT A TEST. GO
A couple of folks reminded her that Kansas schools have been closing early this year thanks to Brownback's budget cuts (necessary for the huge tax cuts that have made Kansas amazingly prosperous, except for how they haven't), and so Ms. Hough came up with a little addition to Gov. Brownback's check, X-ing out the tip line and writing "Tip the Schools":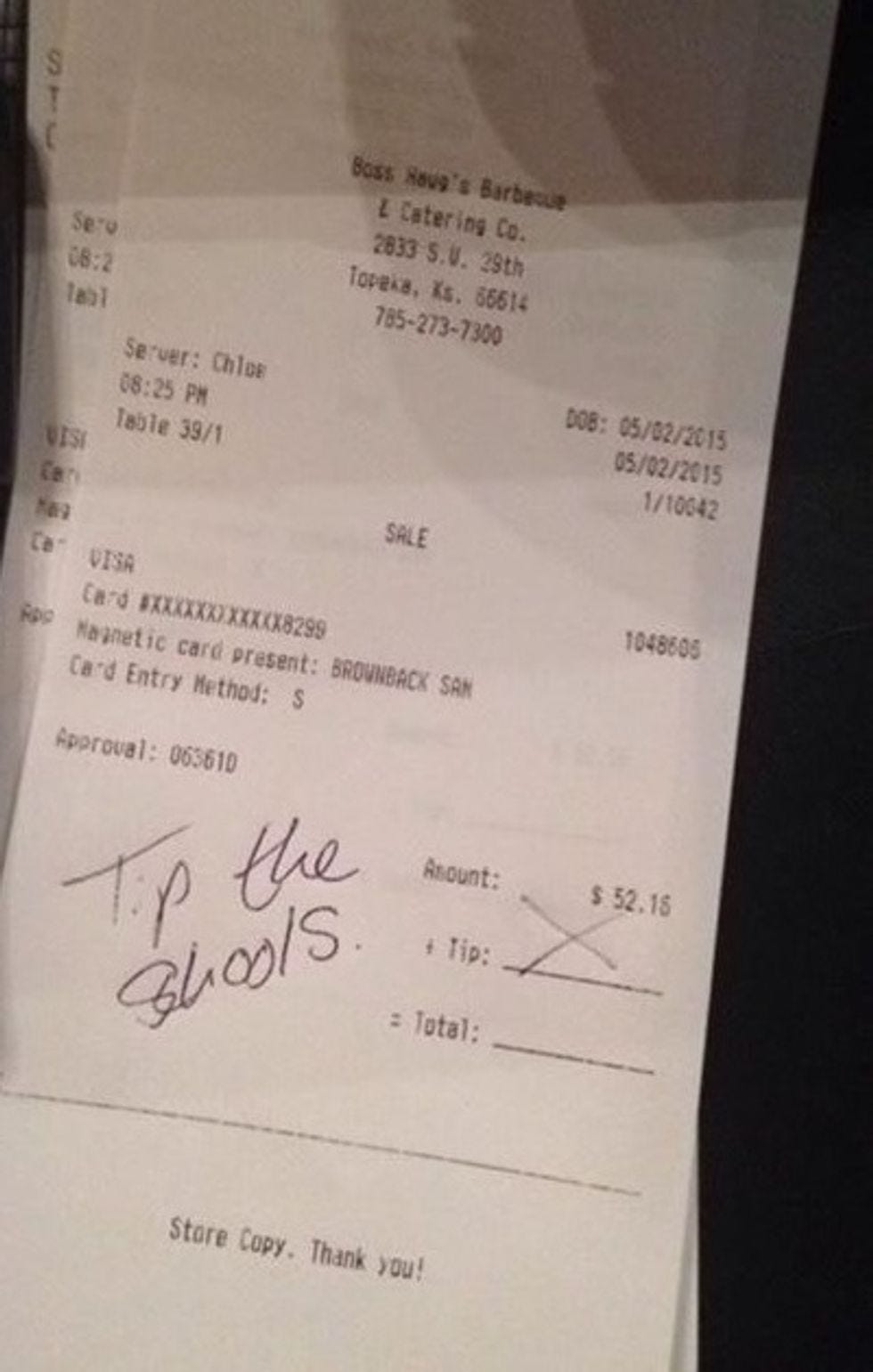 Hough posted the pic to her MyFace with the caption, "Mic Drop," which is what the young folks are into these days as part of a general disrespect for audio equipment of all sorts. Local station KSNT also noted that Hough's sister, who has special needs, has lost several teachers due to the cuts to schools.
Brownback added a very generous 10% tip anyway, which proves that unlike Hillary Clinton, he does tip, just very cheaply. Dude clearly never worked at a restaurant. On the plus side, he didn't leave one of those bait-and-switch Bible Tracts instead of a tip, so we'll call it "coulda been worse."
[contextly_sidebar id="FGHDP6XVUFDhhPjyzvgmOSVLkpQD9qiv"]
Not surprisingly, Chloe Hough's stunt went viral, and like any good social-media celebrity, she's decided that if people are actually going to pay attention to Brownback's budget fuckery, then it's darn well time to set up a GoFundMe account to raise money for Kansas schools, which is a nice idea, although in a sane state you would kind of hope that the state government would be doing that sort of thing.
So hurrah for Chloe Hough, who took her last day at work and did something pretty awesome with it, and so we will just keep ourselves quiet about our suspicions that setting up a GoFundMe account is 2015's equivalent of stickers showing Calvin peeing on things. 
[ RawStory / KSNT / Chloe Hough on Facebook]