Discover more from Wonkette
Wonkette is filthy, hilarious, liberal news. YOU CAN HANDLE THE TRUTH!
Over 15,000 subscribers
In just a few excruciatingly long days, there will be no more Kayleigh McEnany in the White House, lying from the podium in the briefing room. And there will be no clownass Trump White House spokespeople like Hogan Gidley (a real name, he swears), going on TV and sharing their ... ahem ... thoughts with the American public about their Dear Leader, the man for whom their hearts beat the strongest.
Everybody on the internet was watching this clip of Hogan Gidley fawning all over his daddy's "masculinity" yesterday, because of how uncomfortable it makes us on his behalf:
Fox News Anchor Bill Hemmer asks Trump National Press Secretary Hogan Gidley if the president feels emasculated fro… https: //t.co/hgaqN64L7V

— The Recount (@The Recount) 1610397159.0 
It's a short clip, but if for some reason you can't watch it, the Fox News idiot asked Trump if he felt "emasculated" because he's not allowed to tweet. (We guess because that's how you measure "masculinity.") And Gidley confidently responded, with that face of his which IS TOO a real face, that Trump is "the most masculine person to ever hold the White House as the president of the United States."
To which we respond ...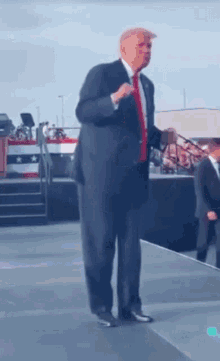 And also:
Just like Trump is a stupid man's idea of a smart man, he is certainly a weak man's idea of a strong man. The only thing he projects is insecurity, as he beats his man-boobies in anger and whines about things that are "rigged" against him. People with real self-confidence and self-assurance don't see Trump as "masculine." They see him as whiny.
On CNN, Don Lemon reacted by calling Trump a "big tough guy who incited a riot and then hid in the White House for five days and still refuses to take responsibility," like a real bunker baby. He also called Trump "the biggest snowflake of them all." That's all accurate.
But to Hogan Gidley, whose face really looks like that picture above these days, we guess working for a fascist really accelerates the aging process, Trump is BIG MAN DADDY. Says a lot more about Hogan Gidley than it says about Trump, quite frankly.
We've been over all this before. We remember back during the Democratic primary Rush Limbaugh's dick was shriveling up into his body freaking out over how Pete Buttigieg kissed his husband onstage, asking how that would look next to "Mr. Man" Donald Trump. Yep, the same "Mr. Man" who ran away from Vietnam because of fake "bone spurs."
Weirdo right-wing pundit Ben Ferguson asked around the same time if anyone would look "masculine" next to Trump on a debate stage, adding that "I was with the president last week in the Oval and I promise you he looked more masculine next to me than I did, and I consider myself to be a pretty masculine guy. We're talking about appearance here."
Again, this is the guy they are talking about looking "masculine":
In summary:
https: //t.co/HY4JSQomhy

— The Lincoln Project (@The Lincoln Project) 1603050981.0 
And in conclusion:
.@realDonaldTrump KILLED it tonight! https: //t.co/5bq1ju4gHW

— Boris Epshteyn (@Boris Epshteyn) 1602557078.0 
The end.
Follow Evan Hurst on Twitter RIGHT HERE, DO IT RIGHT HERE! 
GIVE IT WONKETTE. We mean money. Thank you.
 Do your Amazon shopping through this link, because reasons .