Discover more from Wonkette
Wonkette is filthy, hilarious, liberal news. YOU CAN HANDLE THE TRUTH!
Over 15,000 subscribers
House Speaker Vote Chaos Is Boring The Media. Can Democrats Please Just Go Home?
No Democrat is going to help Kevin McCarthy.
Kevin McCarthy spent his entire political career waiting for his election as speaker of the House, and when his big day finally arrived, it became a history-making spectacle of ritual humiliation. McCarthy failed to secure a majority of votes on the first ballot. That was the first time a potential speaker had publicly walked into a rake since 1923, back when everyone was dancing the Charleston and drinking giggle water in speakeasies.
He didn't just fail once, though. He finished behind House Democratic Leader Hakeem Jeffries on both the second and third ballots, as well. He actually lost a voteon the third ballot. He might've kept banging his head against a wall but eventually Adrian shouted, "You can't win!" and the House adjourned for the day.
Shortly before the third ballot, some esteemed members of the press started dropping less-than-subtle hints that Democrats should just bail on future votes. This didn't make sense, because nothing's more entertaining than watching McCarthy's political career drown in a kiddie pool.

Twitter  
 ABC Political Director Rick Klein tweeted, "I do wonder how long Democrats are willing to all stick around and keep the magic number where it is. Most are enjoying this. But many have friends and family in town and would like to resume their lives at some point."
 Resume their lives? We were three hours into the process as this point. My son had been in school for four hours, and I was confident we'd eventually reunite.
PREVIOUSLY:
 Republicans In Flawless Disarray Over Tuesday's Speaker Vote 

 Trump Supports Kevin McCarthy For Speaker. Now You Know He's Doomed 

 Will Spineless Jelly Man Kevin McCarthy Actually Become Next Speaker Or Nah? 

 Republicans Humiliating Kevin McCarthy Some More, But It's Okay, He Likes It! 
 Wingnuts Grip Kevin McCarthy's Balls As He Vows To Boot Reps. Schiff, Swalwell, And Omar From Committees 
 Robert Costa at CBS News claimed, "Some Democrats might not show up for future rounds, I'm told, by several sources … some are just bored by the House GOP drama, others think it's better than voting present." Who are these sources, Mr. Costa, and why are they so dumb? It was about 3: 30 p.m. in DC, and some Democrats are just "bored"? They probably sat through the Avatar sequel at least once. This isn't simply House Republican drama, either. Members of Congress are electing the person who's second in line to the presidency, and while whoever that is will probably suck, you don't just walk out before it's done.
"For now, it's wait and see mode," Costa continued. "What's happening is some are gaming out what a missed vote or present vote would mean for the threshold and ending the chaos, all while wanting to stay on [Democratic leader Hakeem Jeffries'] good side. No one wants to break ranks but many don't want to be here all day."
It wasn't even a full work day. It's January, but it was still light out. It seems as if the media's projecting their own feelings here onto Democrats. Or they were listening to former House Republican Carlos Curbelo on MSNBC, which isn't the smartest journalism.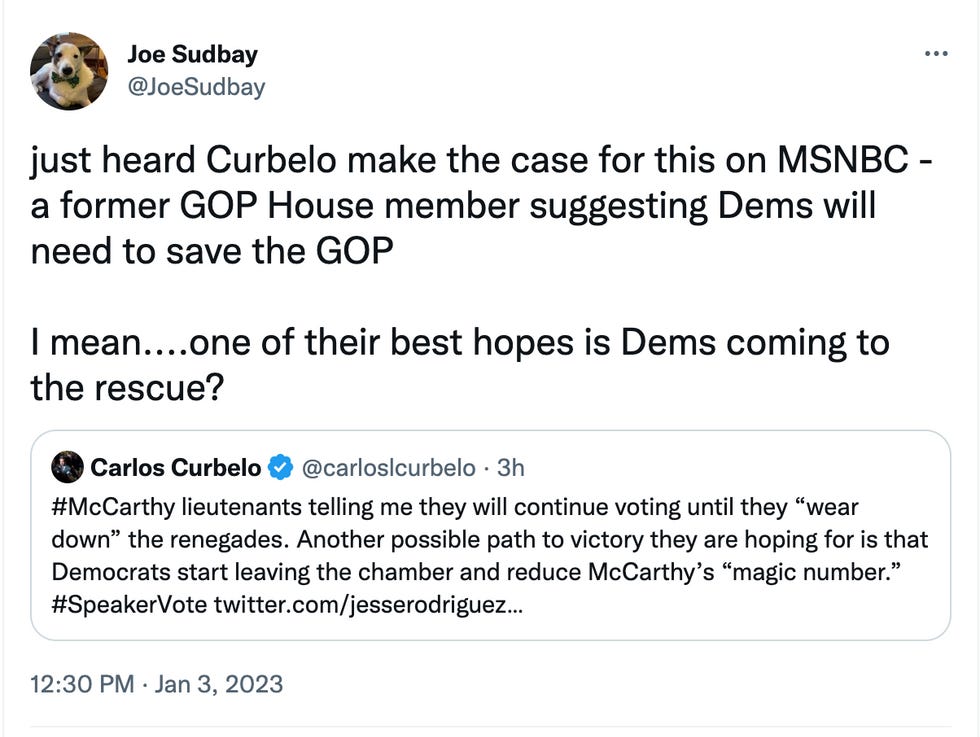 Here's why everything that guy just said is bullshit:  McCarthy needs to win a majority of votes from the members present. If Democrats leave the chamber, that lowers the threshold. However, there's no reason why Democrats should spit on McCarthy if he were on fire. Jeffries was within six votes of an outright majority, so Democrats are obviously better off waiting out Republicans. Rep. EricSwalwell confirmed what sensible people already knew, "Let me put this to rest for the media reporting this: there is no House Democrat who is going to help Kevin McCarthy today."
A desperate McCarthy apparently spread the rumor that Democrats would throw him a life preserver rather than a lead balloon. Paul Gosar approached Alexandria Ocasio-Cortez to see if she'd clue him on their strategy. He has some nerve, considering the Democratic-controlled House censured him for posting video depicting Ocasio-Cortez's murder. I'm surprised that conversation didn't violate a restraining order.
Gosar asked Ocasio-Cortez if she and other Democrats would walk away. She replied, "We'd never do that."
Sorry,SpeakerLeader?Kevin McCarthy, the only one going home is you, with empty hands all around.
  Follow Stephen Robinson on  Twitter if it still exists.  
Subscribe to the Wonkette YouTube Channel for nifty video content!
Look at our pretty photos on Instagram! 
Yr Wonkette is 100 percent ad-free! Please subscribe, donate, and otherwise help keep us alive and kicking!