Discover more from Wonkette
Wonkette is filthy, hilarious, liberal news. YOU CAN HANDLE THE TRUTH!
Over 15,000 subscribers
Dearest Wonks,
There's a confession Yr Florida Correspondent needs to get off his chest: Yr Florida Correspondent does not actually live in Florida, and has not for some months now. Instead, the day job has drawn me to North Carolina, which is its own brand of crazy, but is not Florida. And then, as of last week, the day job gave me a promotion, which means I'm now way too busy all the time, which means — sniff! — this will have to be the last Roundup, at least the last one I write. (Go ahead and mourn in the comments, which we do not allow.)
So let's hope it's a good one! (It is, hooray!)
Dude, Where's My Weed?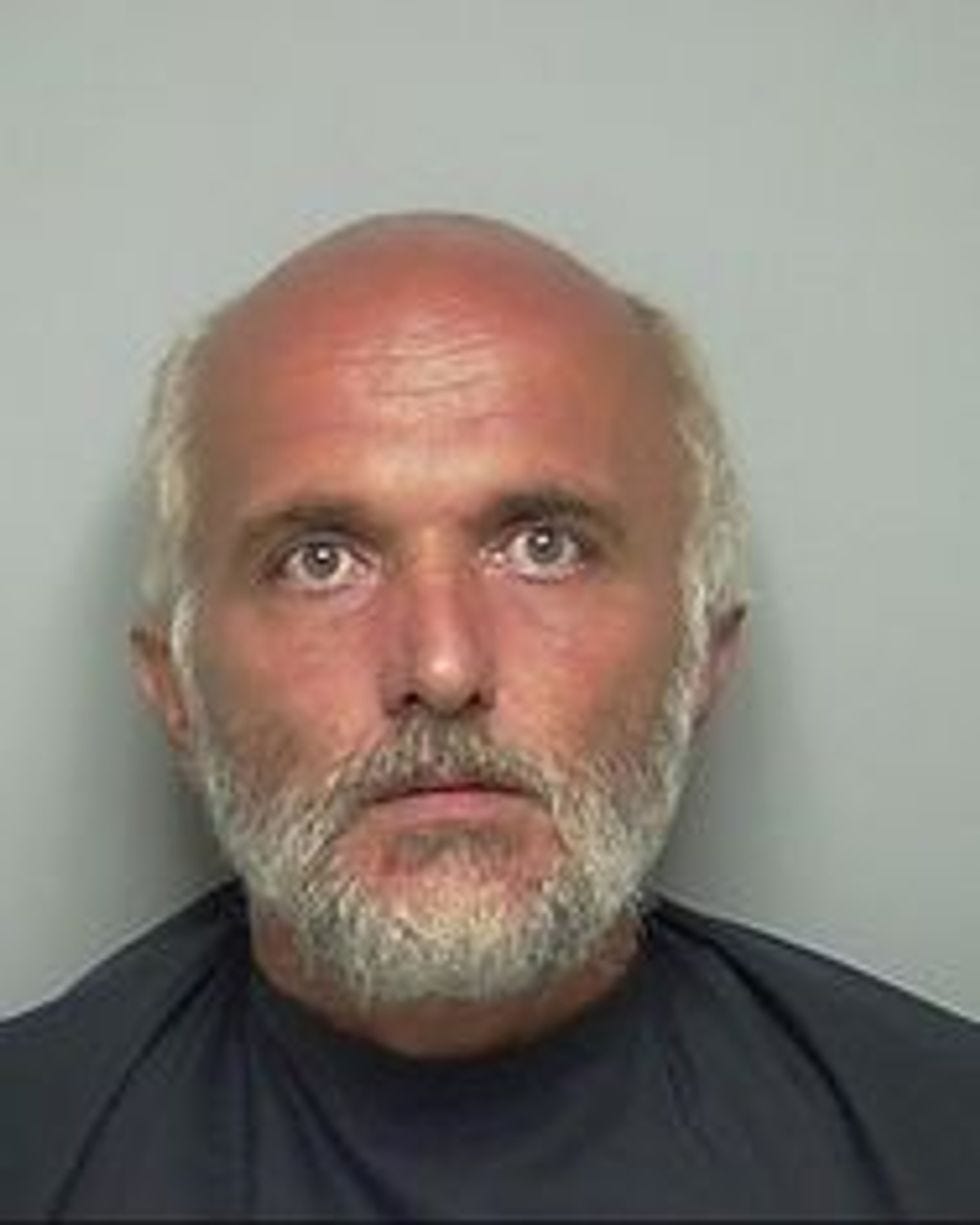 So Florida Man here, apparently unaware that the cultivation of 91 marijuana plants may still get you into trouble — thanks, Obama — walked into an Interlachen police station and said he wanted to file a complaint against the cops for stealing his 91 marijuana plants, and, well, jail.
A Putnam County man was arrested after deputies say he went to the sheriff's office to complain detectives stole his 91 marijuana plants.

He told them it was medical marijuana, which is not legal to grow in Florida.
On Thursday Boyd Wiley Jr., who has a very Florida name, was arrested again, this time for battery following a dispute over money with a 60-year-old gent named Herbert Thorne: "Thorne slapped Wiley in the face with a shovel, according to police. Wiley took the shovel from Thorne and hit him in the head several times, causing a severe gash, police" — which probably wouldn't have happened had the cops not bogarted his weed.
What Do Florida Cops Do When They're Not Stealing Drugs?
David Borst was, until last year, deputy police chief in Fruitland Park, until the feds outed him as a KKK member, which is NO FAIR, freedom of speech, etc. So what did Mr. Borst do with his unemployed self? 
David Borst resigned as the Fruitland Park deputy police chief last July after being identified by the FBI as being a member of one of the most recognizable hate groups. Another officer with the department, George Hunnewell, was fired because he was also outed as a member, USA Today reported.

Then last week he turned up at Wildwood Elementary.
Enjoy for a second the fact that the former deputy police chief was working as the lunch lady, because even in Fruitland Park the whole KKK thing isn't good for politics. But then wonder why nobody at the school thought exposing kids to an avowed racist might not be a hot idea.
Though he is gone after only three days on the job, parents want to know how Borst was hired in the first place. Officials with the Sumter County school district told WFTV they did a background check on Borst, but hired him anyway.

Borst was hired to work in food service at the school.

"He shouldn't have even been able to squeeze in and get in there," a parent told WFTV. "Because then, who else can get in there?"
If Beating A Handcuffed Guy Is Wrong, Miami PD Doesn't Want To Be Right
Also in Florida police news, did you happen to catch that video that went around the web of a Miami cop beating a guy in handcuffs ? You didn't? Oh, well, here:
The local police union, full of nice and very responsible Florida cops, surely said, "Hey, maybe our guy shouldn't have done that thing that was CAUGHT ON VIDEO. That was a bad thing."
After video surfaced last night of a Miami police officer beating a man in handcuffs, the Miami Order of the Fraternal Police tried to smear the woman who originally posted the video on her Facebook page. Union President Javier Ortiz blasted out a press release picking images from Smith's Facebook page despite the fact that Smith herself isn't accused of a crime.
Ortiz attached the below screenshot to his email: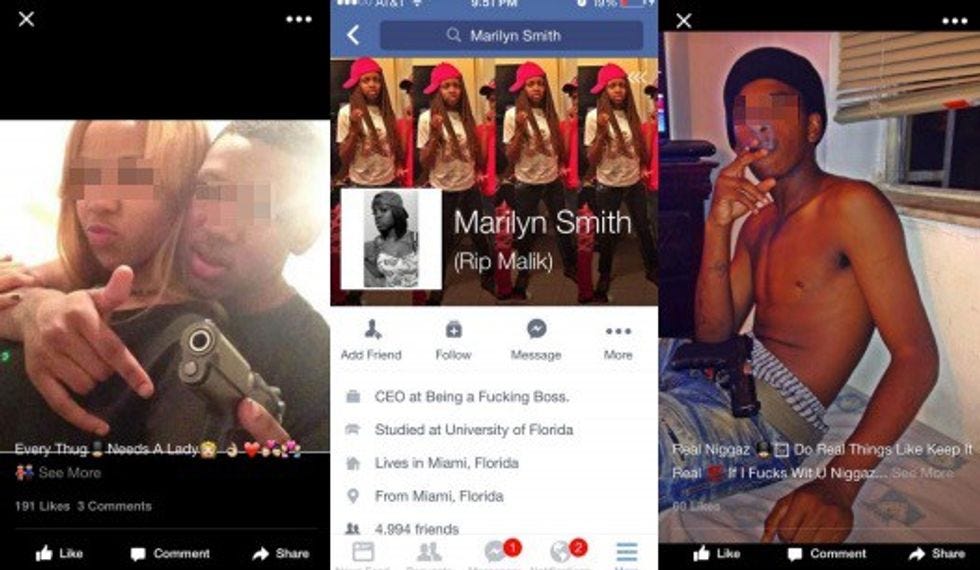 Ortiz, by the way, sounds like a nice guy:
When Miami Police Chief Manuel Orosa said he believed that the New York City cop who killed Eric Garner, a father who was accused of trying to sell loose cigarettes, should be indicted on federal civil rights charges, Ortiz angrily blasted the chief in a press release. He claimed that Orosa's comments have "absolutely no basis" and "do not reflect the views" of Miami cops.

Ortiz also was very vocal in support of Darren Wilson, the Ferguson police officer who fatally shot Michael Brown, and urged his Facebook followers to like a controversial Facebook page supporting Wilson and donate to a fund for Wilson.

Ortiz also regularly takes shots at city leaders and police leadership. Earlier this year he accused assistant chief of police Anita Najiy, a black woman, of disrespecting America by not placing her hand over heart during the Pledge of Allegiance and then publicly spread rumors that he had heard that Najiy was Muslim.
Parents of the Year
This is howwethose dipshits who still live in Florida do parenting:
Headline: A Florida Dad Took His 16-Year-Old Daughter To A Strip Club And Let Her Snort Cocaine 
Jose Manuel Arguelles, 59, was arrested on Wednesday after a raid on Pink Pony Gentleman's Club in Doral, Fla. Tuesday night. He's accused of bringing his 16-year-old daughter and her friend to a strip club and letting the girls drink and snort cocaine, CBS Miami reports.
But did he let them snort coke OFF A STRIPPER'S ASS? Because that seems the logical next step. Also, we're going to guess the Pink Pony Gentlemen's Club in Doral does not have the world's strictest ID rules. We're also pretty sure Dok Zoom won't be finding that Pinkie Pie collectible figurine he's needed to complete his collection.
A concerned mom went to police with photos and videos of her daughter with Arguelles' daughter at the Pink Pony—one photo shows the girls on a pole next to a stripper. She found the photos on her daughter's phone after checking her into rehab.
That could be the most Florida paragraph ever written.
Headline: Fla. mom accused of using 4-year-old son to pass breathalyzer test 
A Florida mom was arrested after she used her 4-year-old son to trick a breathalyzer her husband installed in her car, according to WFTV Channel 9.

Police say a bar manager in Apopka called police after April King came into the bar and chugged a beer while her two children, ages 2 and 4, sat outside in a running car.

When police arrived, King was at the car and told police that she had just arrived.

A video recorded by an officer's body cam shows King's 4-year-old son grabbing the breathalyzer and blowing into it.
Here's the video:
April King's husband Doug told WFTV that now he knows why the kiddo preferred riding with Mommy; the boy explained the blowing into the breathalyzer was a little game she taught him:
"He usually gets excited to go home in my truck, but whenever I picked him up from day care he wanted mommy's car because he thought it was a toy," King said.
One Is Funny, The Other Is Not
The president of Keiser University's Daytona Beach campus was mugged and carjacked over the weekend while meeting with two women for a "sexual rendezvous," police Chief Mike Chitwood said Monday.

When 60-year-old Matt McEnany stepped out of his 2011 Toyota Venza Sunday night to speak with the two women — identified only as "Luscious" and "Brittany" — he was struck from behind by a man who then shoved him onto the roadway and sped off in the Toyota with the two women, a police incident report states.
McEnany told the cops he had nothing but the best intentions for Luscious and Brittany, both in their early 20s, but the police did not believe him.
McEnany told police that he was driving along the 100 block of Lenox Avenue to pick up the two women — both in their early 20s — from their "grandmothers' houses." He said he met them a few months ago after he gave them a ride when their car broke down, the report states.

But Chitwood said McEnany "had every intention of having a rendezvous with these women."

"As a matter of fact you could call it a sexual rendezvous," Chitwood said Monday afternoon.
The school suspended him, though we're not entirely sure why. Is it not legal for An Old to have a threesome with two Youngs? Is that wrong? Because if it is, we don't want to be right.
Well, it would be if he were paying for the women's time, we suppose:
The college president also told the dispatcher that he had $100 in his pocket "to pay a bill." The robbers made off with that, too, McEnany said in the call.
A Florida couple kept a teenage relative as their sex slave for five years, beating her and keeping her away from the outside world until she was an adult, police said. "This is one of the most heinous crimes we've seen sexually in a long time," Port St. Lucie Detective Daniel Herrington said in a Wednesday press conference.

Rob Johnson, 44, and his wife Marie Johnson, 43, were arrested Tuesday after the woman came forward to police. […] When the girl was 13, she moved from Colorado to the Johnsons' home in Port St. Lucie after her mother died, police said. Within days, the alleged abuse began.

The crazed couple told the girl she had to have sex with them to be accepted into their family, police said. Over the next five years, Marie allegedly beat the girl if she refused their sexual demands, and Rob insisted she called him "master."
Were you waiting for the Florida twist? Here you go.
At the same time, the couple homeschooled the girl, with Rob teaching her Old Testament passages that he said justified her treatment, police said.
The New York Daily News doesn't identify which Old Testament passages those would be, which is either a sad comment on the state of journalism these days, or a sound editorial choice considering that it might give other Florida couples ideas.
Let's Go Out on this Note, Shall We?
[contextly_sidebar id="42mKWtDoHiuJ2K6uQY27kduiFtcrQt3I"]
We wanted the Wonkmasters to save this for me this weekend, but Dok could not bring himself to wait. So, whatever, steal my thunder, guys , it's not like this is MY LAST ROUNDUP or anything. Geez:
Friends, Dr. Craig Connor is one unhappy man. He is unhappy that Planned Parenthood is coming for your children and putting little baby parts up for sale on eBayBee. He told his congregation at the First Baptist Church of Panama City, Florida, that he simply cannot abide the fact that his tax dollars are going to fund something obscene and offensive that isn't a war, so he might stop paying his taxes so that no portion of them will go to Planned Parenthood. […]

"And honestly, I was talking to the Lord about this just the other day and I said, 'Lord, I can't continue this.' You know if Planned Parenthood is not defunded, I just may stop paying taxes. I know that I'll go to jail for it."

"You want to talk about reducing the national debt?" Conner continued. "We could reduce it overnight if they would defund this evil organization and put it on the national debt. Man, we could get out of debt immediately."
A few things to point out here, beyond — as Dok mentioned — that fact that Dr. Connor is engaging in some first-class Florida mathematics here. ($540 million in PP funding =/= $18 trillion national debt, sadface.) The second is that, while the good Dr. Connor was chatting up his Imaginary Friend, there's nothing about whether the Imaginary Friend signed off on his go-to-jail plan, or really said anything at all back, something like, "I am omniscient and so I know that your plan is super dumb, don't do it."
But God did not say that. Instead, Dr. Connor is convinced that Yahweh, not some crazy antiabortion freaks, is the one that outed Planned Parenthood in the first place:
And if they really want to do a thorough investigation, I would suggest that they need to investigate God. I am no prophet but I believe with all of my heart — and it's my personal opinion — God is the one that has revealed these videos to give America one more chance to repent of the infanticide that is happening in our country. It wasn't men who came up with this idea to reveal what was going on. I believe God was the one that exposed it.
God was not available for comment.
Well, that's all forthis weekfucking EVER, Florida. Don't change, don't ever change at all, you special snowflake, you.