Discover more from Wonkette
Wonkette is filthy, hilarious, liberal news. YOU CAN HANDLE THE TRUTH!
Over 18,000 subscribers
South African poster, ca. 1980s 
For some reason, people are acting very surprised that long before he was a douchey libertarian tech billionaire, Peter Thiel was merely a douchey libertarian college student, according to a former dorm-mate, Julie Lythcott-Haims, who wrote first a brief Facebook post Tuesday about an encounter she recalled with him in the mid-1980s, and then a longer piece on the reaction. We guess the past really is another country, because Lythcott-Haims's post has been greeted with the sort of skepticism and surprise you might expect in response to a travelogue about a bizarre place where humans had no heads and faces in their chests.
As someone who was in college back in those days, we can say there's nothing at all surprising about Lythcott-Haims's story, except that the self-absorbed libertarian prick she talks about turned out to be an incredibly rich guy who's endorsed the not especially rich moron Donald Trump for president. Here's her original story: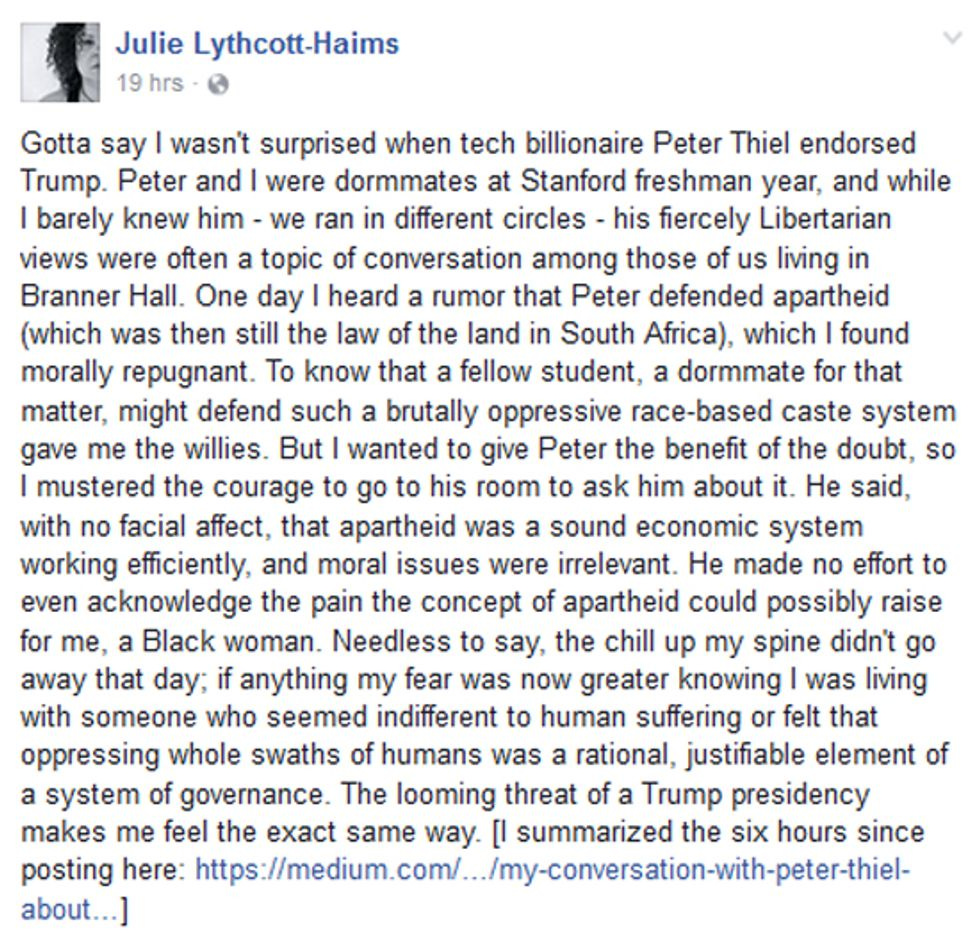 This is where we have to insert the obligatory John Rogers quote:  
There are two novels that can change a bookish fourteen-year old's life:  The Lord of the Rings and Atlas Shrugged. One is a childish fantasy that often engenders a lifelong obsession with its unbelievable heroes, leading to an emotionally stunted, socially crippled adulthood, unable to deal with the real world. The other, of course, involves orcs.
In her follow-up, Lythcott-Haims explains she told inquisitive reporters the bare outlines of the conversation, from sometime in the 1985–86 school year, are all she remembers, and that the "part that stuck like a lump in my throat for 30 years is what I posted," but she also hoped someone would press Thiel on his views. She also learned that a spokesperson for Thiel denied he ever said what she remembers him saying: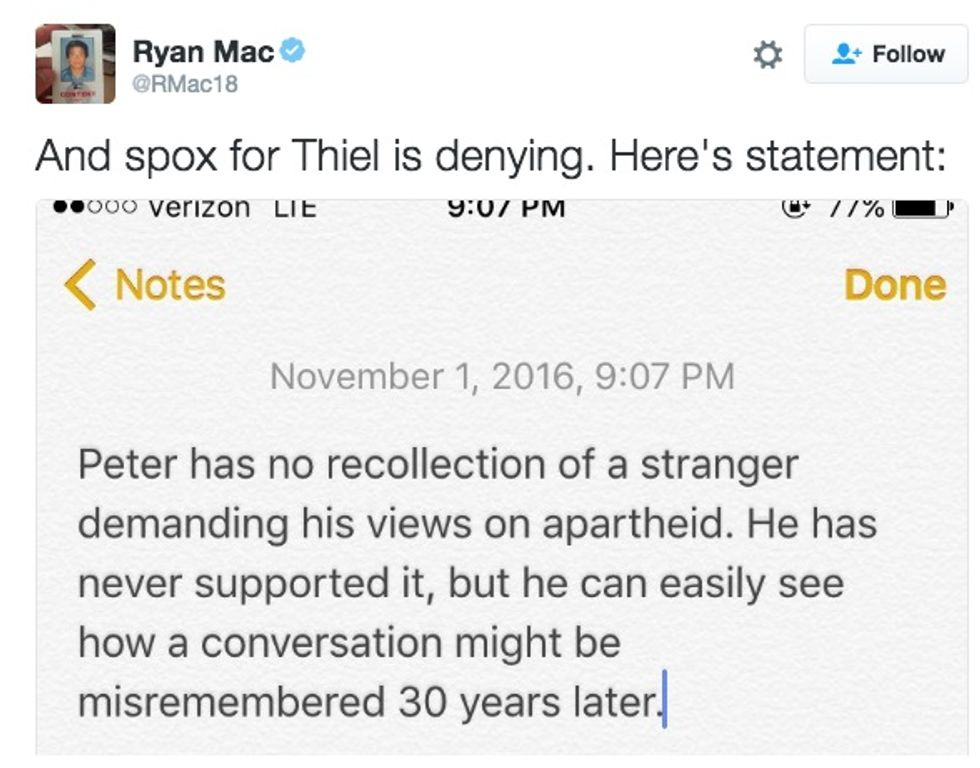 Lythcotte Haims notes the denial puts some predictable spin on the story, turning her into a "stranger" who appeared out of nowhere and "demanded" he justify his opinion:
Plays right into the "angry Black woman" trope, you see? I assure you, I didn't demand. I was timid and respectful as I approached his dorm room and initiated the conversation. I was a 17 or 18 year old Black kid approaching a white guy who was rumored to approve of Apartheid. I was terrified.
Ultimately, she isn't especially surprised Thiel might not remember it, since the topic wasn't as important to him as it was to young, activist her: "He practically dismissed me with a wave of his hand. That's why he doesn't remember it. It was unremarkable. To him."
If Thiel said it -- and we have no reason to doubt Lythcott-Haims's account -- it certainly wouldn't have been outside the Libertarian/conservative mainstream at the time. Ronald Reagan loved the good anti-communist government of Apartheid South Africa, and letters to the editor constantly pointed out that the African National Congress was a commie terrorist organization, and people organizing boycotts and disinvestment campaigns against the Apartheid government were useful idiots playing into the hands of International Communism, just because the South African government slaughtered some protesters now and then. The only mild surprise is that Thiel is politically savvy enough today to deny having ever held what was once a majority conservative Republican view.
Hell, you don't have to look far into the RightWing-o-Sphere to find nostalgia for the good old days of Apartheid, although now you're more likely to find such trash among diehard racists (some of whom deny they're racists, and some of whom wallow in it) than among libertarians, who mostly bicker about whether Apartheid was OK because it made economic sense (for whites) or an abomination because it was statist.
Lythcott-Haims says she wasn't the only person young Thiel defended Apartheid to in the dorm, and suspects others may come forward -- or not. Mostly, she's disappointed to find out Thiel is apparently as unfamiliar with empathy today as he was back then:
When Peter came out, I hoped this was a sign that he was feeling some identification with what it was like to be society's "other." That maybe he'd evince some empathy not just for the LGBT community but for the experience of other people on society's margin. I've not seen evidence of that however.
While it's definitely sad, it's also not terribly surprising. Empathy is weakness, after all, and too much of it could get in the way of making lots and lots of money. God knows there's not going to be a Secretary of Empathy in the Trump administration.
[ Julie Lythcott-Haims on Facebook / Medium ]