Discover more from Wonkette
Wonkette is filthy, hilarious, liberal news. YOU CAN HANDLE THE TRUTH!
Over 18,000 subscribers
If You Even Know What Love Really Means, You Will Make This Almond Cake From Scratch
Baking a cake from scratch is the best way to show your love for someone on his/her birthday. With a little extra time and effort, mindfulness about your ingredients, and the right techniques, you can bake a really good cake. Or, whatever, just get a bullshit Betty Crocker mix, so your loved one knows that you care enough to whisk a box of garbage together with some oil and two eggs.
The best cakes are made with a special kind of flour, called "cake flour." It is used for cakes. It is usually finer and has less protein than other flours. This is good, because protein in flour (i.e., gluten) makes things tough or chewy. So if you like tough and chewy cakes, go ahead and use all-purpose flour. If you like them light and delicate, find some cake flour. Some supermarts don't carry it because they are in cahoots with Duncan Hines to make the mangiacake public dependent on boxed mixes, but if they have it, it's on the baking supplies aisle. It's packaged in a box or a bag and branded with a name designed to convey a desirable texture for cake, like "Softasilk," "Swan's Down," or "Grandmother's Jowls." Pastry flour would be a suitable substitute, since it is lower on the protein content spectrum than your all-purpose and bread flours. Other substitutions exist, too, so go ahead and put "cake flour substitutions" in ye olde googler if you cannot locate cake flour.
The other key ingredients are buttermilk and fresh (but not too fresh) eggs.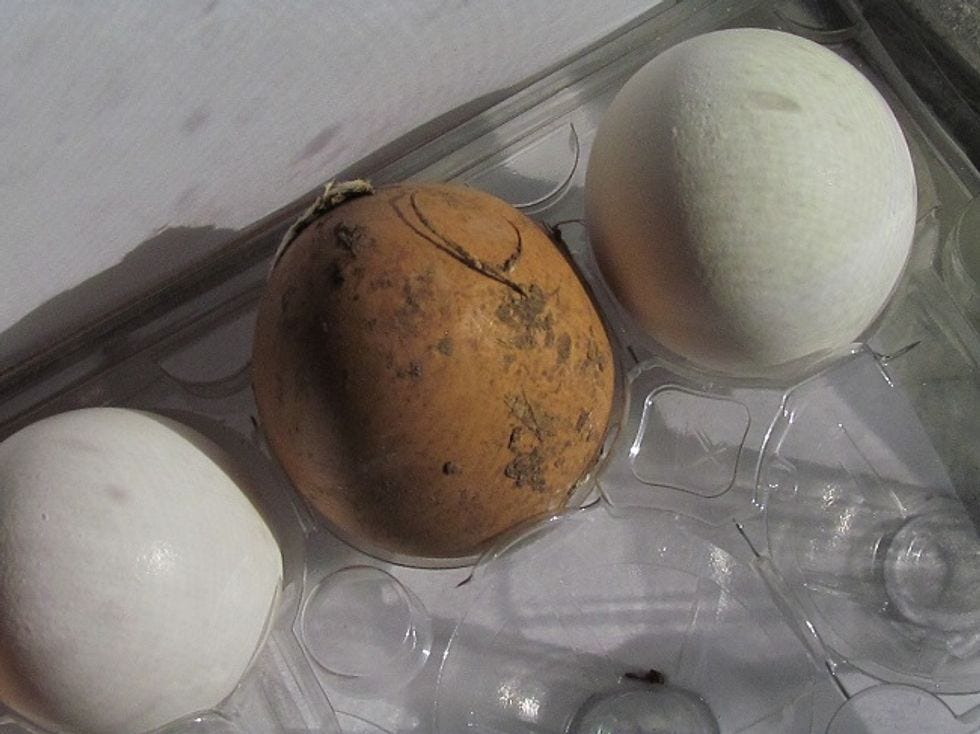 Almond Cake
1 cup butter, at room temperature (2 sticks)
2 cups sugar
2 cups cake flour
1 tsp. baking soda
4 eggs
1 tsp. almond extract
1 cup buttermilk 
Cut out two pieces of wax paper, just the right size to go into the bottom of 9-inch cake pans. Grease and flour the sides of the pans, and put the wax paper into the pans.
Preheat the oven to 350 degrees.
Separate the eggs.
For the flour, measure about 2 cups into your sifter and sift it. Then, carefully spoon it into your cup measure, leveling the cup off with the blade of a knife or the handle of your spoon, if it's long and straight enough. Once you have measured out 2 cups like that, sift it again with the baking soda. Set aside.
Put the paddle attachment on your stand mixer, and cream the butter and sugar together. Add the egg yolks, one at a time, fully incorporating each one before adding the next. Mix in the almond extract.
Alternatively add the buttermilk and the flour mixture, beating well after each addition. Do about a third of each one as you add them.
Beat the egg whites to stiff peaks, then fold them into the batter.
Divide the batter evenly between your prepared cake pans, and put them in the oven.
Baking time will vary, so keep an eye on these suckers. It can take about 30 minutes. But if your oven has hotter and cooler spots or is not level, you may consider moving or rotating the cakes about 10 minutes in. When a toothpick inserted in the center of the cake comes out clean, it is done.
Run a butter knife or spatula around the edge of the cakes, and let them cool in the pans for about 15 minutes. Then turn them out onto the cooling rack and let them cool completely. Don't forget to remove the wax paper before you ice it.
Options for filling, frosting, and topping abound. Do an "Almond Joy" cake by using chocolate frosting and putting coconut between the layers (but if you're going to do that, use loaf pans instead of rounds so the final product is shaped like a candy bar). Make a cream cheese frosting with Nutella. Put some jam or preserves (cherry or apricot would be nice) between the layers. Or follow along with us here.
We will use a plain, white icing. We won't go into the preparation any more than to say it only contains two ingredients, and if you don't already know what they are, you probably don't want to. Go ahead, and buy the canned shit. You will also need a bottle of amaretto and a bag of sliced almonds.
Place one of the cooled cake rounds, bottom side up, onto your serving surface (usually a sturdy piece of cardboard wrapped in aluminum foil, but we had company). Using a children's oral medicine syringe (mommyblog, in the house, motherfuckers), drizzle a few teaspoons of amaretto all over the cake, especially around the edges where it may have gotten a little dry. Your mouth is probably a little parched, too. Ice the top of this layer.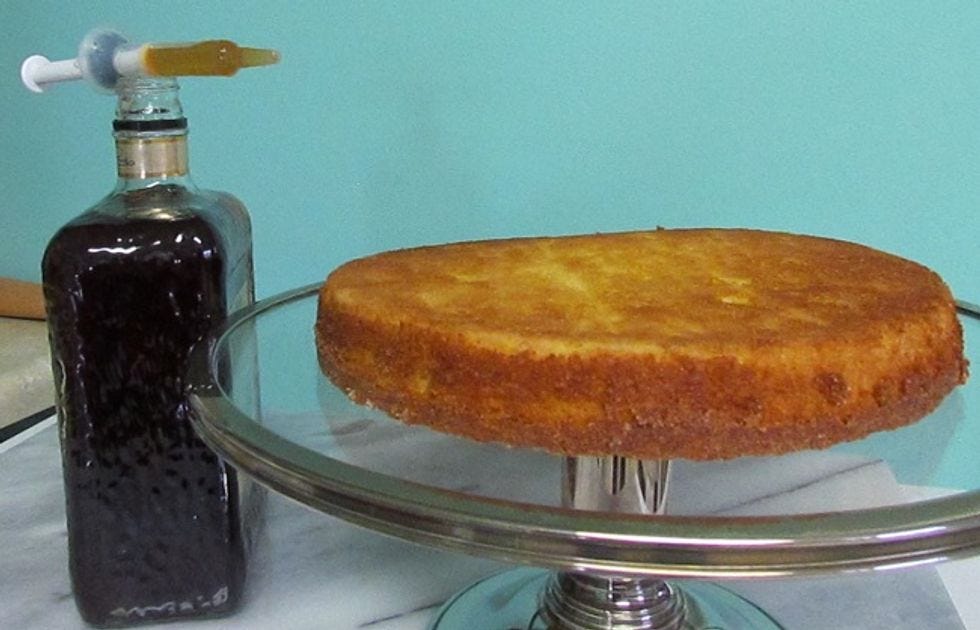 Place the other cooled round, bottom side down, on top of the first one. We did it this way in case the tops of the cakes were uneven. Putting them butt to butt ensures they're all lined up and minimizes the chances of a crumbling cake catastrophe. Repeat the amaretto drizzling for the top layer. Ice the top and sides. Push the sliced almonds all around the sides of the cake. Make a fancy pattern of sliced almonds on the top, if you please. At least put a few on there strategically so you know where to slice it.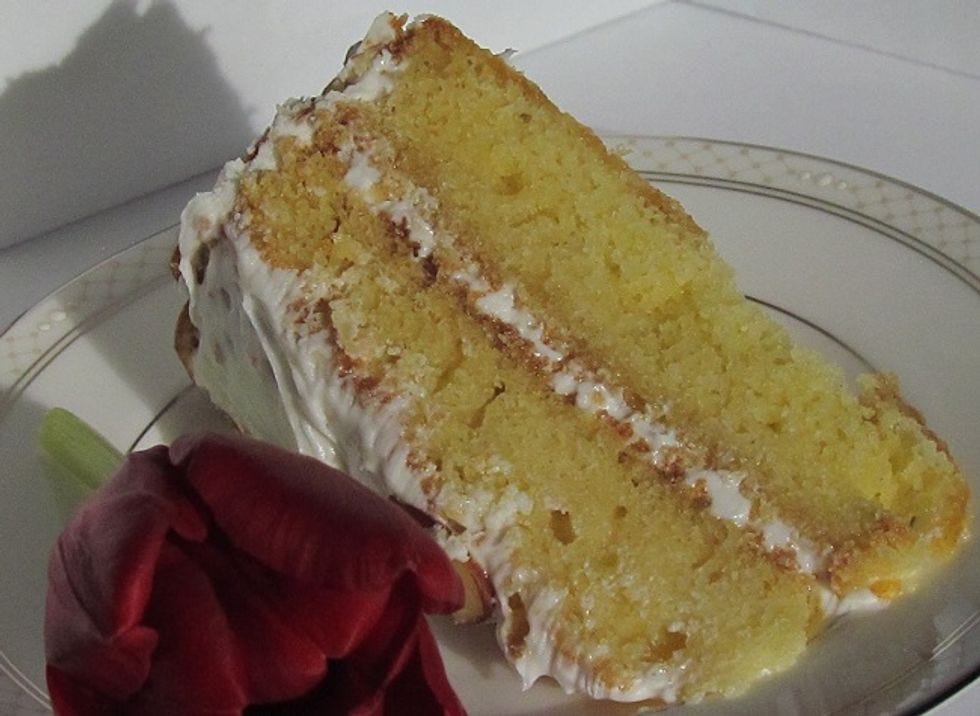 Not too hard, right? You might even say it's a piece of cake. Now, promise you will never buy another boxed cake mix again (funfetti is the exception that makes the rule).