Discover more from Wonkette
Wonkette is filthy, hilarious, liberal news. YOU CAN HANDLE THE TRUTH!
Over 15,000 subscribers
Is Gavin Newsom Going To Force Women To Have Babies For Gay Men? (Of F**king Course Not)
Once again, right-wingers demonstrate their reading comprehension skills.
We all knew they wouldn't stop at abortion.
The latest conservative reproductive rights bugaboo is now surrogacy . They're all really, really mad about surrogacy now, which really undermines their whole "This is all just about how much we love babies!" schtick. Last month, Candace Owens lost her shit over Khloé Kardashian's choice to have a surrogate carry her child. This month, they now think that a bill that just passed California's state senate would force women to carry children for gay men.
In actuality, SB 729, introduced by Democratic State Sen. Caroline Menjarvi, would simply require insurance companies to cover fertility care, including IVF, which would cost Californians with health insurance an estimated 72 cents a month. It would redefine infertility as a "status" rather than a medical condition, and would apply to anyone who is unable to have a baby without medical intervention. Thus, it would also apply to gay men who choose to have a child through a surrogate. The Right has run with it, and many on social media are now trying to claim that it means that the state of California will force women to be surrogates whether they want to or not.
This is obviously not a real thing,
There is only one political party out here with any interest in trying to control women's reproductive futures, and it's Republicans — which makes the complaints about this imaginary evil plot all the more ironic.
PREVIOUSLY: Candace Owens Confuses Kardashian Surrogacy With Plot Of 'The Omen' 
"Gay men have a RIGHT to women's bodies & we must ensure they can rent & impregnate women whenever they choose!" Libby Emmons, editor-in-chief of The Post Millennial   wrote on Twitter . "Puts The Handmaid's Tale in a whole new light. California moves to provide surrogates to gay male couples in the name of 'fertility equality'"
If that wasn't ridiculous enough for you, it does get worse.

Please recall that the only party that thinks a woman's body belongs to the state is the Republican Party.
Let's get some more incredibly ironic quotes from the responses to Emmons' tweet, shall we?
 "I'm all seriousness this might be a violation of the 14th amendment, this is basically State Enforced Birth Slavery."

"Let me tell you something woman doesn't have a problem with being a surrogate if that what they want to do but you all are evil and we know RIGHT NOW you all are trying to get the world to accept that men are women so the next step could be forced." (in response to someone explaining that this just requires insurance to cover IVF)

"Women being subservient to the needs of men does seem to be the "Pride" theme that's emerged in 2023, doesn't it? Misogyny, with a Woke twist."

"I thought the Republicans were supposed to be the ones forcing pregnancy on women?," to which another person responded "Nice to see a man noticing this. The Left always more guilty in the area of reproductive serfdom."

"It's becoming evident the attack is simply towards women and the womb! None of these laws give the woman rights to her body, but seem to demand we serve as breeders. One are the ones taking notice early. The left and right are after the same thing! Rights to a woman's body!"

"FWIW- The Handmaids Tale is both a prospectus and a spell. Those that watch (buy the prospectus) the show, empower the spell. I read the book at 15 and it chilled me to the bone."
 
 "I knew we would have a Handmaid's Tale future when the left projected onto the right what they would inevitably manifest, as they have since the beginning of time." 
 "No, this is wrong. They can try to hire someone or ask a friend—but they have zero rights to a woman's body or eggs. Looks like the Handmaids Tale was prophecy, not fantasy." 
 "This should not be mandated by the state or federal government. Woman should be free to choose to be a surrogate or not."
 
 "This is really sick and twisted!! Is this about all the satan worshipping we are hearing about? More babies for sacrifice????" 

Yes, that's it.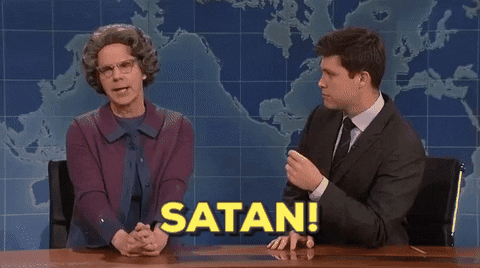 Colin Jost Snl GIF by Saturday Night Live    Giphy 

Given the reading comprehension skills of this crowd, I seriously, seriously doubt their ability to comprehend a Margaret Atwood book, or, really, anything more complex than Everybody Poops .
This is an entirely reasonable, rational — and frankly "pro-family" bill. In no way does it force anyone to be a surrogate, it simply requires insurance to cover IVF regardless of who is using it. To interpret it any other way is beyond ignorant. Though to be fair, if Republicans didn't get mad at their own imaginations, they'd have nothing to complain about at all.
 Do your Amazon shopping through this link, because reasons .
Wonkette is independent and fully funded by readers like you. Click below to tip us!