Discover more from Wonkette
Wonkette is filthy, hilarious, liberal news. YOU CAN HANDLE THE TRUTH!
Over 15,000 subscribers
Florida, for all of its many demerits, has one thing going for it: Publix, a chain of truly excellent grocery stores that stretches throughout the Southeast (Protip: There is no sub quite like a Publix deli sub). But every so often, the reality of Florida creeps in to this paradise of sundries. Exhibit A: The above fight in an Orlando Publix aisle, over, well, very Florida things :
Kristin Varley, 28, is speaking for the first time since video of her husband fighting another man inside an Orlando-area Publix has gone viral.

Minutes before the fight, Varley said she was unloading her groceries in the parking lot.

"There's a cement median that tells you where your parking space is and there was another cart parked horizontally," Varley told WKMG-TV in Orlando. "I was like, 'I'll leave my cart where this one is.'"

But she said that's when Edwin Colon drove up asking her to move her cart.
This, of course, escalated. Varley was preggo, very preggo, and was not about to move her goddamn cart.
"I went back to my cart and I moved it over an inch so he could get in. As I was walking back and explaining to him why I couldn't move it any further he told me, 'Maybe you should of thought of that before you got f-ing pregnant,'" Varley said. "I looked at him and said, 'Really, did you just say that to me? I am a woman standing here pregnant. My daughter is sitting right here in the car.'"

Varley said Colon continued cursing her and her daughter until an eyewitness came to try and get him to stop. Eventually, Colon went into the store.
And so Varley calls her husband, the husband goes into the store — or was already in there, who knows — and this brawl ensued. Over a shopping cart. Because Florida.
Other Tales from the Florida Publix
Also this week:  Attacker throws bleach in woman's face in Publix parking lot 
An elderly woman is recovering in Orlando Thursday after police and witnesses said a 28-year-old woman, Stacie McCullough, threw bleach in her face.

The attack happened at a Publix in Winter Park Wednesday at about noon. As of Thursday afternoon, McCullough was still in custody on a $10,000 bond, facing three charges, including robbery with a weapon, aggravated battery and grand theft of motor vehicle.

Police said it all began shortly after the elderly woman left the Publix store and began walking around the side of the building. McCullough was walking toward the woman on the sidewalk and asked the victim for directions, but the victim said she couldn't help.

Police said McCullough yelled, "Turn around! You're lying!"

Once the victim turned around, McCullough reportedly threw a full cup of bleach into her eyes and stole her purse.
Happily, after "McCullough attempted to flea on foot" (nice copy-editing, WKMG!) an as-yet unidentified hero arrived to save the day:
Witnesses described a black man pulling up in a truck and getting out and going after the attacker. They said he grabbed McCullough by the wrists and yelled for her to "drop the knife."

As he shook, they said she dropped the knife and the contents of the purse before running away.
The good guy left before police could get his name; no word on whether he left behind a silver bullet. And what of the assailant, Stacie McCullough?
Police later found McCullough hiding underneath a truck in the back of the Publix. She told them she was innocent and was only under the truck taking a nap.

Before leading her away in handcuffs, she wrote in a report, "The cop/police pick me up for slavery. Him and the rest of the white men had started a second form of slavery, and pick me up, saying I'm black and treated me like I am nobody."
And this:  Groveland doctor accused of taking video up woman's skirt at Publix 
A Groveland doctor is facing charges after police said he was caught at a Publix taking photos up a woman's skirt Thursday. Police said a manager at the store at the Eagle Ridge shopping center said a customer caught Akram Ismail in the act. The manager told police he then saw Ismail open the camera and video setting on his cellphone, bend down and move the camera under a woman's skirt. He was charged with one count of video voyeurism.
A doctor. Oh, and get this: You'll be shocked to learn that this isn't the doc's first legal rode .
But Ismail's fall from grace started long before now. Complaints to the state medical board list his troubles with the law.

In 2004, Ismail was arrested for DUI. In 2005, an air marshal arrested the doctor on a plane for refusing to put away a drink.

Then, in 2009, Ismail was arrested in a murder-for-hire plot. The doctor hired two patients to murder or maim his former business partner and blow up the rival business.

The medical board once called Ismail an "impaired physician" with a "mental condition," but he has maintained his medical license all this time. That may no longer be the case after this recent arrest.
In Florida, "attempted murder for hire" and "mental condition" are not impediments to keeping your medical license, but snapping sneaky upskirts (WHICH IS A BAD THING YOU SHOULD NOT DO, PERVS) will. We have priorities.
Speaking of Florida Men with Mental Conditions
 Cops: Zimmerman Shooter Peed On Neighbor's Porch In Apparent Retribution 
Remember Matthew Apperson, the guy who (ALLEGEDLY) tried to Second Amendment George Zimmerman and is now all Stand Your Ground, and the rest of civilization is like, yeah, this guy's an asshole but we don't know who to root for? Yeah, that guy.
[contextly_sidebar id="3eLGiEIDj1JuQxa4cIoOqhlVPhjzpU2P"]
The man accused of shooting at George Zimmerman is not enjoying his time out on bail: neighbors say he was rearrested this week after he peed on a neighbor's porch in an apparent act of retaliation. … Now, neighbors say, he's spending his time drunkenly wandering around the neighborhood shouting expletives and spraying urine.
The cops will take Apperson's drunk pissing as a reason to revoke his bail. Unlike George Zimmerman, who bonded out of murder charges for $150K. Once again, demonstrating that shooting an unarmed black teenager dead is a much lesser offense that shooting at a gun-humpingwhiteHALF-HISPANIC dude's SUV. Priorities.
Let's Do Headlines!
 Cops: Man Stole Operating Room Surgical Table 
In a daring daytime heist, a man walked into a Florida hospital and wheeled out a $48,000 operating room table, according to police who Saturday arrested a suspect on burglary and grand theft charges. … Investigators allege that Lance Sayre, 52, entered Morton Plant Hospital in Clearwater last Sunday afternoon and went to "the secured area of the Operating Room."

Once inside, Sayre "took custody of a Berchtold Operating Bed valued at $47,945.97" and wheeled it to the hospital's loading dock, where he loaded the bed into the back of a white van.
 Florida man indicted in fatal dog poop fight 
A South Florida man has been indicted on first-degree murder charges after authorities say he shot someone during a dispute over a dog defecating in a yard. A grand jury indicted Omar Rodriguez on Wednesday after Miami-Dade police say he fired two shots at Jose Rey for allegedly letting his dog defecate on Rodriguez' son's lawn. Rey died of his injuries late last month.

Rodriguez's attorney, Alan Ross, says Rey started the argument and came after Rodriguez with a knife. The Miami Herald reports the shooting was the culmination of years of stalking, threats and false allegations lobbed by Rodriguez against various residents. Rodriguez has been arrested several times, but never served serious jail time.
 Florida toll-booth worker, 77, fired for paying driver's toll 
A Florida toll booth worker says he was fired for helping pay a driver's toll, our news partners at WPTV Channel 5 report. Vladislav "Sam" Samsonov said he did not charge enough toll money for a trailer driver last week, so he paid the extra five dollars himself. … Samsonov, 77, worked for almost 30 years as a toll collector at the Boca Grande Causeway, WBBH reports. Samsonov told WPTV he has sometimes paid drivers' tolls if they didn't have enough money. "I'd put six dollars in, I got the six dollars back the next day," he said to WPTV.

He also said he was told by his employer to cease paying for drivers in the past, but he says he "was never formally written up," WPTV reports. Samsonov said the Gasparilla Island Bridge Authority gave him shifts for two days a week instead of five days a week as punishment, but he said no thanks.

If I can't be trusted for five days, how can I be trusted for two days?" he said to WPTV
And Now, Racism!
Oh, did you think that county that re-hoisted the Confederate flag a few days after some numb-nuts administrator had it taken down — because, you know, BAD FORM — was the most racist county in Florida? It is not. No, that honor has to go to another of our state's proud backwaters, Baker County, which has adorned its courthouse wall with, well, this: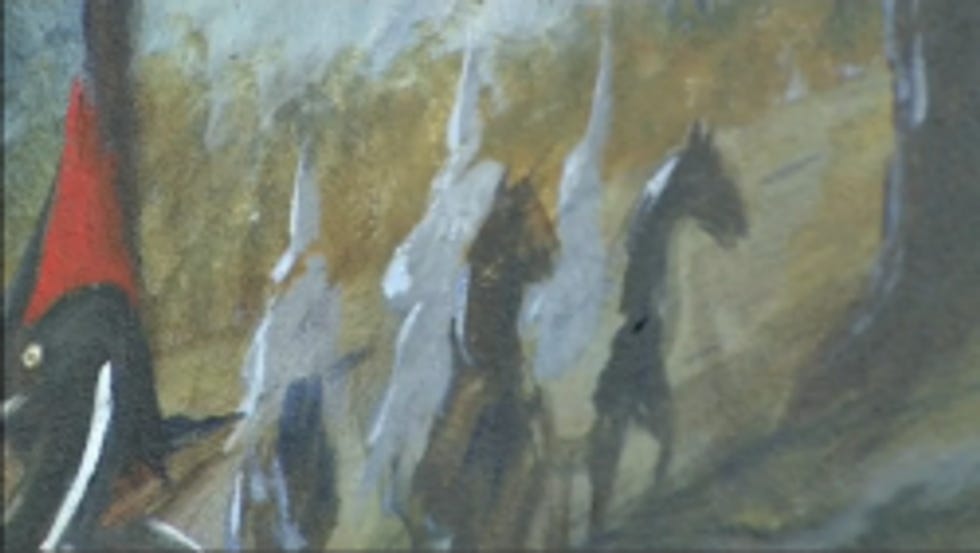 [contextly_sidebar id="BIvKNNMbkpkmGcwHfh22gzqlx8WcSyRU"]
And no, before you ask, this was not painted 50 years ago and is a Proud Symbol of our Heritage; no, this painting was done in 2001.
In 2001 .
The courthouse in Baker County, Florida, is unremarkable but for one key detail: a massive, wall-to-wall mural that depicts, among other things, a trio of heroic-looking Ku Klux Klan members charging in on horseback, Birth of a Nation-style. Painted in 2001, the mural drew controversy when first unveiled—but its artist, Gene Barber, declared the anger totally unwarranted, stating that he "did not follow the current and unfortunate fad of revising history for the sake of making it fit the wishes of any special interest segment of society." …

As a Change.org petition to remove the scene explains, Baker County's history with the KKK is grislier than Barber suggests. In 1920, four black men in the county allegedly involved in the death of a prominent white farmer were seized from their jail cells, dragged across the county, shot, and lynched. Moreover, hundreds of black people were lynched during the KKK's "minor come-back" in the 1920s, when it membership ballooned to perhaps 8 million. If the KKK remains "a cause of fear," it is because the organization is one of the deadliest terrorist groups in American history.
 Oh, con-trare, yuppie liberal Slate writer. Take this dose of TRUTH!!!1! from a Baker County commissioner, who knows the real problem is not with painting beatifying white terrorists , but with something something God Bless America!:
Hate and racism don't come from a flag, a book, a statue, a monument, or anything else people can dream up for an excuse to condone what they do. Hate and racism comes from your heart; change your heart and problem solved. It starts with every individual heart and only you have control to change that. Our history starts with us. God bless America.
That's all for this week, Florida. Tune in next time to find out who wins your new favorite game show: Most Racist Florida County of the Week!™